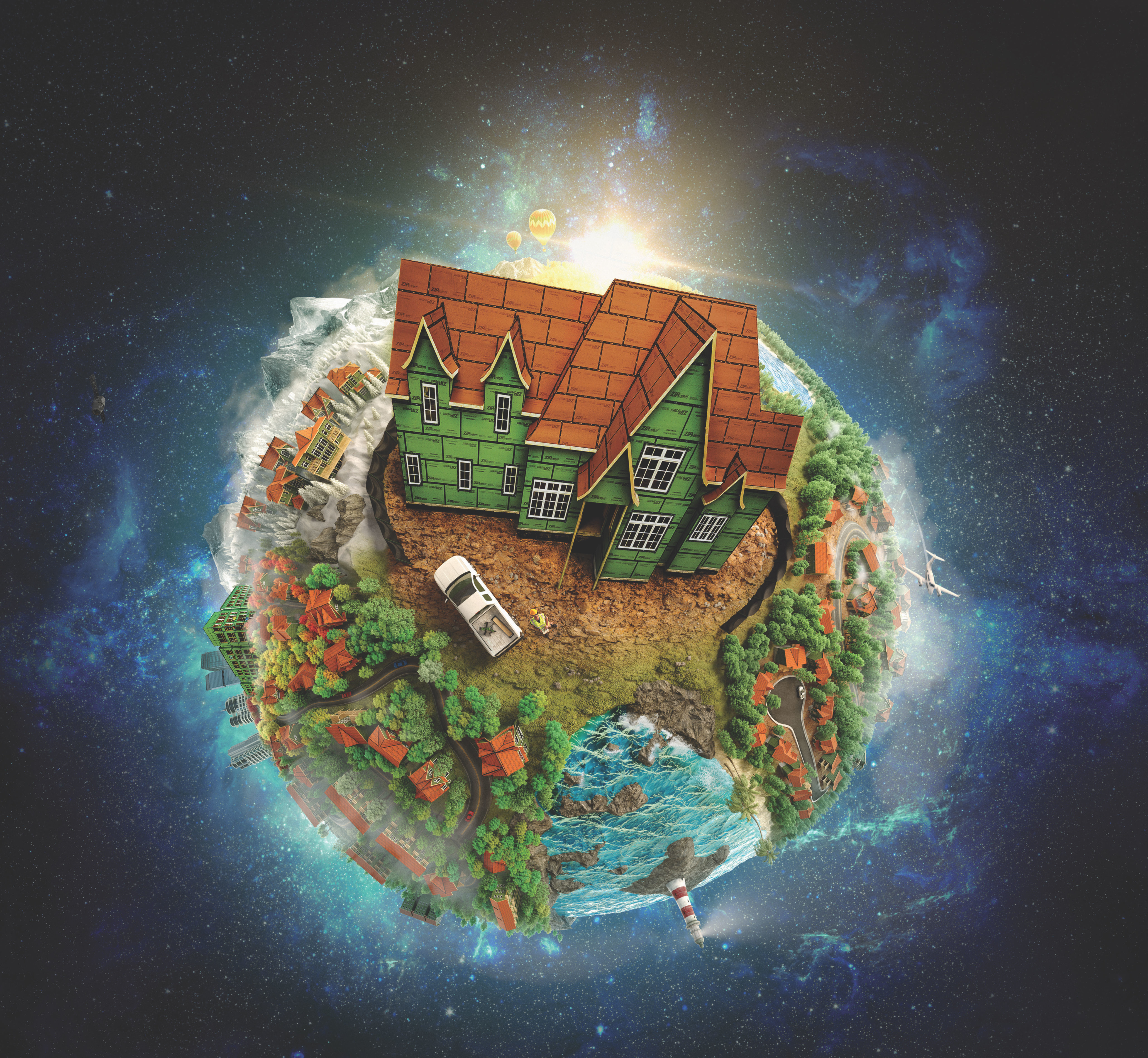 Are ZIP System® Products Worth It? 7 Builders and Architects Weigh In
9 Min Read December 17, 2020
Through a system of integrated, compatible sheathing and sealing products, ZIP System building enclosures allow builders to streamline high-performance building enclosures.
Builders across the country must address distinct, unique needs, stemming from differences in geographic location, local regulations, jobsite complexity, client budgets and their own preferences in each individual project. Despite many variables, one thing remains the same: These builders pursue a higher standard. They don't believe in being "built to code" alone. When teams switch from traditional methods and products to the streamlined, durable solutions found in the ZIP System family of products, we call it being "Built to the ZIP Code™."
There are a multitude of reasons a person could prefer one product to another — one builder may appreciate the ease of taping a seam while another may prefer the visual failsafe of liquid flash — but the drive behind these preferences is the same: a high-performance enclosure. To illustrate the range of innovation and craftsmanship executed with the ZIP System building enclosures family of products, the following examples highlight how some of the smartest teams in the field are delivering solutions.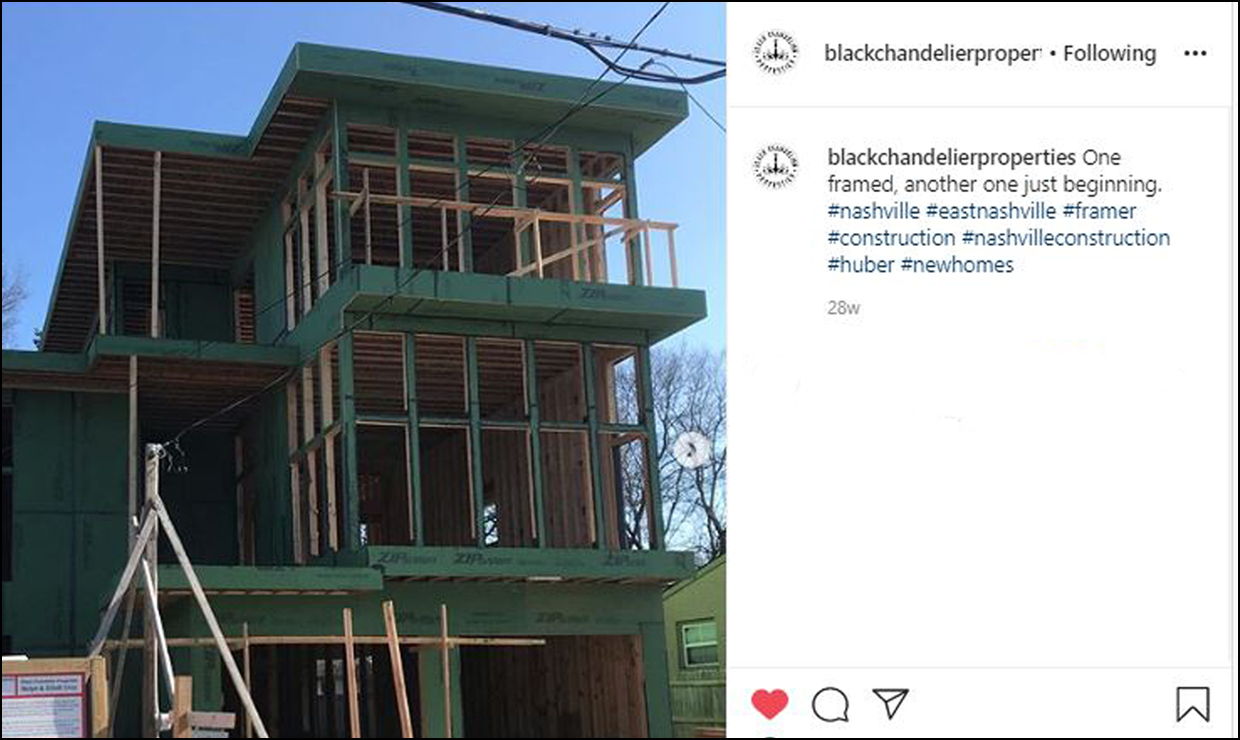 Maximizing Light and Minimizing Leaks With 87 Windows
Builder: Nolyn Croy, Black Chandelier Properties
Location: Nashville, Tennessee
Nashville-based custom builder Nolyn Croy used ZIP System™ liquid flash to seal every joint, including flashing 87 windows, on his own home in the Nashville area.
Nolyn worked with local architect Bob Butler of PROFILE + PRINCIPLE to create a modern design that maximizes natural light — hence the 87 windows — and provides a unique aesthetic while maintaining an affordable price point.
While natural light is a priority for the home's interior, Nolyn wanted to be sure light was the only thing flooding in. Since he intended for this to be his family's forever home, durability was especially critical to Nolyn and that meant water and air sealing needed to be sound.
"Given the sheer size of the house and number of windows, there's a lot of opportunity for air and water to penetrate," Nolyn said. "Because I can visually see ZIP System liquid flash fill in the cracks and observe the thickness it leaves on the window pans, I can confidently say we're keeping air and water out."
ZIP System liquid flash bonds to irregular surfaces and can be applied when it's rainy and wet outside, which is common in the Nashville climate. Watch the video to learn more about Nolyn's experience with ZIP System liquid flash here.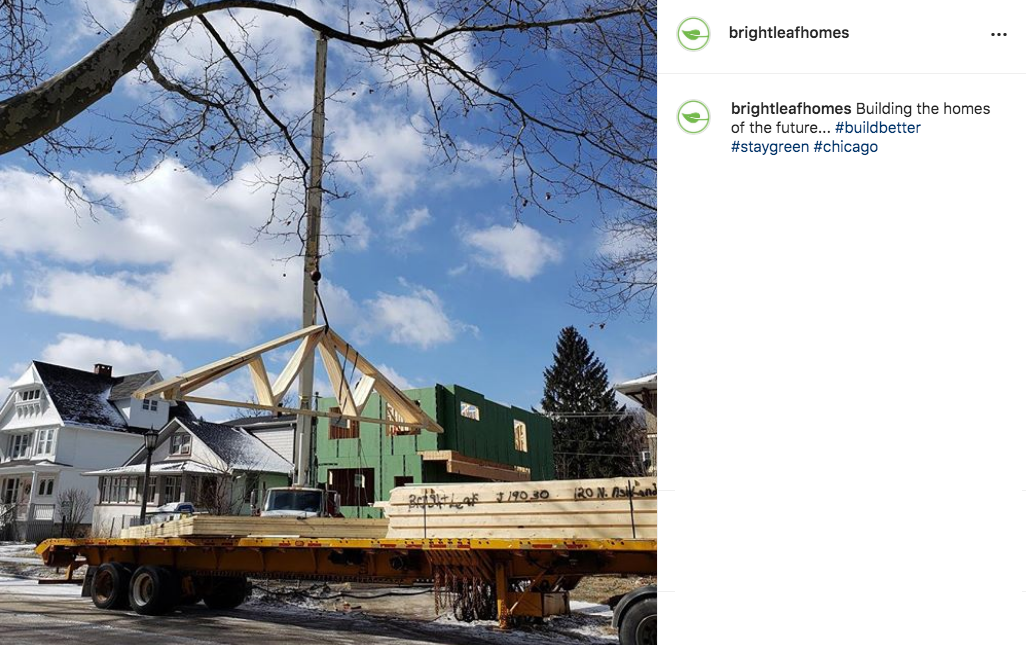 Increasing Flexibility in Tight Job Schedules
Builder: BrightLeaf Homes
Location: Chicago, Illinois
From young professionals and young families to active empty nesters seeking a home that better fits their lifestyle, BrightLeaf Homes is busy helping their Chicago-area customers add space and modern functionality to existing neighborhoods with older housing stock.
Since this is one of the largest metropolitan areas in the country, even the surrounding suburban homeowners often find there is nowhere to build but up. Architect and president of BrightLeaf Homes, Scott Sanders, said BrightLeaf often takes on projects turning single-story ranch-style homes into two- or two-and-a-half-story homes with creative outdoor space and enhanced building performance.
Building in already established neighborhoods, the projects often have close neighbors, limiting both the space on the jobsite and the flexibility of the building schedule.
With ZIP System building enclosures, Scott said they get high building performance that helps them stay on schedule. The integrated water-resistive barrier and taped seams provides a rough dry-in, meaning no need to wait on the finished roof cladding to move on to MEP work, increasing flexibility in the schedule.
"Huber products have created a great envelope for us," Scott said. "We're rough dried in fast and can start on factors like HVAC immediately."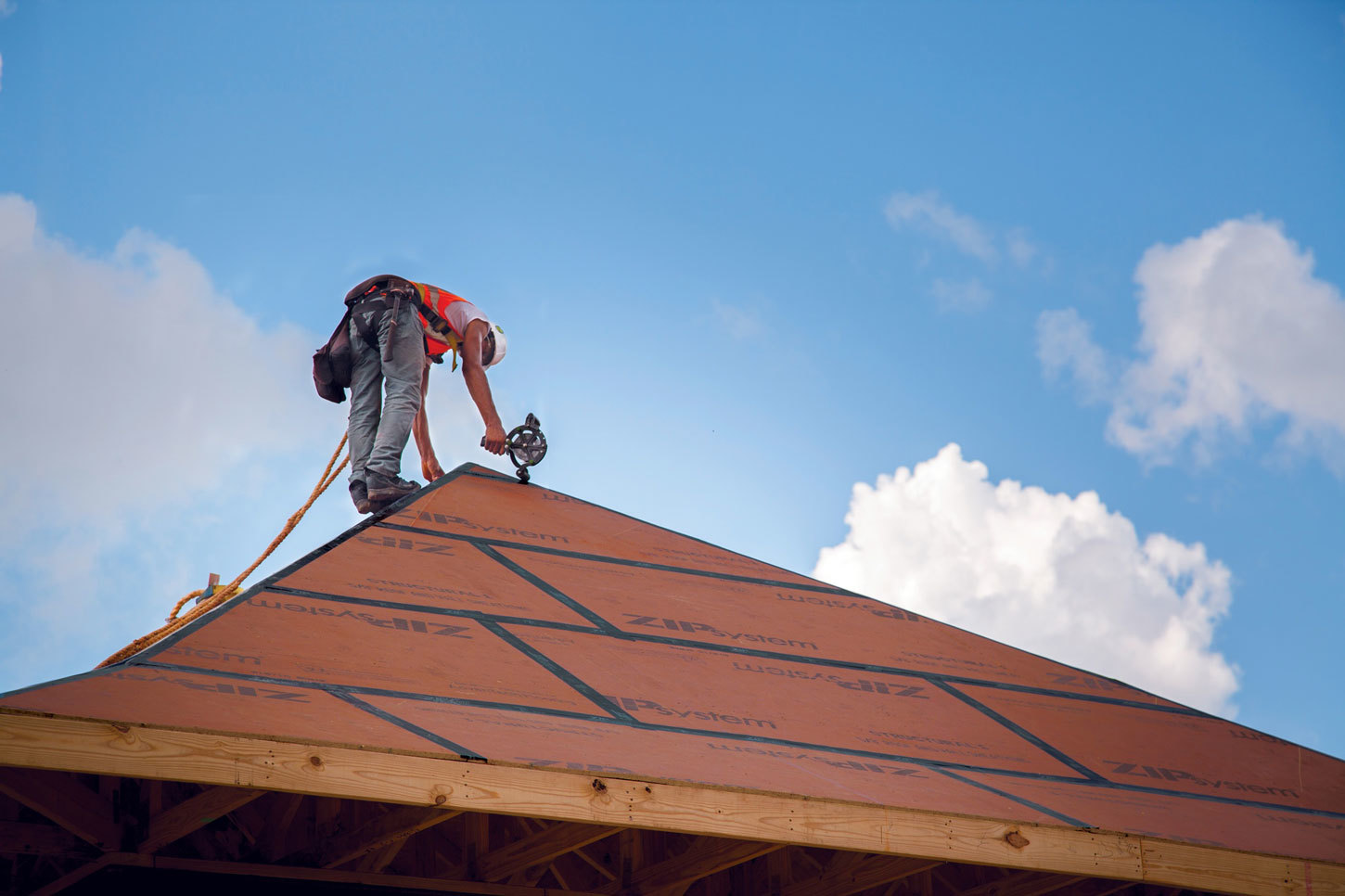 Using a Taped Roof Deck to Prevent Storm Damage
Builder: Sapphire Homes
Location: Mississippi Gulf Coast
Coastal building company Sapphire Homes strives to distinguish their company in their coastal market as a builder that homeowners can trust to prioritize long-term durability.
"It rains about every other day in the coastal areas," general contractor John Price said. "That's not a problem during a build when you're using ZIP system products. If you're in the house looking up, you can see there aren't any gaps between the boards."
"And there's no discoloration that would indicate water intrusion that you often see with alternative roofing products. Even after heavy rains, the roof interior looks good as new, so we're confident it is sealed tightly."
Owner Jason Garner explained this had to be a core part of the company's brand after the area's history of devastating hurricane damage, including destruction from Hurricane Katrina in 2005. The team uses ZIP System sheathing and tape to help meet FORTIFIED Home™ guidelines to make each of their projects as strong and weather resistant as possible.
"With ZIP System sheathing and tape, when shingles blow off you have a built-in layer of protection that's not going anywhere," he added. "Because the weather-resistive barrier is fused directly to the panels and acrylic tape seals the seams, your roof and house are much better protected."
Learn more about Sapphire Homes building philosophy here.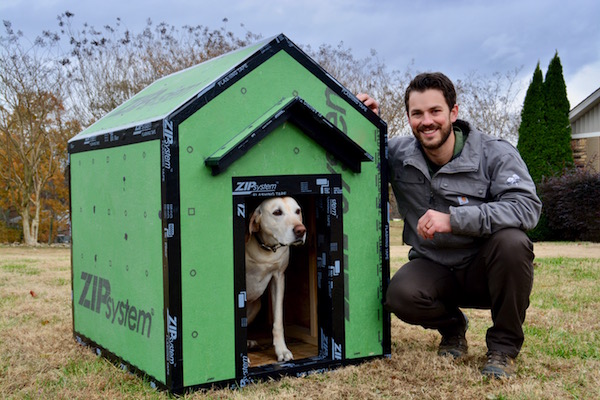 Achieving a Tighter Air Seal With Fewer Redundancies
Builder: Will King, High Cotton Homes
Location: Northern Alabama
Will King, a custom homebuilder and owner of Alabama-based High Cotton Homes, is devoted to bringing clients' dreams to reality. Shifting to building after starting his career as a firefighter, he relentlessly pursues new information about building science and materials for better building, which led him to ZIP System building enclosures.
"Getting proper air sealing is difficult with traditional methods," Will said. "All other variables the same, our blower door tests got much, much better using ZIP System sheathing and tape as our air and water barrier."
Will uses ZIP System sheathing, tape and liquid flash products for an integrated approach to his air and weather-resistive barriers in both roof and wall assemblies. For this high standard of building, the product line is also easy to learn, reducing mistakes and redundant installation practices.
"The ease of installation has made ZIP System a hit with my subs, who were tired of being 'hounded' about repairing flashing and housewrap details."
Learn more about Will's take on air sealing here.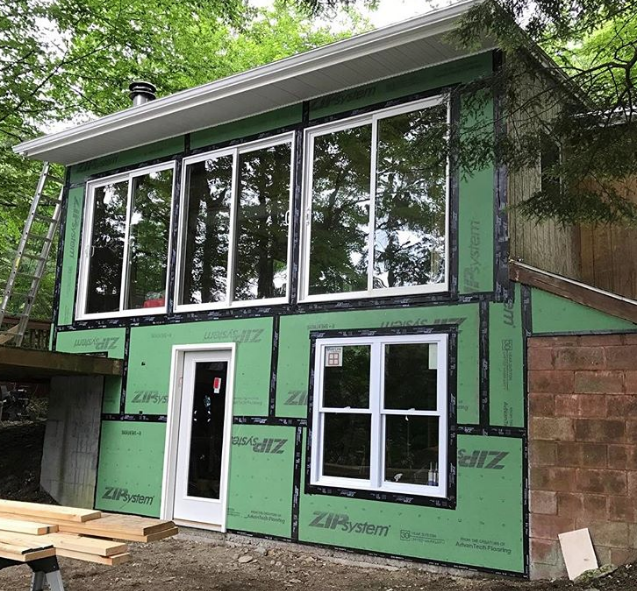 Remodeling an Old Lake Cabin into a Well-Insulated Vacation Home
Builder: Jeremy Kassel
Location: Rochester, New York
New York–based remodeler Jeremy Kassel worked with a customer hoping to transform an old lake cabin into a more refined vacation home. Built in the 1950s for hunting, the building started out rustic, and previous remodeling work left it in bad shape. The wall sheathing was rotting and damaged, as was some framing.
After realizing the thermal management and comfort-boosting benefits of using ZIP System® R-sheathing and tape on his primary home in the colder New York climate, Jeremy's customer requested it for this reconstruction work on the cabin as well.
Because of the rotting, Jeremy's team had to completely remove and reconstruct the worst wall on one side of the two-story cabin. They then used ZIP System R-sheathing as the primary structural component and a layer of continuous insulation for the exterior cabin wall.
The ZIP System R-sheathing panel provided a thermal break for increased energy efficiency of the finished wall assembly; structural durability; a nailable, flashable, engineered wood base for cladding, trim and windows; and a water-resistive barrier to help prevent the kind of moisture damage that previously affected the integrity of the cabin.
Read more about Jeremy's work with ZIP System R-sheathing and flashing tape here.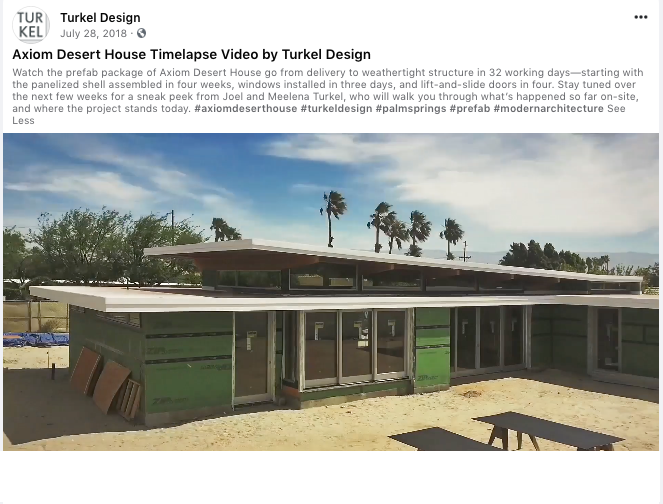 Constructing a Prefab Desert House in Just 32 Days
Firm: Turkel Design
Location: Palm Springs, California
Turkel Design, a global architecture and design firm that specializes in high-design prefabricated homes, uses ZIP System sheathing and tape to build the majority of their custom home projects, including the Palm Springs residence for firm founders Joel and Meelena Turkel.
Dubbed the Axiom Desert House, the team utilized ZIP System building enclosure products as part of a panelized prefabrication construction method. This method allowed the team to construct a weather-resistive structure in just 32 working days from delivery. The Axiom Desert House is the Turkel Design co-founders' primary residence as well as their "Living Lab" for demonstrating their work and testing new products. While they live in the desert, Meelena Turkel, designer and co-founder of Turkel Design, says ZIP System sheathing and tape works even harder for them in the wet and cold climates of their customer projects across the country.
"Achieving a weather-resistive shell by just taping off the seams rather than applying another layer of material works well with our assembly and construction process," Turkel said. "The other benefit is that ZIP System comes in longer sheets. By running the 9-foot sheets vertically, we don't need additional blocking for many of the taller wall panels."
Based on their project portfolio, it's no surprise Turkel Design matches high-performance materials with forward-thinking building practices to execute this panelized prefabrication method of construction, a method predicted only to increase in industry popularity in the future.
"Our practice model is unique and constantly evolving," Turkel said. "Where we were initially a service-based design firm, we have found that we can provide a more predictable and higher-quality project when we select and provide the materials."
Watch Turkel Design's time-lapse video of the Axiom Desert House here.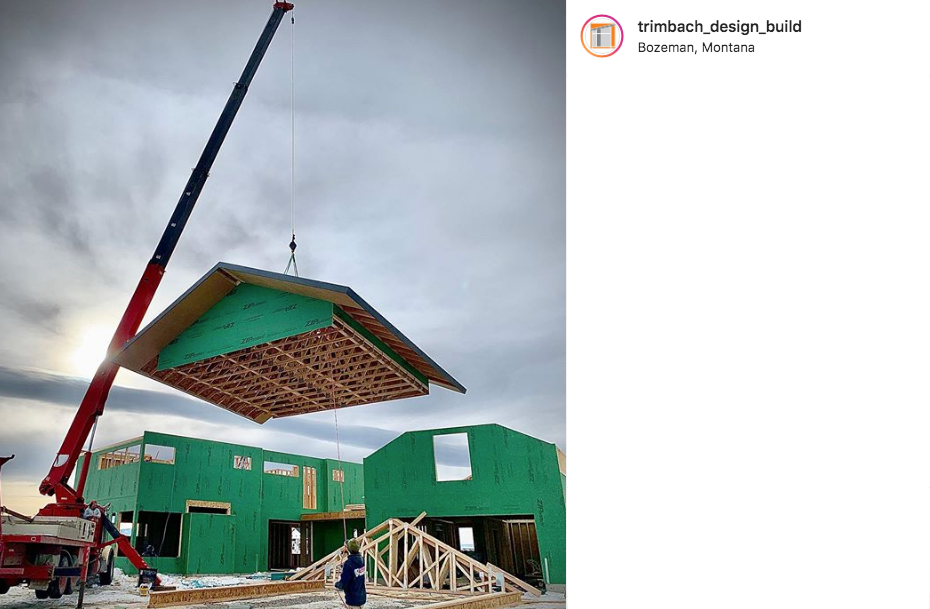 Building Customer Demand in New Regions
Builder/Company: Austin Trimbach of Trimbach Design Build
Location: Bozeman, Montana
Austin Trimbach's first introduction to ZIP System building enclosures was through building his own home. Afterward, he sought to extend the benefits to the residential projects his family-owned construction business — Trimbach Design Build — offers in the Bozeman, Montana, area.
The Trimbach Design Build team prefers using ZIP System™ long length wall sheathing for its air sealing quality, ease of installation and greater cost and installation efficiency to meet shear value in the windy Bozeman climate.
While his team enjoys the ease of use, Austin has also found the introduction of the product to be a great segue into discussing the importance of the building envelope with new clients.
"We have a competitive advantage over many other Bozeman builders," Austin said about being an early adopter in his region. "Clients ask about it and then we get to have a conversation about air sealing and what that means for their indoor comfort for their home."
When you have the right products to do the right job, the right way, the first time, you're building to a higher code. The ZIP Code. Watch the video, Built to the ZIP Code, on YouTube and tag your projects on Instagram at #builttothezipcode.