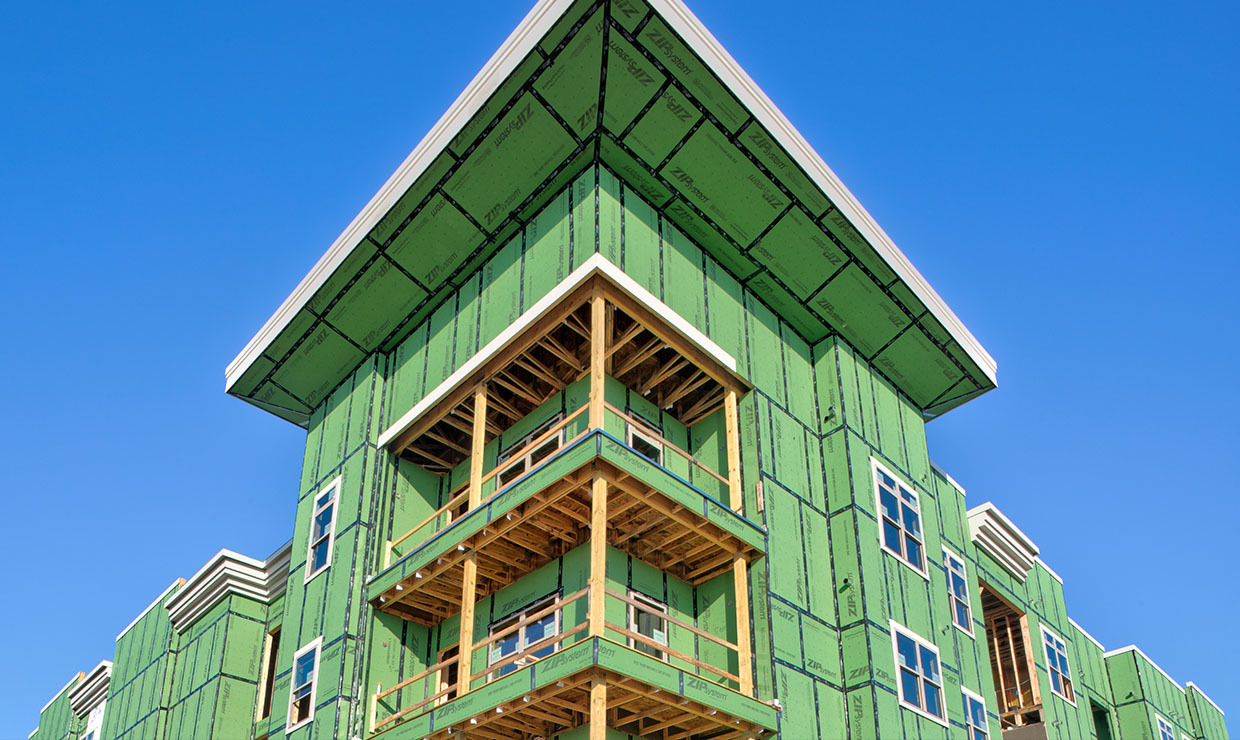 We've Got Your Back: An Overview of AdvanTech®, ZIP System®, EXACOR®, Huber Blue Plus™ and Huber Blue™ 2022 Warranties
5 Min Read October 6, 2021
Quality materials coupled with proper installation methods are a hallmark of resilient building projects. At Huber Engineered Woods, we are confident in the performance of our products and want you to be, too. We offer product warranties to provide residential and commercial building teams protection to match our high product performance standards. Here is a quick overview of our residential and commercial warranties for the AdvanTech™, ZIP System™, EXACOR®, Huber Blue™ and Huber Blue Plus™ product lines. Limitations and restrictions apply and may vary from warranty to warranty, so be sure to read the specifics of your applicable product warranty for full details. Registration and/or a preconstruction meeting may be required to access the benefits of some warranties.
Residential Projects
AdvanTech® Subflooring Products Warranties
When you combine AdvanTech® or AdvanTech X-Factor® panels attached to engineered joists or trusses with deformed fasteners (e.g. ring-shank nails or screws) and AdvanTech™ subfloor adhesive, you get an AdvanTech Subfloor Assembly with a panel-to-joist connection so strong, it's backed by a Squeak-Free Guarantee[1]. With the over 20 years of proven jobsite performance of AdvanTech panels, combined with the powerful bond of AdvanTech subfloor adhesive at work in your AdvanTech Subfloor Assembly, you can rest assured you won't hear a squeak in your single-family, duplex and townhome projects. See our Squeak-Free Guarantee for full details.
When it comes to subflooring products, AdvanTech products are requested by name for their well-known ability to stand up to tough jobsite conditions. Backed by a Lifetime Limited Warranty and a 500-Day No-Sanding Guarantee, you can trust that your job will be protected against rework from panel swelling, flaking or delamination.
ZIP System™ Building Enclosure Products Warranties
ZIP System® sheathing and flashing products are a revolutionary approach to streamlining air and water management in structural wall and roof assemblies. Panels feature an integrated water-resistive barrier and, when combined with ZIP System tape, form a continuous water and air barrier. Whether you're using a combination of ZIP System sheathing and tape or liquid flash in wall or roof applications, our products are backed by a 30-year limited warranty and can be exposed during construction without a finished roof or wall covering for up to 180 days. Check out our ZIP System residential wall warranty or ZIP System residential roof warranty to review the full terms and conditions.
When you add the protection of NEW ZIP System™ peel and stick underlayment to your ZIP System Roof Assembly[2], you can register your project for a Leak-Free Guarantee [3]. Limitations and restrictions apply, see full terms and conditions here.
Looking for warranty information on ZIP System products for townhome or multifamily projects? Please see Commercial Warranty section below.

Multifamily and Light-Commercial Projects
All of our products come backed by limited warranties for specified applications. Help protect your multifamily or light commercial projects and access enhanced warranty benefits such as warranty transferability options through our Enhanced Experience program. To qualify for the Enhanced Experience, register your eligible multifamily, commercial, or other eligible project online and, if required by the specific product warranty, attend a preconstruction meeting. Find details on the warranty terms and conditions for each product by application on the warranty pages linked throughout below.

EXACOR® Magnesium Oxide Panels Warranties
The latest innovation from Huber Engineered Woods are our EXACOR® Magnesium Oxide (MgO) panels. Whether used as a replacement for gypsum underlayment in subflooring or underlayment applications, or as exterior wall sheathing in certain fire-rated wall assemblies, through the Enhanced Experience EXACOR users may be eligible for up to a 10-year limited warranty[4] with limited transferability benefits. Project registration and completion of a preconstruction meeting are required to qualify. Find details on the warranty terms and conditions for each product by application on the warranty pages linked throughout below.
AdvanTech® Sheathing and Subflooring Applications Warranties
When it comes to our products, it's not just about the build; it's about trust. The original high-performance engineered wood solution to perform above PS-2 wood panel code standards[5], AdvanTech® and AdvanTech X-Factor® subflooring and sheathing panels are backed by a Lifetime Limited Warranty and a 500-day No Sanding Guarantee. When your eligible multifamily or light commercial project is registered through the Enhanced Experience program, you can also receive limited warranty transferability.
ZIP System® Wall and Roof Applications Warranties
ZIP System® sheathing and flashing materials are a game changer when it comes to streamlining air and water management in the building envelope for your multifamily, commercial and townhome projects. ZIP System sheathing and flashing products come backed with a 30-Year Limited Warranty and a 180-Day Exposure Guarantee for roof and wall applications. By combining one of our integrated sheathing panel options with ZIP System tape or liquid flashing, teams can achieve structural performance, a water-resistive barrier (or roof underlayment) and continuous air barrier installation in fewer steps than traditional layered approaches. A limited transferable warranty option and additional terms are available, when you register your eligible project and attend a preconstruction meeting. See the ZIP System Wall and ZIP System Roof Commercial Warranties for full details.
Warranty Links at a Glance
At Huber Engineered Woods, our mission is to provide high-performing, innovative products designed to meet the needs of today's jobsite challenges. Our warranty offerings, paired with our best-in-class technical and sales support are what help make the Huber Enhanced Experience an asset to your commercial project. Whether your job is single-family, townhome, multifamily or light commercial, our product warranties help protect your investment in Huber Engineered Woods products.
Find the specific warranty relevant to your job below. While some warranty terms and conditions are summarized in the table, see the applicable warranty for full details.
Please Note: Huber Engineered Woods products manufactured prior to October 4, 2021 are subject to different warranty terms. You can access these warranties here.
Have a specific warranty question? Contact our technical team.
Residential Warranties
Residential Warranties
Applications
Registration Required for full benefits
Preconstruction meeting Required for full benefits
Warranty Term
Exposure Period

Residential wall sheathing and flashing (excluding townhomes)

No

No

30 years

180 days

Residential roof sheathing and flashing (excluding townhomes)

No

No

30 years

180 days

ZIP System Leak-Free Guarantee
Residential roof sheathing and flashing plus peel and stick underlayment (excluding townhomes)
Yes
No
5 years
90 days (ZIP System Peel and Stick Underlayment)

120 days (ZIP System Peel and Stick Underlayment HT)

Residential subflooring, roof and wall sheathing

No

No

Lifetime (delamination/manufacturing defects)

500 Day No Sanding Guarantee

500 days

Residential subflooring and subfloor adhesive

No

No

10 years

500 days

Residential subflooring, floor underlayment, or exterior wall sheathing (excluding townhomes)

No

No

1 year

90 days

Residential subflooring

No

No

50 years (delamination)

200 Day No Sanding Guarantee

200 days

Residential and commercial subflooring, roof and wall sheathing

No

No

25 years

90 days
Commercial Warranties
Commercial Warranties
Applications
Registration Required for full benefits
Preconstruction meeting Required for full benefits
Warranty Term
Exposure Period

Commercial wall sheathing and flashing (including townhomes)

Yes

Yes

30 years

180 days

Commercial roof sheathing and flashing (including townhomes)

Yes

No

30 years

180 days

Commercial floor underlayment used over AdvanTech subflooring (including townhomes)

Yes

Yes

10 years

200 days

Commercial floor underlayment used over Huber Blue Plus subflooring

(including townhomes)

Yes

Yes

5 years

200 days

Commercial floor underlayment used over structural subflooring (including townhomes)

No

Yes

1 year

90 days

Commercial subflooring or exterior wall sheathing (including townhomes)

Yes

Yes

10 years

200 days

Commercial subflooring, roof and wall sheathing

Yes

No

Lifetime (delamination/manufacturing defects)

500 Day No Sanding Guarantee

500 days

Commercial subflooring

Yes

No

50 years (delamination)

200 Day No Sanding Guarantee

200 days

Residential and commercial subflooring, roof and wall sheathing

No

No

25 years

90 days