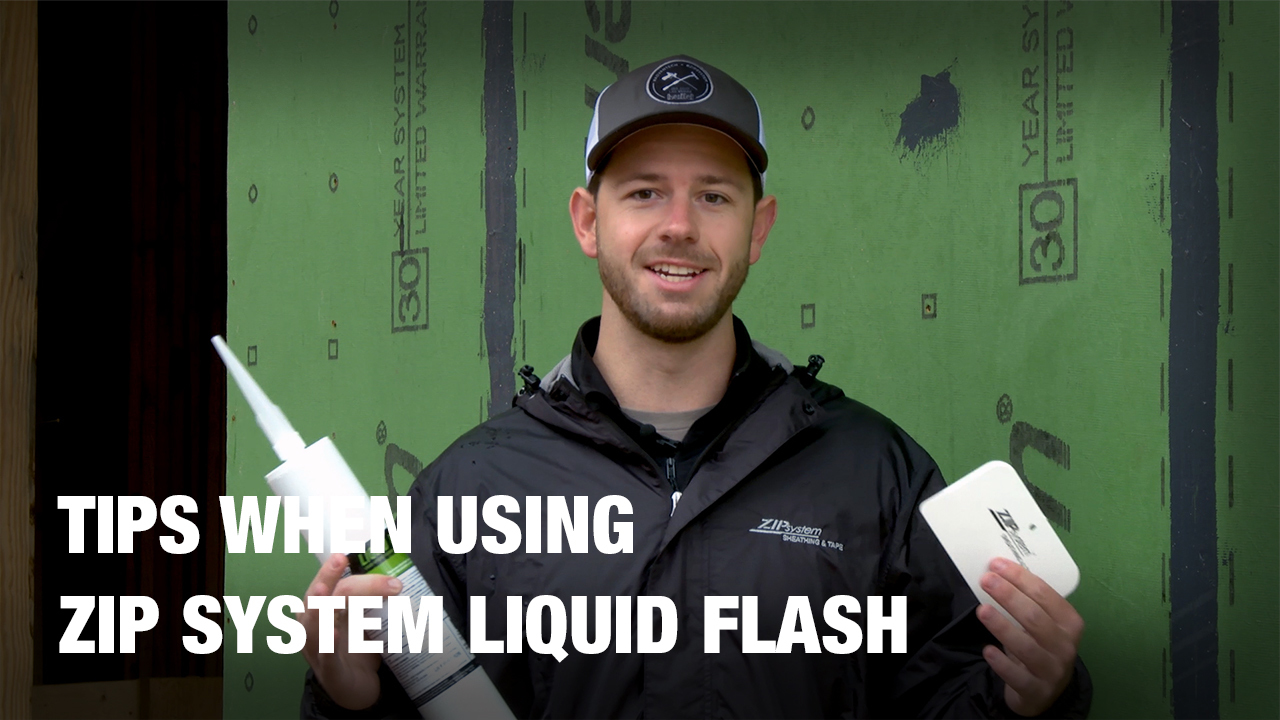 Tips When Using ZIP System™ Liquid Flash
6 Min Read April 25, 2022
TL;DR
Fluid-applied flashings such as ZIP System Liquid Flash are a great option for all your flashing needs. ZIP System Liquid Flash is going to bond to a wide variety of irregular surfaces and tiny nooks and crannies, and also bond to a wide variety of substrates. ZIP System Liquid Flash is also going to bond in wet and rainy conditions and is actually moisture-cured so it cures faster when it's raining out
Tate Hudson - Huber Engineered Woods
What's going on everybody? It's Tate Hudson from Huber Engineered Woods here coming at you today in Nashville, Tennessee from a rainy and wet job site with our friends at Black Chandelier Properties. We're talking about why builders do what they do and how they choose what they use on their jobs. So, check it out.
Elliot Croy - Black Chandelier Properties
And I'm Elliot Croy, and we are Black Chandelier Properties. Today we're in Nashville, Tennessee to talk about Huber and their Liquid Flash System.
Nolyn Croy - Black Chandelier Properties
When I started the construction process, the number one goal I had in my mind was building a structure that would last the test of time, and two key components of a house that lasts are effectively controlling moisture and also effectively controlling air.
ZIP provides the Liquid Flash product, which is a simple solution that allows me to do both of those things, especially on rainy days like today.
Applying Liquid Flash is easy. It seals up all of our seams and penetrations, so I know that all this water today is staying out just as air will in the future, and it gives me that performance that I'll be looking for. ZIP was gracious enough to donate the Liquid Flash to this project, which is going to allow me to bring these dreams to a reality.
What Is Fluid-Applied Flashing?
Tate
Fluid-applied flashings such as ZIP System Liquid Flash are a great option for all your flashing needs. ZIP System Liquid Flash is going to bond to a wide variety of irregular surfaces and tiny nooks and crannies, and also bond to a wide variety of substrates. ZIP System Liquid Flash is also going to bond in wet and rainy conditions and is actually moisture-cured so it cures faster when it's raining out like it is today.
Why Use Fluid-Applied Flashing For All Flashing Needs?
Nolyn
ZIP Liquid Flash was an easy choice for this house for one simple reason, confidence. Given the sheer size of the house and the number of windows, there's a lot of different areas for air and water to penetrate my home. With the simplicity of insulation and being able to visibly see it going into the different cracks as well as the thickness it leaves on my window pans, I can confidently say that we are keeping air and water out.
Loading A Sausage Gun For Applying Fluid-Applied Flashing
So, it's really easy to get started with ZIP System Liquid Flash. We have caulk tubes and we also have the sausage tubes, which I'm going to be using here. You can slide the sausage tube into a battery-powered gun like this one. Just cut the tip off and screw the end cap on, and you're ready to go. The caulk tubes are available in various sizes as well as the sausage tubes at your local lumber yards and on Amazon, so check them out.
Substrate Transitions
A major benefit of ZIP System Liquid Flash is that it's able to bond to a wide variety of substrates, one being at the ZIP System-to-foundation transition, where the Liquid Flash is going to bond to the irregular masonry surface and the ZIP System surface, providing a solid air and moisture seal at that transition location.
Getting a solid air and moisture seal at your foundation transition is critical in terms of energy efficiency, which is a primary goal for Black Chandelier Properties.
Moisture Curing
So typically, when it's pouring rain on the job site, things tend to slow down, but fortunately, as we mentioned earlier, ZIP System Liquid Flash is a moisture-cured fluid-applied flashing option. So, what that means is when we apply it when it's raining and wet outside like this, it's actually going to cure faster and help us keep working towards a quick and fast rough dry-in.
Flashing Nail Heads
So, a super common question that we get from builders all the time with ZIP System sheathing is, do I need to flash over the fastener heads in the field of the panel? The short answer is no.
However, the option is up to you, and some builders will prefer that belt and suspenders approach, and they'll use a dab of ZIP System Liquid Flash on those fastener heads in the field of the panel.
However, it's not required for the ZIP System sheathing 30-year system warranty. So, the choice is yours and the option is up to you.
Watertight Windows
So, with a large modern design like this job site, there's also a lot of large modern windows, and large windows are a higher potential for air leakage and moisture intrusion. So, we can use ZIP System Liquid Flash to protect that window pan and rough opening to make sure that if that window leaks, none of that water is coming inside.
We can use a spreader tool or a paintbrush to spread that Liquid Flash from the framing onto the face of the ZIP and fully protect that rough opening.
Fluid-Applied Flashing on Panel Seams
Just like ZIP System tape, using ZIP System Liquid Flash is a great easy way to flash all of your ZIP System panel seams. Here we're using a battery-powered gun with a wide mouth nozzle. This is going to help us maintain that one inch of coverage that we want to get on each ZIP System panel seam. When you use ZIP System Liquid Flash to flash all of your panel seams, you're still going to get a 180-day exposure guarantee and a 30-year system warranty just like you would get with ZIP System tape.
Fluid-Applied Flashing vs Advanced Acrylic Tape
The Black Chandelier Properties chose to use ZIP System Liquid Flash on this entire project, but there's also ZIP System Flashing Tape that would also accomplish the flashing needs, the moisture management, and the air sealing that we're going for on this job. Our goal is to provide you guys on your projects with the best flashing options specific to what you're all trying to accomplish.
I want to give a big shout-out to Nolyn and Elliot and the entire team at Black Chandelier Properties for showing us around their awesome job site today in Nashville, Tennessee, and showing us how they're using ZIP System Liquid Flash to help address their energy efficiency goals for their company. Be sure to tag us in your Instagram posts, @huberwood, and check us out on there.
Always remember to roll the tape - unless you're using Liquid Flash - and stay safe out there. See you guys.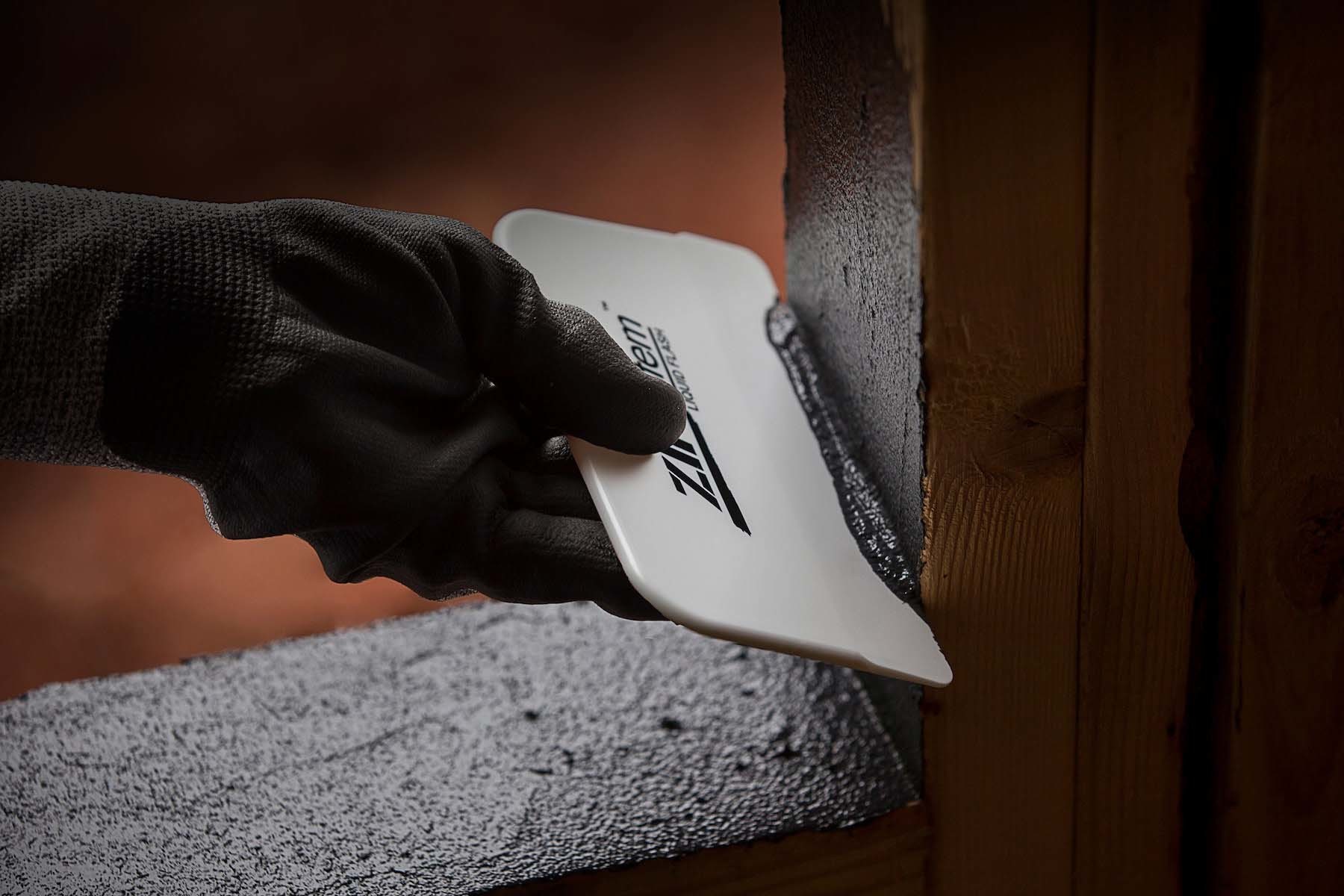 Want to Try ZIP System liquid flash?
Try ZIP System liquid flash on your next project.
Request A Sample