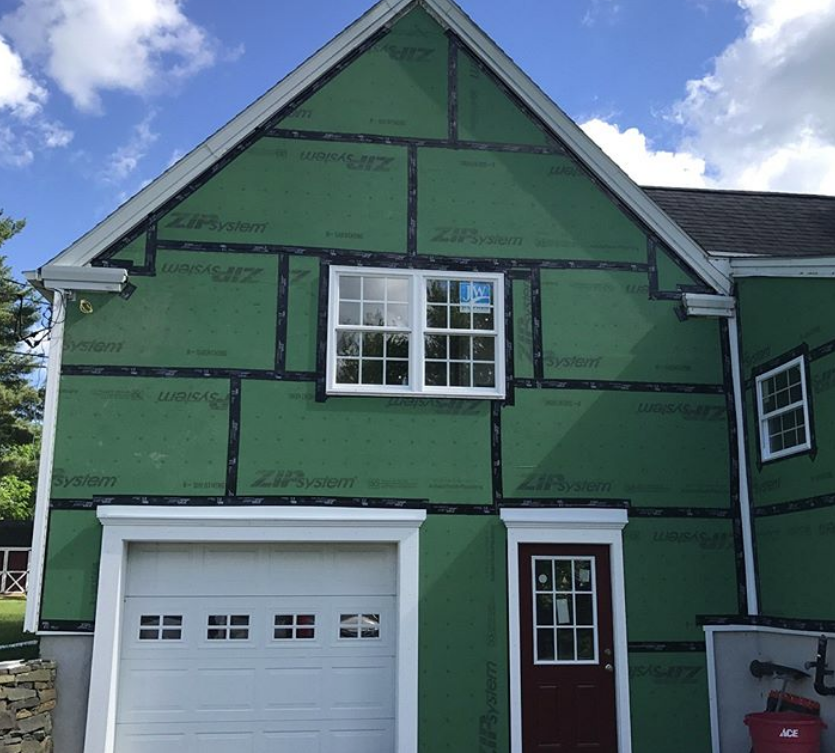 Two Ways to a Faster Insulated Remodel
4 Min Read April 9, 2020
Two Ways to a Faster Insulated Remodel
I've been a self-employed home improvement and remodeling professional since 2005, and I work regularly with a few other independent remodelers. Our primary focus has been on kitchens, baths, porches, decks and additions. My first experience with ZIP System® sheathing was when an architect requested it for an addition to his home, an 1880s farmhouse, outside of Albany, New York. Admittedly, my team and I were skeptical at first, wondering if the sheathing and tape could actually perform like housewrap. Even with its physical challenges, we thought housewrap was necessary for these kinds of remodeling projects.
After we completed the addition on the farmhouse using ZIP System sheathing and tape, we were contacted about a unique project where the homeowner wanted to replace the siding on his older house and to make it more energy efficient. Many older homes don't have exterior insulation and adding continuous exterior insulation helps prevent thermal bridging where cavity insulation can't – at the studs. By helping prevent this excess heat loss, continuous exterior insulation helps increase the overall energy efficiency of the home. The owner started this project himself using a two-step process: installing one-inch foil-faced rigid insulation followed by a layer of 7/16" ZIP System wall sheathing. When we started working with him, we knew there was a faster way: use ZIP System R-sheathing and tape. We ended up completing two projects with this customer, using ZIP System R-sheathing and tape in two different applications: over the original exterior sheathing for his primary home and as a replacement for the original exterior sheathing on a lake cabin.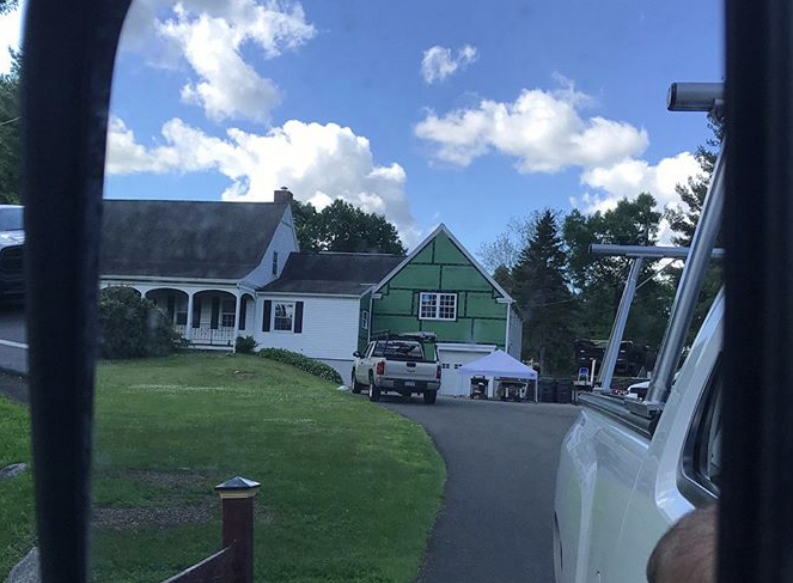 Option 1: Add ZIP System Sheathing and Tape Over Original Exterior Sheathing
With ZIP System R-sheathing, the insulation is factory-applied to the ZIP System sheathing, so we could reduce thermal bridging with fewer installation steps than the alternative method the homeowner was using, all while preserving the bones of the old home. We left the original interior insulation and exterior sheathing—fiberglass insulation and a cellulose-based fiber wall board—and added the layer of ZIP System R-sheathing on top, replaced the old windows with new, more energy efficient windows and replaced the finish with a new vinyl siding, for which ZIP System R-sheathing provided a nailable base. The ZIP System R-sheathing also had all of the built-in weather resistive barrier benefits as the ZIP System sheathing we had used on the farmhouse addition.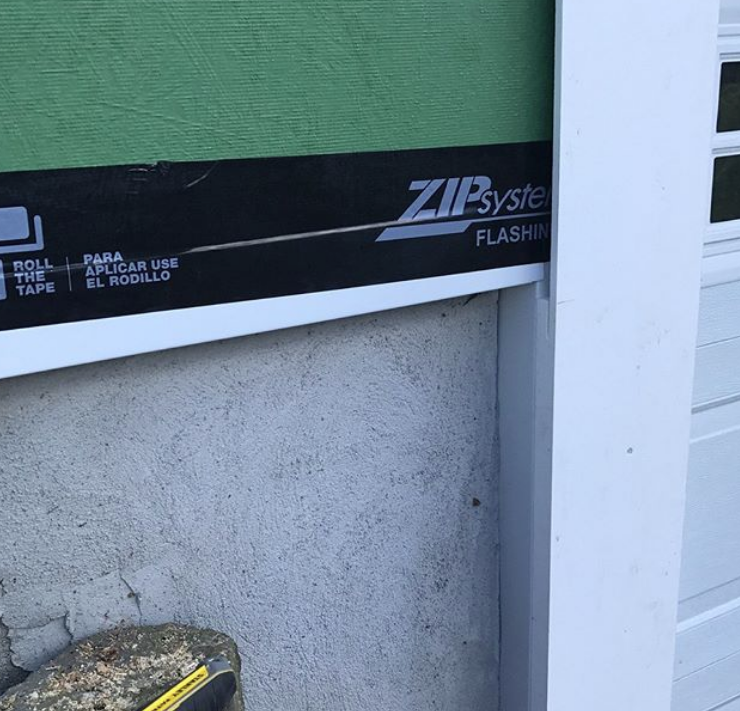 Option 2: Demolish Original Exterior Sheathing and Replace with ZIP System® R-Sheathing
The same customer also has a lake cabin that he is slowly updating to make into a more refined cottage. It was built in the 1950s as a hunting cabin, so it started out very rustic. Previous work to the cabin was sub-par, and the building was left in bad shape. The wall sheathing was rotting and damaged, as was some framing.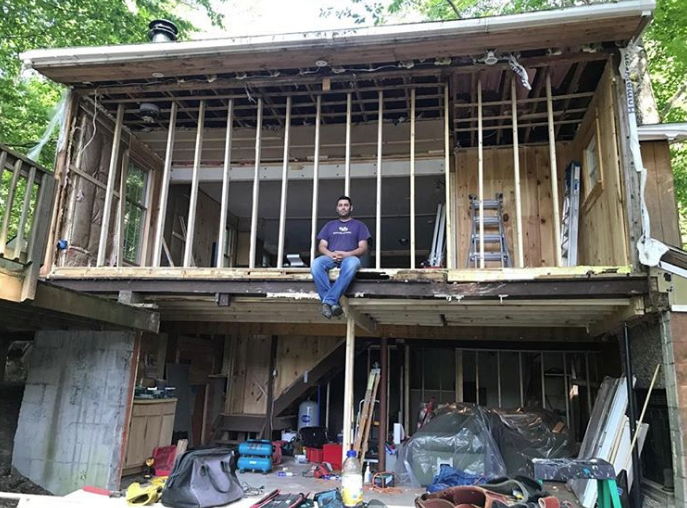 Having witnessed the benefits of using ZIP System R-sheathing and tape on his home, he requested that we also use it for this reconstruction work on his cabin. In contrast to the home project where we could preserve the original wall, we had to completely remove and reconstruct the worst wall on one side of the two-story cabin. We were able to use the ZIP System R-sheathing and tape for both the continuous insulation of and the primary structural component for the exterior cabin wall. The ZIP System R-sheathing and tape products provided insulation to the finished wall assembly, structural durability via the exterior engineered wood panel, a nailable, flashable base for cladding, trim and windows, and an exterior water resistive barrier to help prevent the kind of moisture damage that previously affected the integrity of the cabin.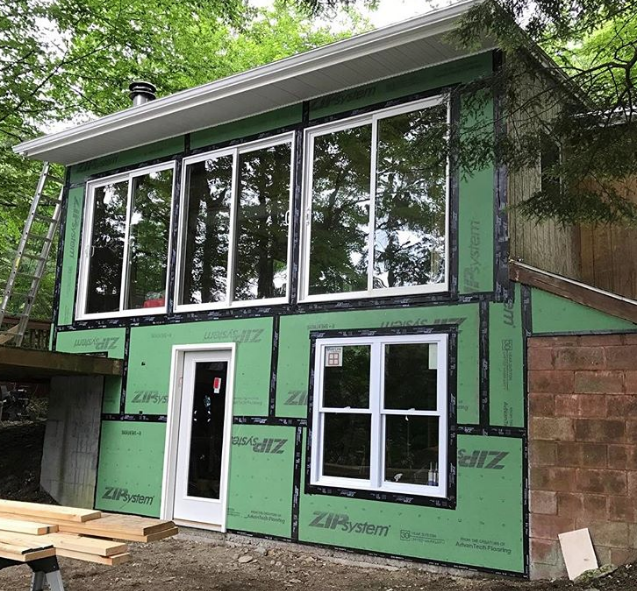 Exterior Renovation and Remodel Results
After using ZIP System R-sheathing and tape, as well as visiting a Huber Engineered Woods mill to see how ZIP System panels are made, I have a different perception of the product than when I was first introduced to it. The ZIP System R-sheathing panels and tape are a streamlined, effective method for moisture, air and thermal management. With ZIP System tape, you just apply and roll. Rolling applies the pressure needed to bond the acrylic adhesive in the tape to the sheathing. Therefore, we're confident in the ZIP System products' performance over time to keep water out. And we definitely enjoy the benefit of not using housewrap. Handling housewrap is unpleasant and at times can be unsafe.
We have now used ZIP System R-sheathing in multiple remodeling projects with great results. We are huge fans, as are the end-users – our happy customers.
To learn more how ZIP System R-sheathing can help reimagine your next wall assembly, visit InsulateYourBuild.com.