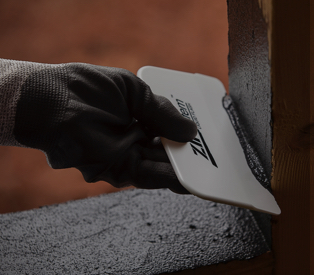 Why Some Builders Are Choosing Fluid-Applied Flashing
4 Min Read December 23, 2019
Fluid-applied flashing materials have gained popularity alongside the trend in tighter building enclosures. Though flashing tapes have come a long way — especially with the option of advanced acrylic tapes — when flashing applications call for maneuvering around corners and curves, more and more teams are turning to fluid-applied flashing for ease of installation and assurance of continuous coverage. Here are a few reasons pros tell Huber Engineered Woods they are making the switch to ZIP System™ liquid flash.

We prefer to use liquid flash because it leaves little room for error and provides a super tight water and air barrier.
Flashing Recessed Windows
When taping corners and angles with flashing tape, it's important to layer, or shingle, tape segments appropriately to make sure you're creating a continuous air barrier with the water-resistive barrier on the sheathing. While newer tape innovations like ZIP System™ stretch tape can eliminate the origami of multiple tape segments around sill pans, for more complex installs on recessed windows, for example, ZIP System liquid flash flows into every crevice to create a smooth, continuous flashing membrane between the transitional levels of a recessed window sill.
"Any time you have an overlap in material, you're creating a possibility for water leaks to occur," said Doug Cameron, owner of ESS Design + Build. "We prefer to use liquid flash because it leaves little room for error and provides a super tight water and air barrier."
Fluid-applied sealants simplify the flashing process around air vents and pipe penetrations as well. ZIP System liquid flash is formulated to combine the durability of silicone with the bonding strength of urethanes in what's commonly called "STPE (silyl-terminated-polyether) technology." This high-performance formula applies easily, using a plastic trowel or paintbrush to tool around curves, to provide the right mil thickness for an air- and watertight seal. (Don't miss the pro installation tips below.)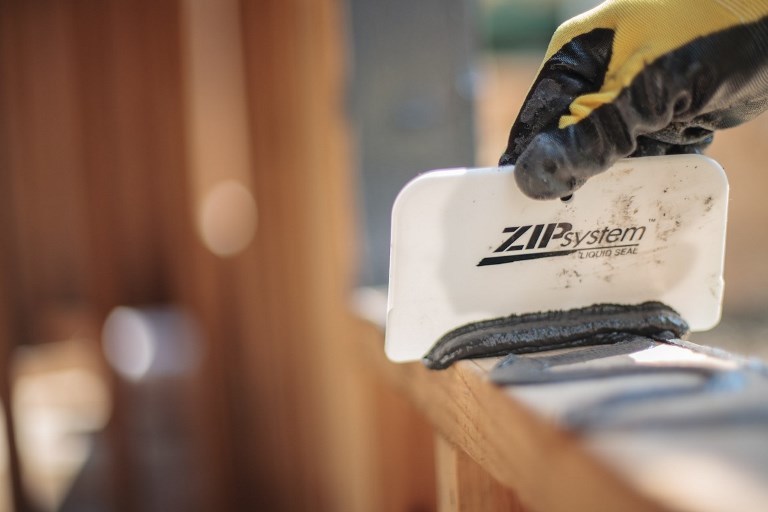 Sealing Transitional Details
Sealing the connection between the foundation and wall system can be difficult, and not all tapes are created equally. Depending on the type of adhesive backer used, tape may not adhere to all substrates. That's why builders like Doug Cameron have switched to ZIP System liquid flash for a fluid-applied flashing option on this transitional detail. ZIP System liquid flash is designed to chemically bond two materials together, so there's little chance for air or water leaks in this important area of the enclosure that is gaining more and more attention from teams building to net-zero standards.
"We seal all critical junctures where water can and cannot hit in order to provide both a water-resistive and air-resistive barrier," Cameron said. "I call it our 'block and caulk' system."
Pro Installation Tips for Flashing
Though ZIP System liquid flash can make the job easier for your crew, there are a few pro tips that can make it even easier:
For hard-to-flash areas like recessed windows or curved air vents, try using a paintbrush to apply liquid flash instead of a putty knife. Trim the bristles of the paintbrush to give it more body. This makes it even easier to work the product around rough openings. Once you apply a coat with the paintbrush, use a putty knife to score any imperfections and smooth the flashing over the surface.
Some openings may require a putty knife, and some workers may prefer them, but it's important to provide workers with the right-size tool for the job they are completing. If a 2-inch seam is required, they should use a 2-inch-wide putty knife for a more accurate coverage area. This will also ensure material isn't wasted. To make cleanup easier, use plastic putty knives since liquid flash won't bond to plastic as well as metal.
When teaching apprentices how to use ZIP System liquid flash, tell them to use less than they think they need. Liquid flash is meant to be slightly opaque at the proper thickness, which is 12 to 15 mils.