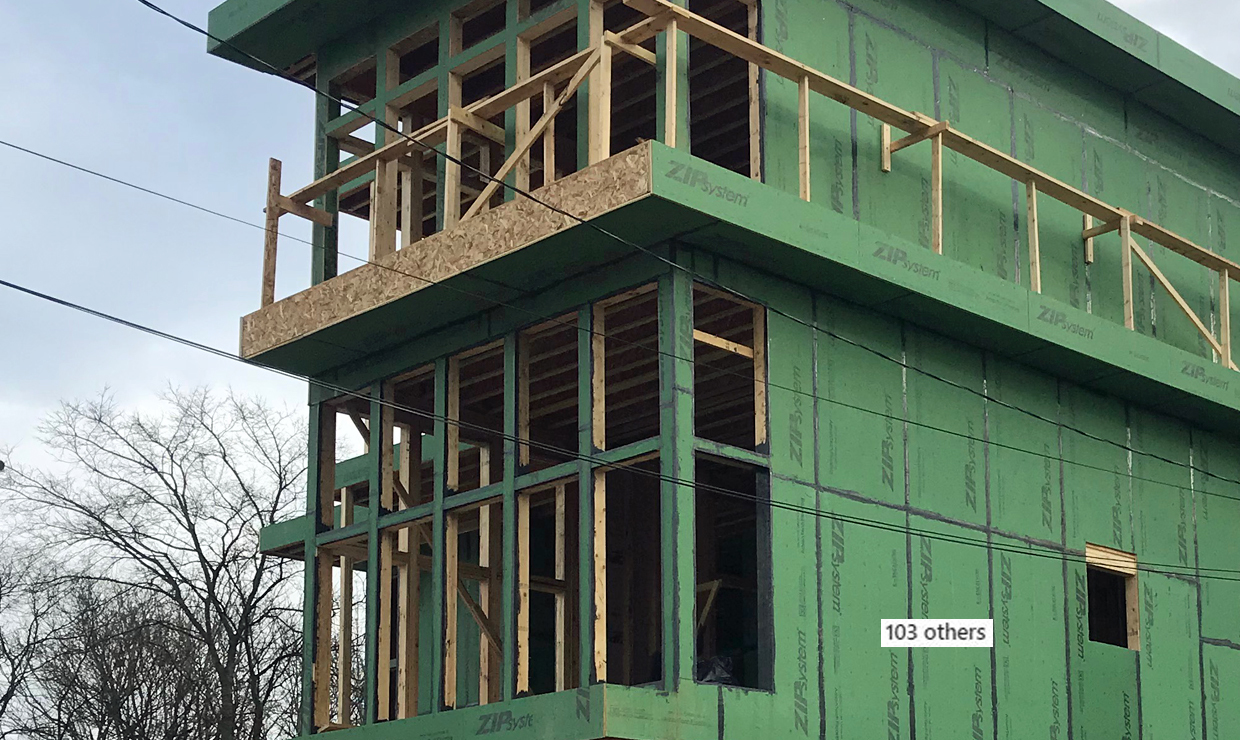 When and How to Use Fluid-Applied Flashing
6 Min Read June 9, 2020
After sealing every seam and window on a three-story, 3,500 square foot house with 87 windows, you could say Nolyn Croy, general contractor and owner of Black Chandelier Properties in Nashville, Tennessee, is a fluid-applied flashing expert. Despite the challenges of the massive flashing project, Nolyn maintains his belief that a an effective continuous air- and water-barrier is paramount to a structure's longevity, and that building with quality products the first time saves time and money in repairs down the line.
Two key components of longevity are effectively controlling moisture and air. ZIP System™ Liquid Flash is a simple solution that allows me to do both.
"When I started the construction process, my number one goal was a structure that would stand the test of time," Nolyn said. "Two key components of longevity are effectively controlling moisture and air. ZIP System™ Liquid Flash is a simple solution that allows me to do both."
The custom build features four bedrooms, four and a half baths, a two-car garage, bonus room, office and exterior living space with views of downtown Nashville and the surrounding hills. Nolyn worked with local architect Bob Butler of PROFILE + PRINCIPLE to create a design that maximizes natural light – hence the 87 windows – and provides a unique aesthetic while maintaining an affordable price point.
What is Fluid-Applied Flashing?
ZIP System liquid flash is a fluid-applied flashing membrane made of STPE (silyl-terminated-polyether) technology. A moisture-curing formula, it combines the durability of silicones with the toughness of urethanes for the most demanding conditions. ZIP System Liquid Flash provides an alternative option for your flashing needs because it:
Flows easily to seal difficult areas, such as rough openings and wall penetrations.
Bonds and cures in wet weather and on damp substrates.
Bonds to wood, concrete, masonry, architectural metals, glass, PVC, FRP, EPDM and most other building materials.
Becomes waterproof quickly after installation, providing fast rough dry-in.
In addition to fluid-applied flashing, Nolyn also used ZIP System™ flashing tapes in some applications.
"We needed to flash these overhangs that are up about 30ft in the air," Nolyn said, adding that holding the applicator and leaning over would just activate his fear of heights. "The ability to use tape in that situation and know the result will be same is great for us. I think of the different sealing options like palette of tools to get the job done right."

Using ZIP System liquid flash to seal seams and transitions provides an alternative option to ZIP System flashing or stretch tape, when using the integrated sheathing system known for its innovative, built-in water-resistive barrier onto an engineered wood panel. These newer type of roof and wall systems eliminate the need for housewrap in wall assemblies and felt in roof deck applications but require flashing at panel seams and transitions such as at the roof-to-wall or wall to foundation to maintain continuity in air and water barriers to keep water out and maintain proper air leak management. While it is relatively easy to apply and extremely effective in providing an effective seal, it can require a learning curve to consistently achieve a tidy application, especially with 87 windows.
Nolyn says he sees images of liquid flash applied in perfect lines, almost like an art project, but advises other builders not to worry about messy application.

"Clean lines don't help or hurt product performance," Nolyn said. "Messy is still sealed, and the product is actually so simple to use. I trained the guys in five minutes. It's like, if you can see the wood through it, then there is not enough product for a seal. I didn't have to dedicate a full day of training or constantly supervise the team. That simplicity of application keeps things moving."
"...the product is actually so simple to use. I trained the guys in five minutes. It's like, if you can see the wood through it, then there is not enough product for a seal."
Why Use Fluid Applied Flashing?
Windows are one of the most vulnerable areas to water and air leaks. Flashing tricky curves and corners in order to achieve the best seal to block out water and air leaks can be a challenge, but fluid-applied flashing is one way to easily and effectively achieve that consistent seal with quality control that can be easily observed.
"Given the sheer size of the house and number of windows, there's a lot of opportunity for air and water to penetrate," Nolyn said. "Because I can visually see ZIP System Liquid Flash fill in the cracks and observe the thickness it leaves on the window pans, I can confidently say we're keeping air and water out."
Nashville has a lot of nice days, which makes the outdoor living space and views of downtown a real asset for the home. However, with its humid, subtropical climate, it also rains a lot, with an average of 118 rainy days per year. For builders, ZIP System liquid flash is an asset because it's moisture-curing, allowing work to continue even in the rain.
"Especially on rainy days, applying liquid flash is easy," Nolyn said. "It seals up all of our seams and penetrations, so the water stays out."
Additionally, Nolyn pointed out there was no gutter on the house while they were building. As a result, rain would pour straight off the one-inch overhang to the ground, bouncing back up and splattering the slab and sheathing. Moisture and dirt could splash between the sheathing and back into the house.
"That constant dirt and water is not good for any build," Nolyn said. "This was a perfect problem for liquid flash to solve because our slab is a textured, dimpled concrete surface. Moisture can ruin a house in no time, so finding a solution to keep the rain out helped usachieve our goal of a more durable build."
Consider Your Building Envelope Options
ZIP System™ building enclosures offer a variety of methods for a streamlined approach to achieving effectively continuity in air- and water-barriers in building envelopes including a range of panel sizes with built-in water-resistive barrier and in some case an additional layer of continuous insulation, as well as tape and fluid-applied sealing solutions to meet the needs of jobsites in a range of climates and sizes.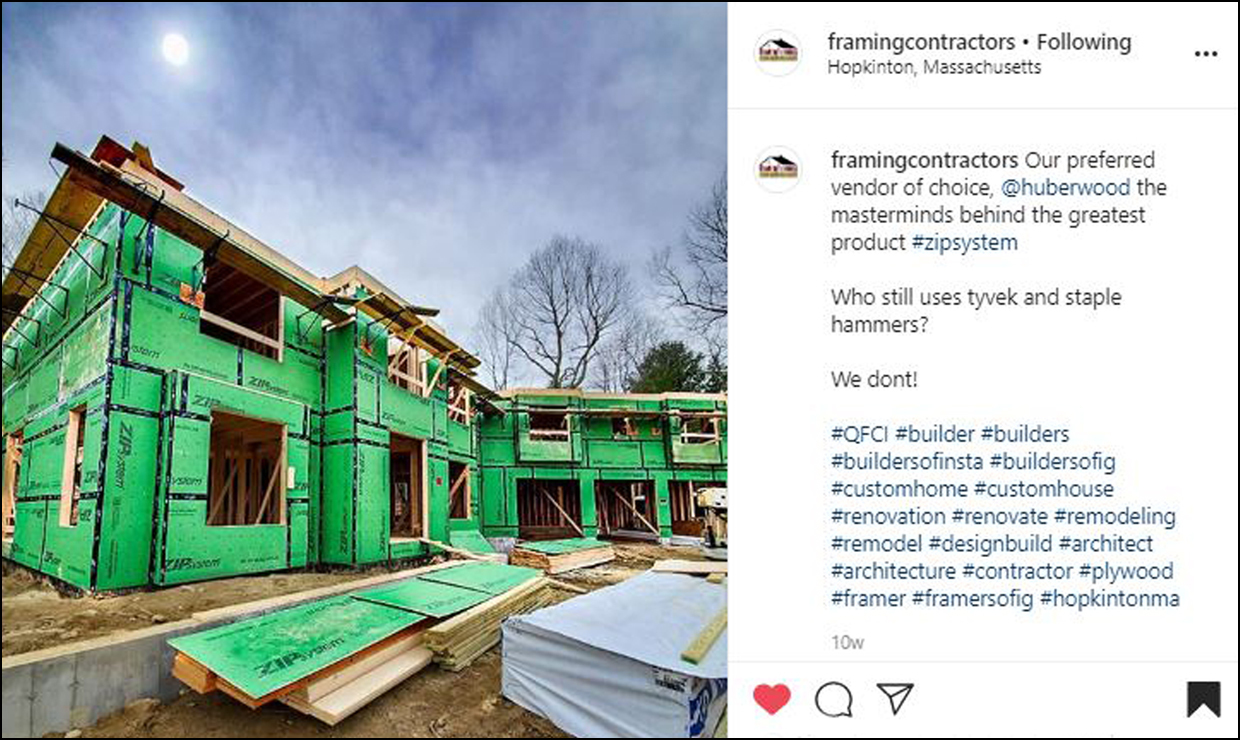 "At the end of the day, I love the product and I would use it again," Nolyn said. "I'd also consider coupling it with other Huber Engineered Woods products like the ZIP System tape on ZIP System sheathing seams or the stretch tape for the window pans. The ZIP System building enclosures line offers a ton of configurations to get the right product for the job."

Discover more about the transformational products behind ZIP System building enclosures at https://zipsystemrevolution.com/.