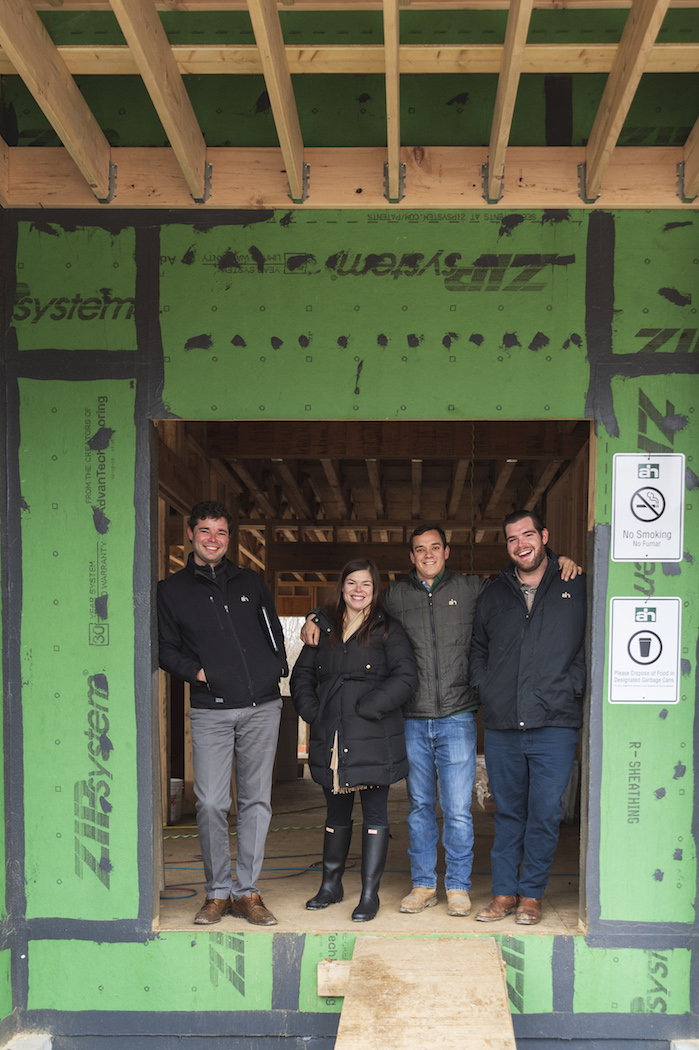 How to Build a Huge Custom Home with a Continuous Air and Water Barrier
4 Min Read April 8, 2019
Kentucky-based Atchison Heller Construction Company is a family-owned business of professionals passionate about buildings that last. Specializing in custom homes, remodels and renovations, a key to the team's philosophy is stepping up their building enclosures. In a recent large custom home they advanced their build with integrated sheathing and fluid-applied flashing for a streamlined approach to maintaining continuous air and water barriers. To stand by their promise to deliver a durable home with dependable indoor comfort, they chose
ZIP System® R-sheathing
and liquid flash to achieve a tightly sealed building envelope.
"We are looking to push the envelope in the building science world," said Austin Heller, director of quality control for Atchison Heller. "We're not taking shortcuts, but rather going above and beyond. To us, building codes are a minimum, not a maximum."
Their reputation for applying advanced building practices has lead to a variety of projects, from townhouses to a luxe basement wine cellar and a custom tree house.
"It's really helped separate us in our market in essence by doing things the 'right way,'" adds Max Heller.

The 13,000-square-foot custom dream home, dubbed the "Stone Creek Project," is a project they are building from the ground up, for a client in the Lexington area. Intended to be a forever-home, Austin emphasized the customer wanted to do it right—inside and out. The interior features include distinctive custom finishes such as floor-to-ceiling limestone fireplaces, a built-in jacuzzi flush with the floor, exposed ceiling beams and built-in barnwood TV cabinets.

"There's not a flat ceiling in the house," Max said. "Everything about this home is unique."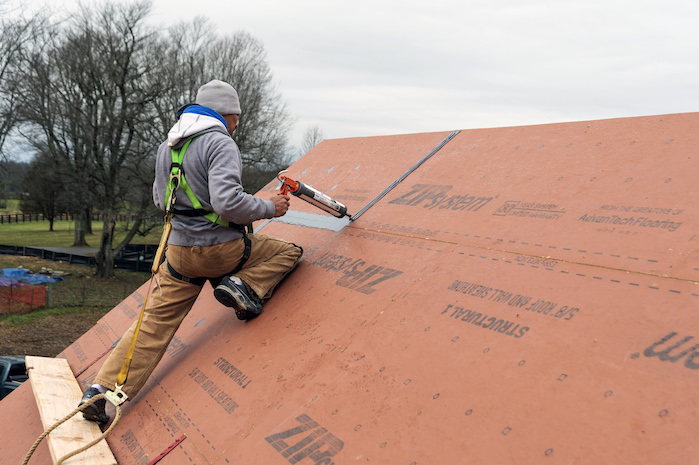 The high-performance building enclosure was built intentionally tight to not only prevent water intrusion, but also reduce the chance for air leaks. With a tight exterior combined with fresh air makeup systems, the home is built to give the client more control over consistent indoor air quality and comfort, as well as the energy they consume.
To optimize exterior roof and wall designs, the team used R-3 ZIP System R-sheathing on walls and 5/8" ZIP System sheathing on the roof deck. The integrated panels eliminated the need for housewrap in the wall assembly and felt on the roof. Using ZIP System R-sheathing panels with built-in ½" polyisocyanurate exterior insulation helped create a thermal break to reduce heat transfer within the wall assembly to also contribute to energy efficiency goals.
For the conditioned attic design, it was important not only to have a durable exterior weather barrier on the roof deck, but also a rigid air barrier. This essentially enables the roof to act as a wall doing double duty to protect against water intrusion during construction and long-term, while also helping to reduce air leakage into the conditioned space contributing to overall energy efficiency.

We're not taking shortcuts, but rather going above and beyond. To us, building codes are a minimum, not a maximum."
To maintain continuity of the built-in weather- and air-barrier, the team used 1,000 tubes of ZIP System liquid flash for all panel seams and transitional details. Heller said using ZIP System building enclosures with liquid flash is a method they see as fool-proof, and is one that "avoids the origami" of building with traditional housewraps and tape.
The team first learned about the method from the popular "ZIP 2.0 Pro Install Tips" Build Show episode published by Matt Risinger on YouTube. As construction professionals striving for the best build possible, the team actively pursues new tactics and insights from across the country on Instagram and YouTube.
"We follow Matt Risinger religiously. We credit him and builder Doug Cameron in the 'ZIP 2.0' video for our 'test run' where we tore down a garage. We were really pleased with it. We've had conversations with them through social media. We definitely use Instagram as an information source," comments David Atchison.
To measure the air tightness of the ZIP System building enclosure, they intend to administer blower door tests before drywall, as well as at the end of the project. It is their largest project to date. With a super-tight enclosure and optimal mechanical systems to manage indoor comfort, air quality and energy use, the team made sure interior foundations were also top notch. Underneath high-end floor coverings, the team built a strong AdvanTech™ Subfloor Assembly base using ¾" AdvanTech® panels and AdvanTech™ subfloor adhesive.
In total, Atchison Heller will use the following Huber Engineered Woods products on the Stone Creek dream home to achieve high-performing exterior roofs, walls and floors:
Join in on the conversation with @huberwood by tagging posts with #zipsystem and #advantech.