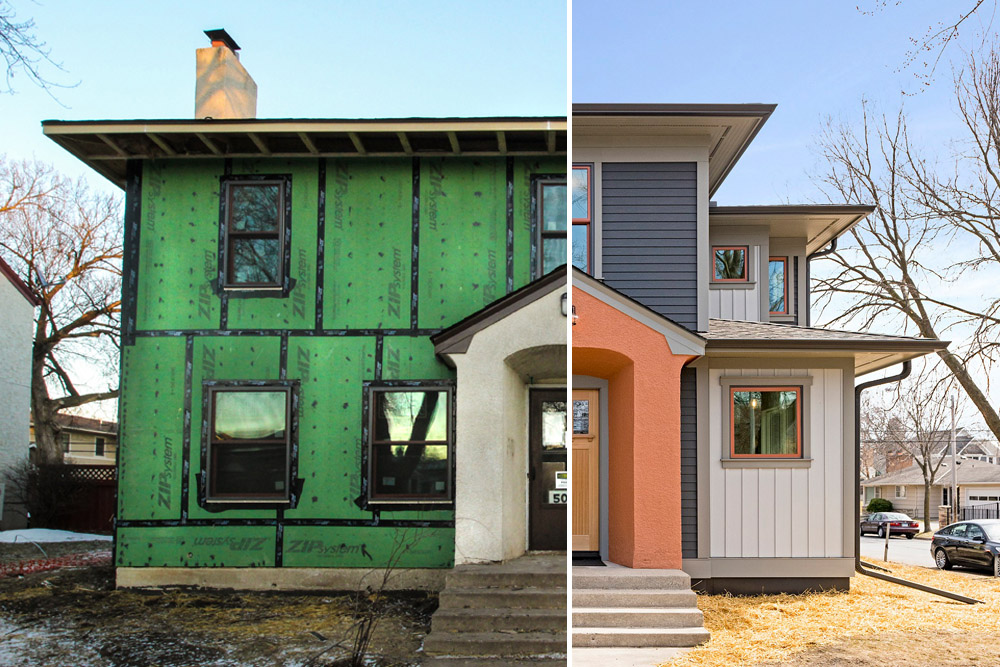 OA Showcase Home Creates Resilient Design with ZIP System® R-Sheathing
3 Min Read May 10, 2017
Custom builder Michael Anschel likes a challenge, and there is perhaps no greater challenge to a builder than taking a 1920s-era home and giving it new life while still respecting its original architecture.
The home, located at 5057 Ewing Ave. in southwest Minneapolis, was built in 1927 on a tree-lined street on the edge of the city. Anschel's firm,
OA Design+Build
, purchased the property in 2016 and converted it into the OA Showcase Home, which highlights best practices in sustainability, resilient design and aesthetic appeal.
"Our goal is to offer unique custom designs, build great structures and promote the use of green building techniques," said Anschel, founder and principal designer of the firm. "We take on projects that create appropriate amounts of space for living and sound structures that will last for generations."

Resilient design and ZIP System panels are synonymous in my mind.
In creating the showcase home, OA Design+Build sought homebuilding partners whose products perform in every category, such as insulation, ventilation, cladding and weatherproofing. With this objective in mind, and against the backdrop of the harsh Minnesota winters, Anschel turned to ZIP System® R-sheathing for its higher thermal performance and continuous insulation properties.

"ZIP System R-sheathing is engineered to provide installation convenience and long-term performance, which are perfect attributes for the Ewing Avenue build," Anschel said. "Resilient design and ZIP System panels are synonymous in my mind."

An innovative panel that makes insulating homes simple, ZIP System R-sheathing delivers R-value combined with superior air and moisture resistance, as well as exceptional strength and durability. The product is available in multiple thicknesses, including 2 ½-inch thick R-12 panels used on OA's showcase house.

"This house includes a cellular PVC cladding and trim system, meaning it cannot rot," Anschel said. "Along with ZIP System R-sheathing panels, we now have a system from the wall studs out that is incredibly resilient, and a ventilated rain screen between the cladding and ZIP System panels is a key part of the home's resiliency. This is the type of build you want in any climate, and this is especially the case in one of our northernmost states."

The former 1,200-square-foot home has been expanded to nearly 3,500 square feet, giving the 90-year-old home "a gift of 200 years," said Anschel, who tracked the project's progress in drone footage, which he regularly uploaded to YouTube.
"The neighbors, many of whom have lived in the neighborhood their whole lives, appreciate that the scale of the remodeled home is proportionate to the surrounding homes," he said. "They also appreciate a good conversation, and the striking green ZIP System panels led to many discussions while they were being installed."