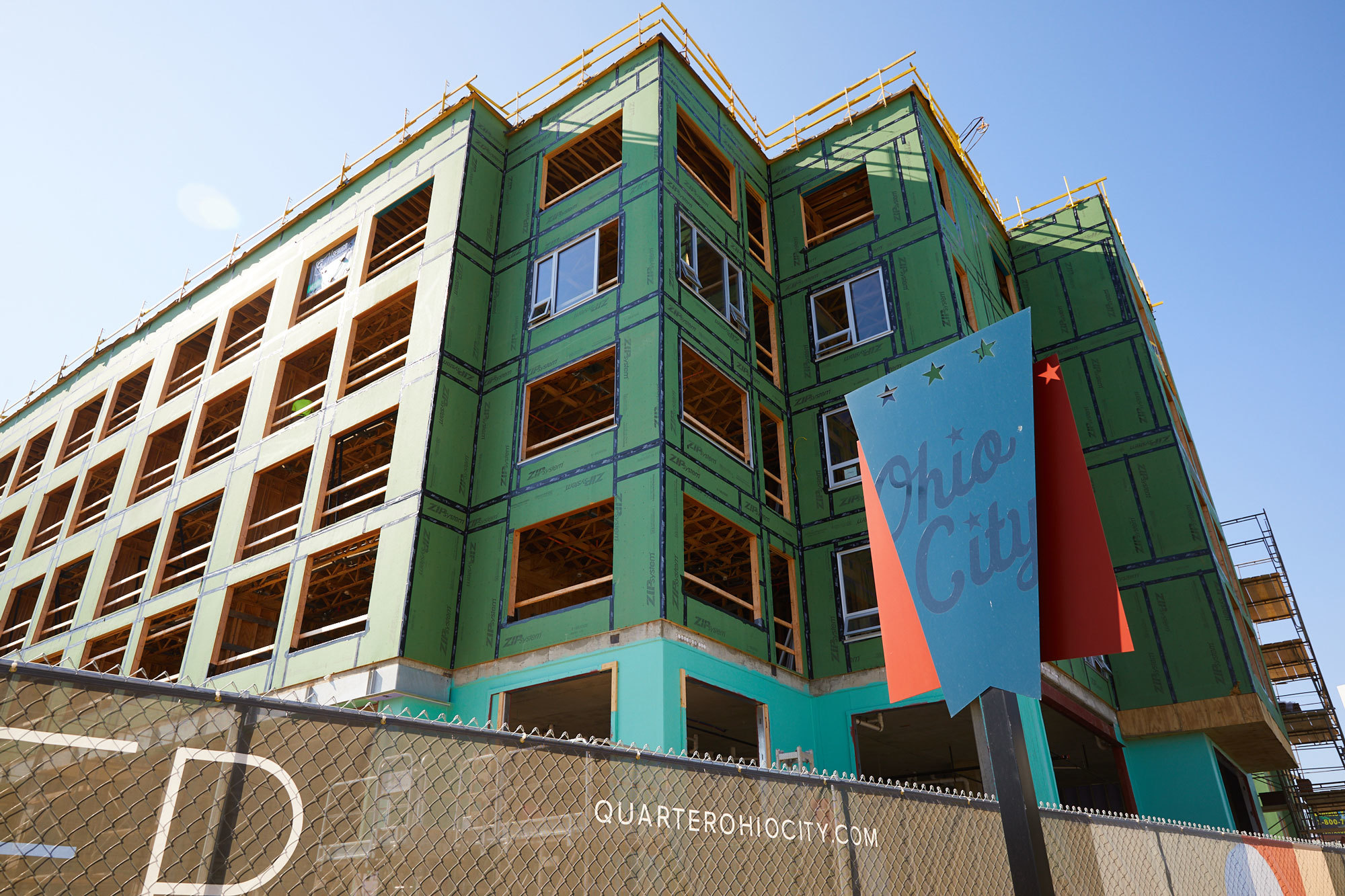 'The Quarter' is Transforming a Thriving Urban Neighborhood in Cleveland
4 Min Read August 14, 2018
Across America, old is becoming new again. Neglected urban centers are getting a second chance through renewed interest in the character and charm of historic areas. Ohio City is a prime example. The Cleveland, Ohio, neighborhood is undergoing rapid revival, adding retail, restaurants and residences to the industrial area.
Demand is high for access to this real estate, so to meet expectations, real estate must become available as soon as possible. Ohio City is poised to see an influx of affluent residents and shoppers, and developers are pursuing not only fast-paced construction cycles, but also modern designs that meet high-performance building enclosure standards. When Snavely Group began construction on a mixed-use project in late 2016, they knew the project needed to be timely without sacrificing quality. Working with the North Eaton location of 84 Lumber in Columbia Station, Ohio, they chose ZIP System® R-sheathing and tape for exterior walls because of its built-in weather barrier, rigid air barrier and exterior continuous foam insulation.
"The building, called The Quarter, has 194 market- rate apartments and 10,000 square feet of leasable space," said Greg Osborne, vice president of project management with Snavely Group. "One of our tenants on the first floor is The Music Settlement, a local inner-city school dedicated to serving the community through arts education, and another is a small grocery store."
As the general contractor and developer of The Quarter, Snavely executives kept the needs of a diverse range of tenants in the podium-style project top priority as they worked with 84 Lumber to specify materials.
"We've had a long relationship with 84 Lumber," Osborne said. "Knowing that this would be a wood-frame building, we brought them in early to consult on how to build, materials to use and to get their expertise. It also helped to get early cost estimates so we knew where it was going. It just made sense to bring them to the table."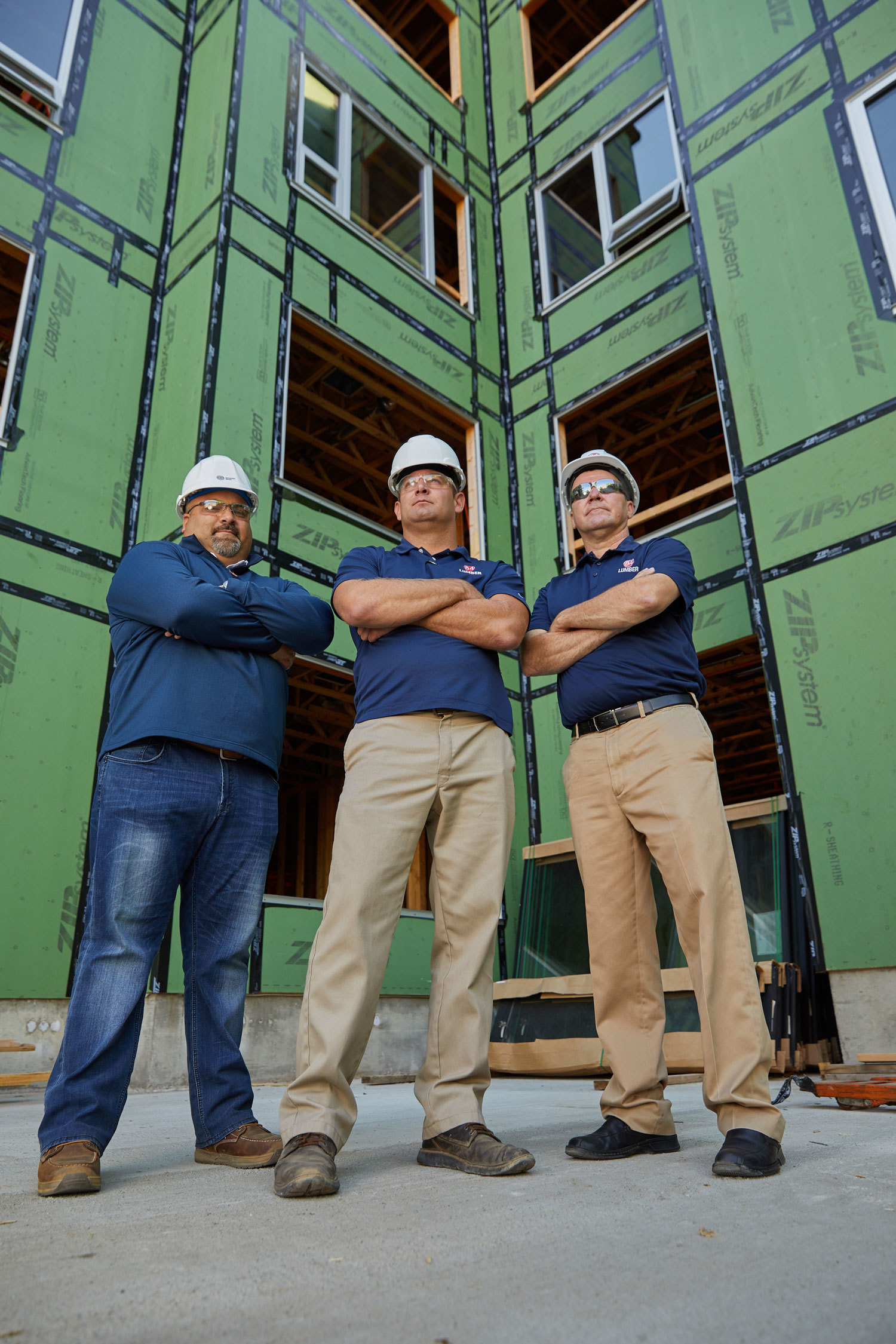 Through meetings with the architectural and engineering team, Snavely opted for the best performing products for the job, among them ZIP System R-sheathing and tape. Snavely also decided to have the ZIP System® panels incorporated into prefabricated wall panels to accommodate the tight scheduling strategy.
"We chose ZIP System insulated R-sheathing," Osborne said. "We had used OSB on other buildings that we then had to go back and waterproof. Why not put up something with integrated waterproof coating to save labor? It also made sense in terms of time and energy, and it helped us achieve code requirements for exterior continuous insulation."
Mark McClaine, sales manager with 84 Lumber, said the walls of the project were panelized at the company's panel facility and put together by 84 Lumber's installed framing services.
"When we are weatherizing a building, product integrity is vital, and that's especially true with the West 25th project," McClaine said. "The building is large, about 270,000 square feet and five stories high, and there is limited access. When we were framing and installing panels, we could only do two- thirds of the building. After the roof was installed, we came back to do the last one-third."
Osborne added that in addition to the energy efficiency benefits offered by the built-in continuous insulation and air barrier with ZIP System R-sheathing, the panels are completely weatherized. Instead of using traditional OSB and having a waterproofer come out to the site, the panels could be installed without the worry or hassle of additional steps, saving his team time and money.
"ZIP System R-sheathing is a not only a top-quality product. It's a huge schedule saver," he said. "Time is a factor with every job now. In the apartment market, it's a race. Every month you aren't leasing is big money lost. At the end of the day, ZIP System panels were always going to be part of the project."
To learn more about revolutionary ZIP System sheathing and tape, visit ZIPRevolution.com.