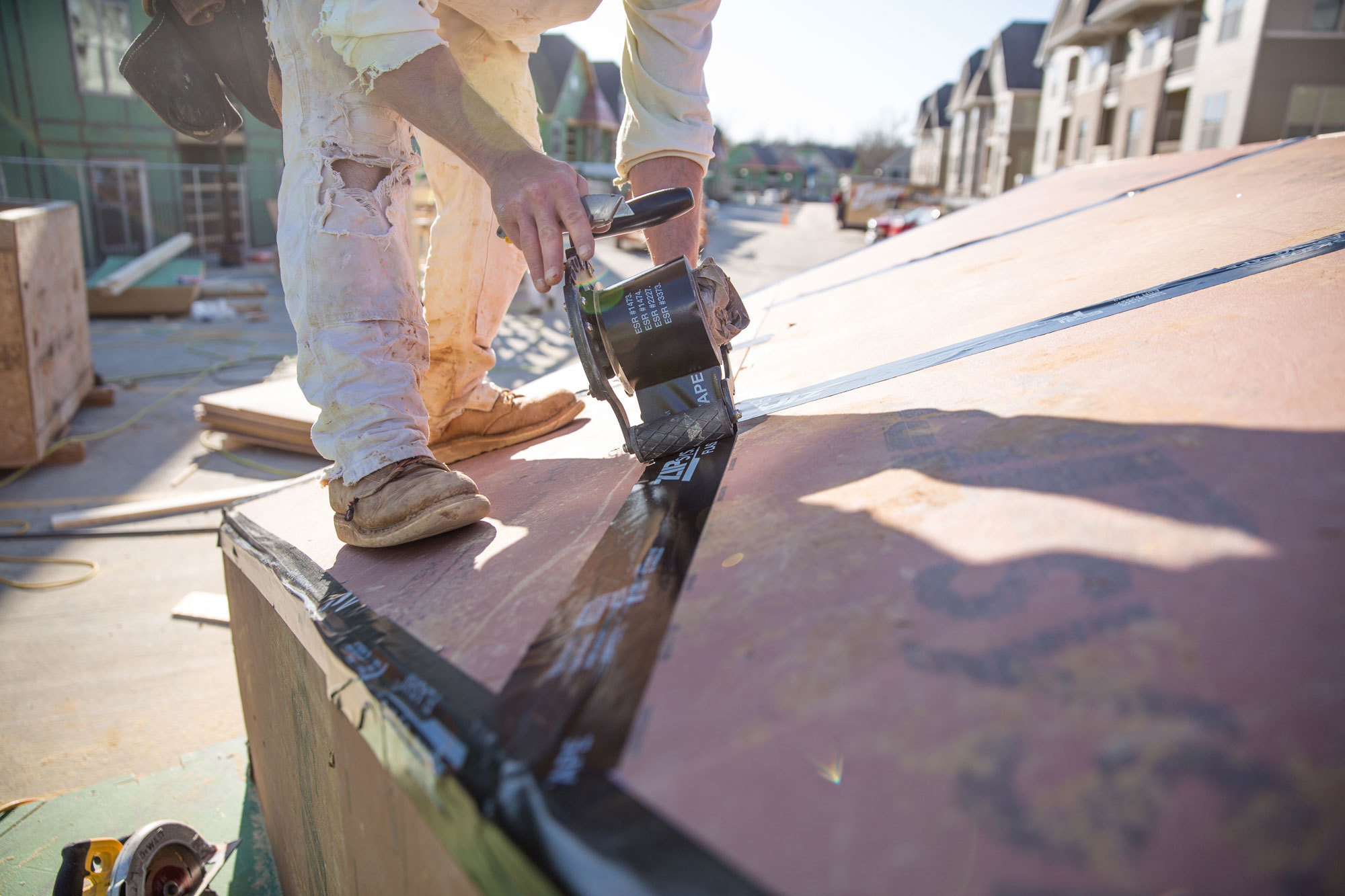 Four New Options for Insulating and Ventilating Wood-Framed Sloped Roofs
4 Min Read March 4, 2020
Wood-framed sloped roofs have been a common means to provide shelter and protection from the weather for centuries, but high-performance building enclosures often focus on wall designs rather than roof designs.
"For the past 10 years, energy code cycles have focused on wall assemblies. Higher R-values, airtightness, reduction of thermal bridging, and condensation control has been emphasized in the energy code," said Matt Minchew, general manager of ZIP System Roof. "Recent code changes have begun to influence roof design to emphasize the same assembly functionalities."
The methods of construction for wood-framed sloped roofs have included everything from simple "lean-to" structures to post-and-beam framing, spaced rafter framing, and most recently engineered wood trusses with engineered sheathing. Beyond simply providing structure and covering, however, wood-framed roof design has evolved into a complete, coordinated assembly designed to provide four control layers:
Water. Water drainage is needed for bulk water too, not only in the form of precipitation, but also from the melting of ice dams or other cold-weather concerns
Air. More insulation and air barriers are required to control unwanted air infiltration or drafts.
Moisture. Vapor needs to be restricted during roof construction or allowed to dissipate when needed.
Thermal Control. Perhaps the most notable change is the need for higher thermal performance to meet energy conservation and comfort demands.
A successful roof system has the ability to create an unbroken line of defense in all four control layers. Another recognized key to a successful roof system is having a backup means to prevent damage in the event water or moisture does breach the barriers. Unanticipated water can cause wood to rot or otherwise deteriorate over time, render some insulation relatively useless if it becomes even partly saturated, and drain into the rest of the building causing additional damage.

Recent code changes have begun to influence roof design to emphasize the same assembly functionalities.
Four standard design and construction options
Vented attic
Currently the most common type of wood-framed roof assembly, vented attics rely on engineered trusses or rafters with ceiling joists to form an open unconditioned attic space. In this type of assembly, the water barrier is located on the roof surface above the attic, while the air barrier is along the ceiling surface below with the insulation that serves as a vapor retarder and thermal barrier. With properly designed and constructed with the needed levels of insulation, as well as the integrity and continuity of all barriers and ventilation, you can expect this roofing system to perform very well over time in almost all climate zones.
Cavity-vented insulated pitched roof
For circumstances where a horizontal ceiling and attic space above do not meet the design needs of a building, the assembly may be more compact, creating a pitched roof and sloped ceiling all in one. All of the same barrier and ventilation needs must still be addressed.
The common approach is to use roof framing members that are deep enough to carry the structural loads, fit the needed level of insulation in between, and still provide space for ventilation. In some climate zones, this requires a deeper flat truss or other engineered member. Regardless, the water barrier will still remain on the exterior surface of the assembly, while the air barrier and vapor retarder are along the inner face. Insulation is installed between the framing members to the level needed.
Top-vented insulated pitched roof
If providing enough ventilation and insulation all in one framing member depth is not possible, the alternative is to construct an additional ventilation layer on top of the framing layer. In this case, the framing cavity is filled with insulation or rigid insulation is applied over a timber frame and ceiling system.
A minimum 2-inch air space is provided as an "over-roof" to carry away any moisture that escapes up through joints in the insulation. The ventilation space also helps keep the underside of the over-roof surface cold, thus avoiding snow melting and forming ice dams. While this over-roof approach is effective for ventilation, it can be more costly to construct since it involves the creation of the ventilation channel that needs to support the sheathing and roofing water barrier.
Unvented insulated pitched roof
This assembly uses a sloped roof/ceiling assembly with insulation filling the entire depth between ceiling and roof sheathing. It can be constructed of rigid insulation that serves as an air barrier between the inner and outer surface, such as closed-cell polyurethane or poly-isocyanurate with water-, vapor-, and air-barrier capabilities inherent to the insulation. In this case, the roof system relies on the multiple properties of the insulation and other materials to form fully continuous air, thermal, and moisture barriers. Therefore, no ventilation is necessary.
Wood-framed sloped roofs need to provide all of the same functions as exterior walls, if not more so. The result will be a successful roofing system that offers thermal resistance and protects against unwanted air, water and vapor.