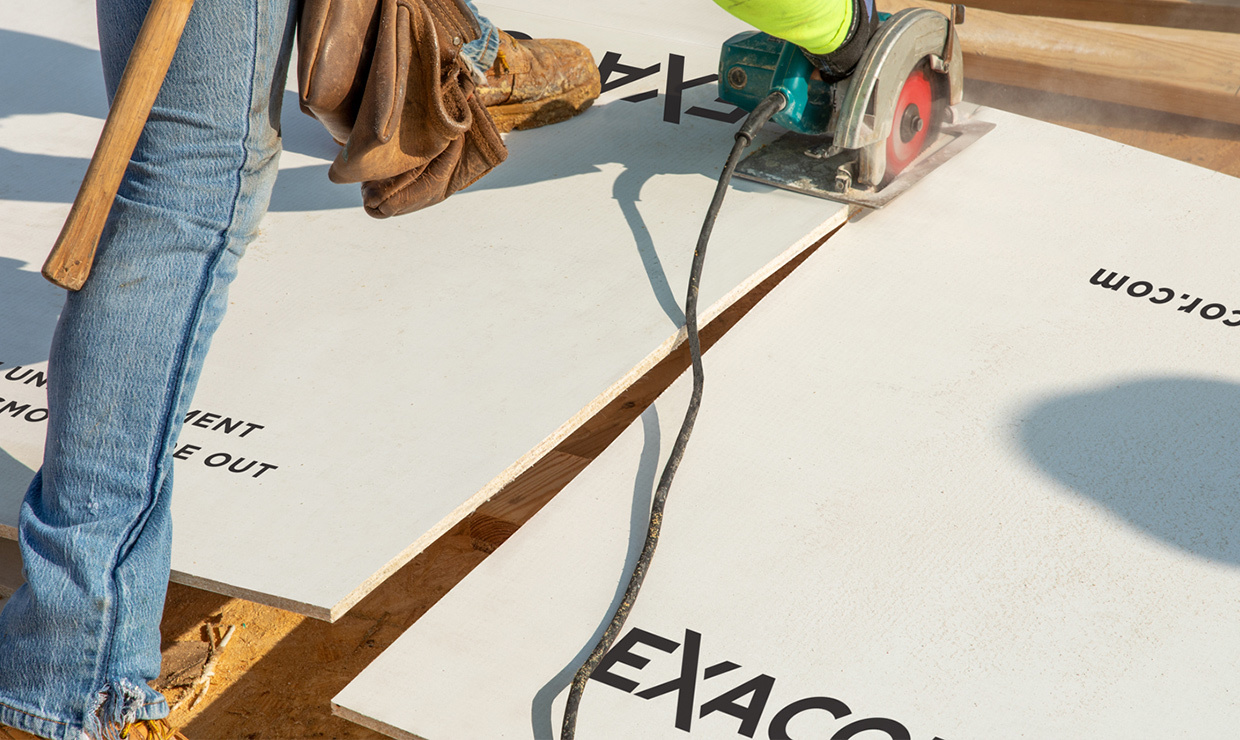 EXACOR® MgO Panels vs. Gypsum Underlayment in Multifamily Buildings
7 Min Read February 8, 2021
The design and construction of multifamily buildings require that some early key decisions be made on how to meet code requirements for fire resistance and acoustical performance in floor assemblies. Those decisions ultimately come down to selecting the right mix of products and materials to meet the criteria and combat potential problems.

For instance, one of the primary reasons tenants move out of multifamily housing is problems with neighbors, especially noisy, inconsiderate ones — broken leases and constant turnover can take away revenue and mean additional retrofitting costs for building owners. Today, from the start, builders seek out materials that can help combat design challenges and improve feasibility on the jobsite, such as sound absorption and fire resistance.

A wide range of products is available to developers and general contractors. By considering the impact each has on factors such as budget and construction timelines, they can choose materials that not only maintain a building's structural integrity but also help take the headache out of laborious installation practices. In this light, we look at a comparison of two-floor assemblies — one utilizing magnesium oxide (MgO) panels and the other utilizing self-leveling gypsum underlayment.
What are MgO panels?
Magnesium oxide is typically derived from a naturally occurring mineral known as magnesite. Magnesite is heated to burn away certain impurities, leaving behind unburnt MgO powder.
In a process similar to creating Portland cement, MgO powder is combined with other ingredients and water to form a cementitious slurry. This slurry is then embedded with layers of glass fiber mesh, formed and allowed to cure. Once fully cured, the result is a hardened magnesium oxide cement panel.
For builders, structural stability and fire-resistant qualities make MgO panels an excellent choice as an underlayment or subfloor in many wood-framed multifamily and light commercial builds. EXACOR® underlayment, as featured in UL Assembly L-528 (1-hour floor/ceiling assembly), can eliminate the need for a sound mat when compared to a traditional gypsum concrete underlayment assembly. A traditional gypsum concrete assembly might have the following layers: subfloor, sound mat, gypsum underlayment and finished flooring. The EXACOR assembly can accomplish the same fire rating and comparable sound rating with just subfloor, EXACOR® MgO underlayment and finished flooring. EXACOR® MgO subfloor can be used in an assembly to achieve both fire[1] and sound ratings[2] as shown in UL Assembly L-601 (1-hour floor/ceiling assembly). Today, the material has seen an increased demand on jobsites nationwide.

What makes EXACOR MgO panels different?

EXACOR MgO panels made by Huber Engineered Woods are engineered to meet the fire[1] and sound rating[2] requirements for most multifamily and light commercial jobsites.

Made of magnesium oxide and an integrated mesh core, EXACOR® panels are dimensionally stable and offer a smooth base for floor coverings. As part of certain tested floor/ceiling assemblies, EXACOR® subfloor panels offer sound attenuation benefits that have been shown to achieve or exceed code minimums for Sound Transmission Class ratings and Impact Insulation Class ratings. To meet those standards, EXACOR is manufactured under a quality control program with inspections by ICC-ES and Underwriters Laboratory, helping to ensure consistent product performance.

With the needs of today's jobsite in mind, EXACOR subfloor panels can be installed directly to framing, which may eliminate the need for gypsum underlayment applications and allow for fewer trades on-site to complete installation.

EXACOR® subflooring and underlayment are backed by ICC-ES Evaluation Service Reports 4634 and 4635, respectively. These third-party reports confirm the panels have been tested to meet the rigors required for structural subfloor and floor underlayment panels. Some of the tested properties include structural capacities (when used as a subfloor), durability and flame spread resistance.

Finally, Huber Engineered Woods stands behind its products, offering top-quality customer service as well as EXACOR commercial warranties through its Enhanced Experience program. This program requires project registration and completion of a preconstruction meeting to qualify for enhanced warranty benefits. Details of the warranty program can be viewed online at HuberWood.com/Commercial-Warranties

What is self-leveling gypsum underlayment?
Self-leveling gypsum underlayment is used in both new and existing construction to provide a level subfloor ready to receive a finished floor system. It is often described as "self-leveling" because it is poured as a wet mixture that settles down to a level condition.
Self-leveling underlayment products are generally a water-based mixture of gypsum or hydraulic cements, fillers, polymeric binders and additives. The type and amount of these ingredients, as well as the amount of water in the binder, are used to control the key properties such as flow, setting behavior and compressive strength.
The dry product is usually mixed with water on-site using a specialized truck with various tanks for underlayment ingredients, and the resulting mixture is applied to a wood subfloor to achieve a smooth surface. Gypsum underlayment products come with a variety of performance attributes to suit different jobsite requirements, including the ability to enhance fire resistance and help increase STC/IIC ratings, which makes them suitable options for multifamily construction.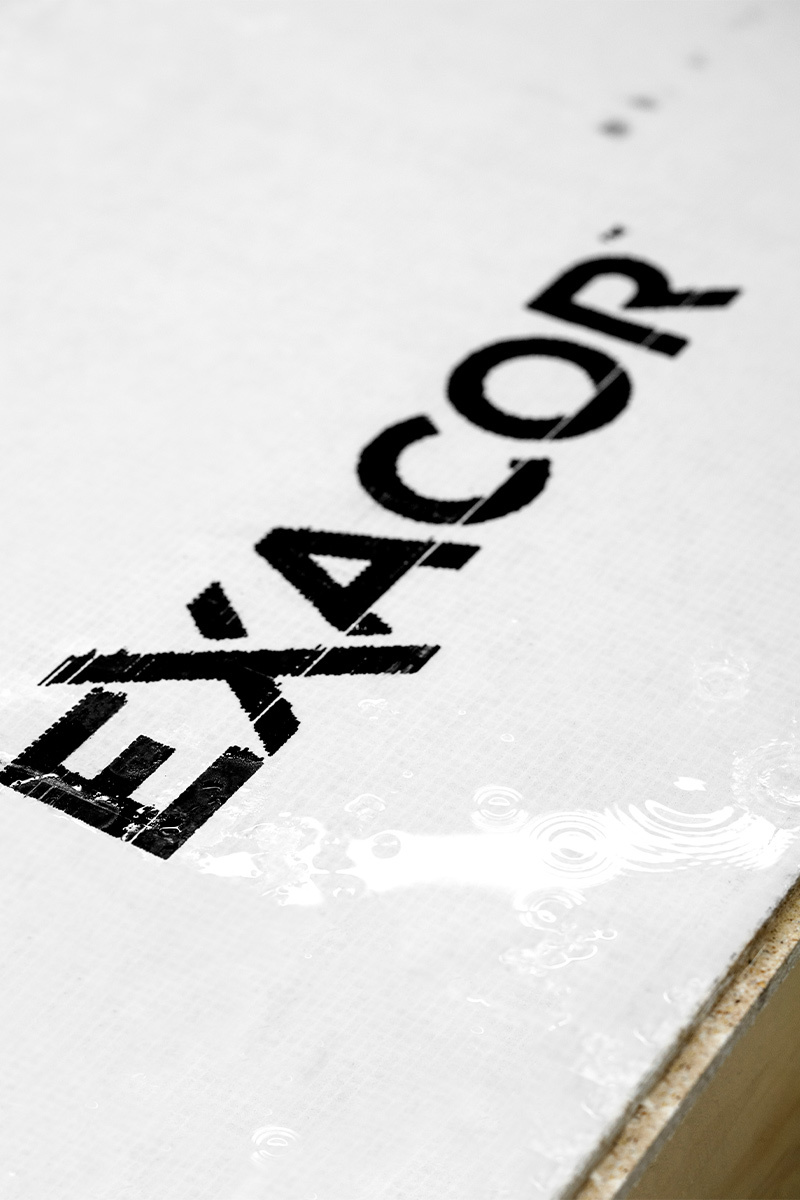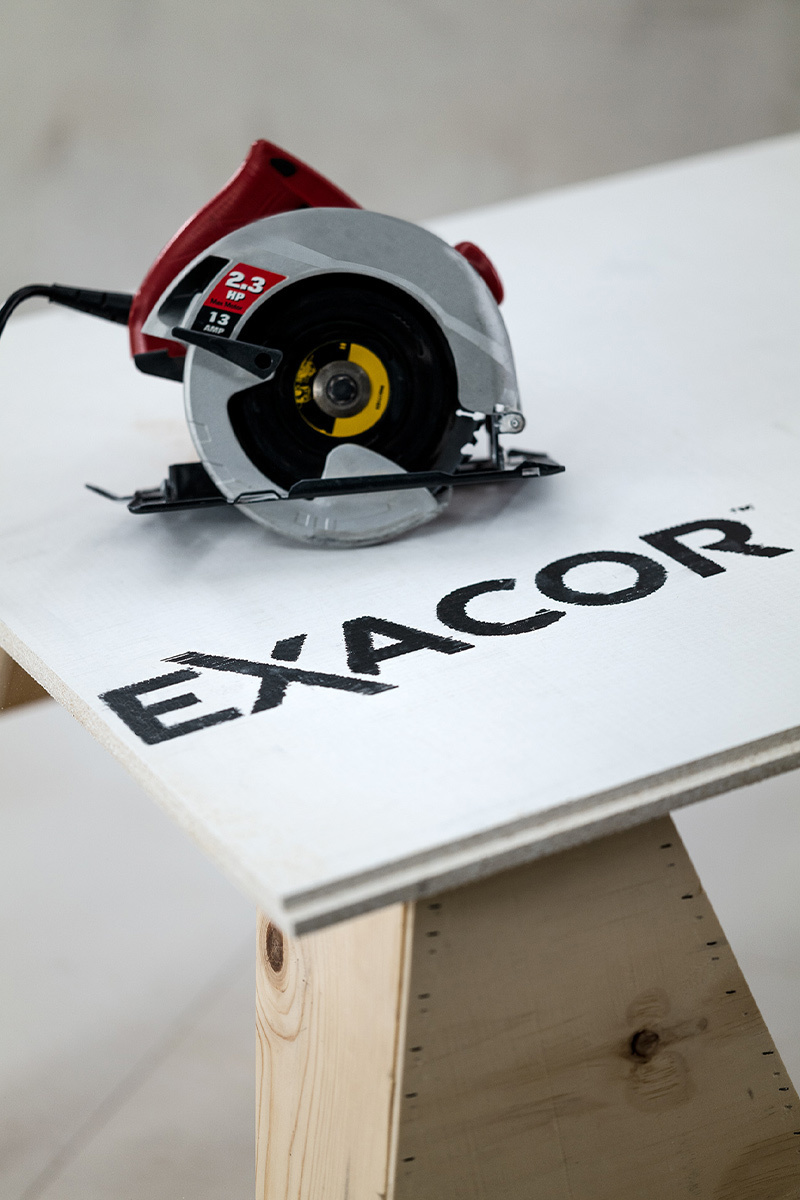 What's the difference between EXACOR MgO panels and gypsum underlayment?
The major benefits of EXACOR MgO panels versus traditional gypsum underlayment products align with the key elements that set up successful multifamily builds: They can help reduce cycle time, reduce the number of on-site trades, be easily installed by existing framing crews and contribute to sound and fire-resistance-rated assemblies in accordance with today's building standards.
Using gypsum underlayment can impact a construction schedule: A separate crew is required for installation, and because they are usually booked months in advance, the entire construction timeline is often built around their availability. Site preparation for gypsum installation also requires cleaning, sealing openings to provide proper curing conditions, caulk sealing of penetrations and ensuring there's enough water and space to prepare the gypsum mixture. Additionally, other trades must stop working once the site is prepared, limiting what can be done until the gypsum underlayment has been poured, cured and sealed.
Gypsum installation typically occurs after all framing is complete and the building is "dried in." In ideal conditions, it could require up to seven days to cure. This timeline can be extended by unfavorable conditions such as heat, high humidity or cold temperatures that can cause delays and, perhaps, added expense to keep the temperature within the building in the optimum range for curing. If the proper conditions aren't maintained during curing, gypsum underlayment is prone to cracking. Cracked underlayment would need to be reworked to avoid adhesion problems with the finished flooring.
In stark contrast, EXACOR MgO panels are installed by framing crews as they are installing the subfloor — no extended preparation or cure time is needed. This can save builders time in the overall construction schedule compared to the additional trade, bypass potential scheduling headaches and eliminate the cure time associated with gypsum underlayment installations.
For TDK Construction, a development and construction company in Murfreesboro, Tennessee, choosing EXACOR panels over gypsum underlayment equated to real-time savings in a 127-unit luxury apartment community in Goodlettsville, Tennessee.
And as a builder, time is money on the jobsite. EXACOR MgO panels are manufactured to provide a streamlined solution for strength, fire resistance and sound performance. In fact, the easy-to-use nature of EXACOR was a key selling point for Jose Romero, lead carpenter for F&G Carpentry and a subcontractor of TDK Construction. Watch this video to hear what he had to say about the benefits of using EXACOR on the jobsite.
Learn More About EXACOR MgO Panels
MgO panels offer multifamily builders a time-saving, high-performance material for use in fire-resistant and sound-rated assemblies. One board and zero hassle. To learn more about this alternative to gypsum underlayment, watch this video.
Ready to get your hands on EXACOR? Click here to request a sample or visit our Where to Buy page.