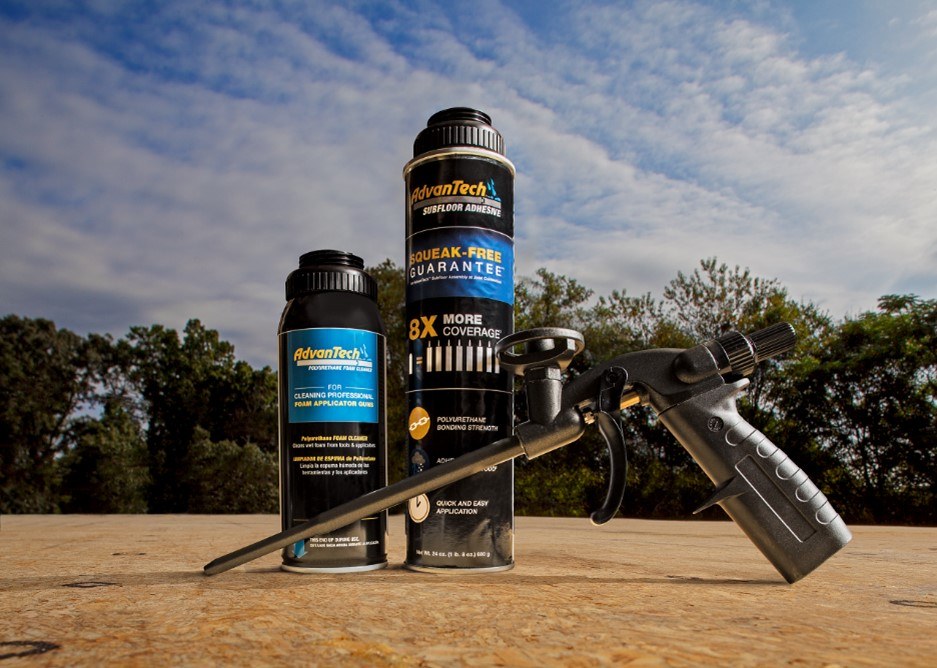 9 Insider Tips: Getting the Most Out of Advantech™ Subfloor Adhesive
3 Min Read November 20, 2023
If you're curious about how AdvanTech™ subfloor adhesive can enhance the stability and strength of your subfloor projects, you're in the right place. Whether you're new to the construction world or looking for a reliable adhesive solution, let's explore the basics of AdvanTech subfloor adhesive together.
Before we get into it, while we don't recommend hanging from your floor joists, check out this video to see what our partners think about AdvanTech subfloor adhesive.
AdvanTech subfloor adhesive is a high-performance foam-to-gel adhesive specifically designed for use with AdvanTech® subfloor panels. It forms a strong bond between subfloor panels and joists, which can create a solid and squeak-free foundation for floor installation – guaranteed.1

2. What makes AdvanTech subfloor adhesive different from other adhesives?
AdvanTech subfloor adhesive is formulated to provide exceptional holding power, even in extreme conditions. Its unique polyurethane formula allows it to expand to fill gaps and create a seamless bond that reduces floor squeaks. AdvanTech subfloor adhesive is spray-applied, making it easier to install.
3. Can AdvanTech subfloor adhesive be used on subfloors other than AdvanTech?
AdvanTech subfloor adhesive can be used on other wood-based subfloor panels, although the Squeak-Free Guarantee only applies when AdvanTech subfloor adhesive is used with AdvanTech panels.1 Take a look at this tech tip for more information.
4. Will AdvanTech subfloor adhesive bond to wet or frozen floor joists?
Yes. AdvanTech subfloor adhesive can be applied to wet or frozen wood. Make sure that there is no ice on the joist.
For more tips, check out this blog.

5. How many panels can I install per AdvanTech subfloor adhesive can?
One can of adhesive will yield approximately 400 linear feet which is between 13 and 18 subflooring panels. For more information, see the table below.
6. How long do I have to install the subfloor once I apply the adhesive?
There is approximately a 20-minute tack-free time which means the panels should be fully fastened to the framing shortly after the subfloor adhesive is applied to the joist.
7. If I don't finish the entire can of AdvanTech subfloor adhesive, can I use the rest later?
Yes. AdvanTech subfloor adhesive can be used for up to 30 days after the initial attachment to the applicator if the applicator is still attached and the valve is closed.
8. Can the applicator be cleaned and reused? Do I need to clean the applicator every time I switch cans?
The applicator can be cleaned using aerosol acetone-based adhesive cleaner. The inside of the applicator should be cleaned when you remove the applicator from the can without the intention of using it immediately on a new can.
Check out this Instagram reel for a step-by-step.
9. What is the maximum storage temperature?
AdvanTech subfloor adhesive cannot be exposed to temperatures higher than 122˚F, or 50° C. Do not store inside a vehicle on a hot day.
For more FAQs regarding AdvanTech subfloor adhesive, check out our technical library.

1Limitations and restrictions apply. See SqueakFreeGuarantee.com.