Introducing AdvanTech™ Subfloor Adhesive
From the subfloor brand builders trust for the FLAT OUT BEST™ quiet, stiff floors, comes new AdvanTech™ subfloor adhesive for subfloor assemblies so strong, you won't hear a squeak.1 With a heavy-duty, polyurethane bond, the gun-applied foam quickly settles into a high-strength gel adhesive to create a bond that exceeds industry performance standards2. For a Squeak-Free Subfloor Assembly™, use AdvanTech™ subfloor adhesive and AdvanTech® subfloor panels together. With this combined subfloor assembly, floors not only get a strong, stable base, but a squeak-free panel-to-joist connection – GUARANTEED!1
---
Learn How to Apply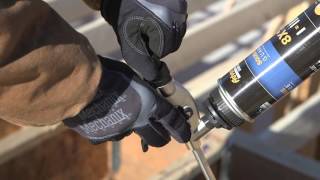 Watch the Installation Video
---
Available Nationwide
Available nationwide, excluding Hawaii and Alaska. Sign up to receive updates about AdvanTech™ subfloor adhesive.
Click to find your local Huber representative.
---
Where to Buy
Search for dealers near you that are currently offering AdvanTech Subfloor Adhesive
One 24 oz. can yields 400 linear feet
Squeak-Free Guarantee1
Polyurethane bonding strength
Adheres to wet and frozen wood2
Quick and easy application
Apply between 20° to 105° F(-6° to 41° C)
20 minute open time
---
---
AdvanTech™ Subfloor Adhesive and Accessories
Ask your lumberyard about the AdvanTech™ subfloor adhesive starter kit to get you started on your next project.
---
Footnotes
1. Squeak Free Guarantee: Limitations and restrictions apply. Must use AdvanTech subfloor panels with I-joists or trusses and deformed fasteners. Not applicable over dimensional lumber framing or with other subfloor panels. See SqueakFreeGuarantee.com for complete details.
2. Exceeds ASTM D3498 Standard Specification for Field-Gluing Plywood to Lumber Framing for Floor Systems, dry, wet,frozen, and gap filling adhesion tests.
3. See map for current product availability.