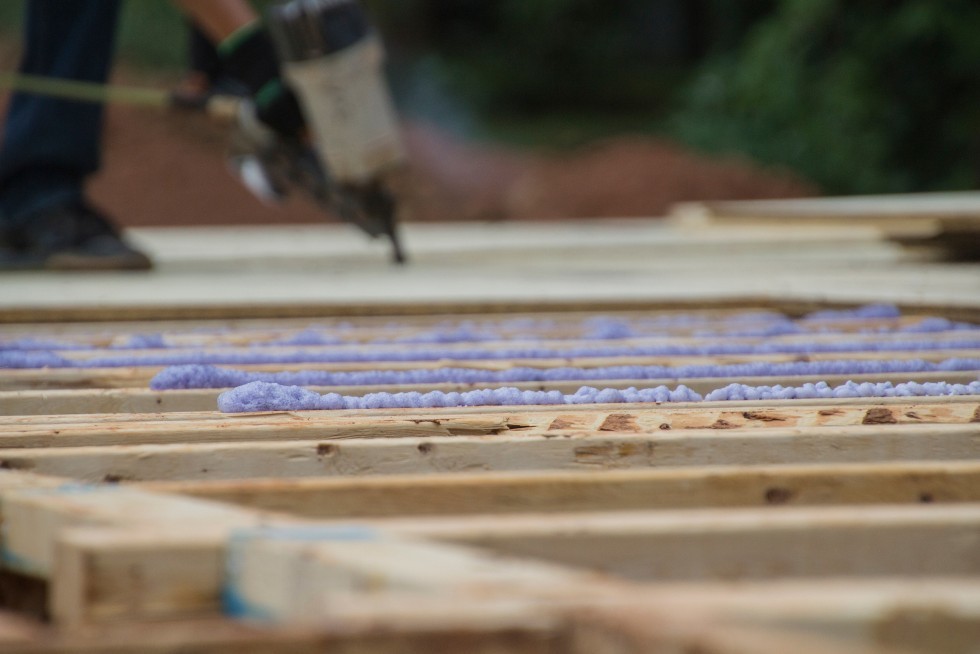 Silencing Floor Squeaks Before They Occur
3 Min Read April 10, 2018
If you've ever received a callback for squeaky floors, you know they are a pain — both for you and the homeowner. In addition to taking up additional time in your schedule, they can be a costly mistake to fix. Roy Reichow, president of the National Wood Floor Consultants, estimates it costs four to five times more money to remediate squeaky floors than to choose high-quality materials and practices from the start.
So, how are floor squeaks caused and how can they be prevented?
The Role of Friction in Subfloors
When two substrate materials rub together they cause friction, resulting in sound — or squeaks. In flooring systems, friction is almost always vertical movement, or deflection. If a floor assembly is not properly constructed, or when it has faults like uneven subfloors or improperly installed fasteners — like shiners — it is more likely that squeaks will occur.
The subflooring layer is the flat base on which finished flooring rests. Its job is to resist deflection and stay flat. But, not all subflooring materials are made equal. While it may satisfy building code, some traditional plywood and oriented strand board (OSB) can become compromised if it is damaged from water exposure on the job. Plywood can wick moisture and warp or delaminate. Similarly, traditional OSB can absorb moisture and swell on the edges or flake on the top causing the need to sand. AdvanTech® subflooring offers another option as a high-performance panel that provides reliable strength and fastener retention with a remarkable ability to resist water on the jobsite without swelling.
Composite Action Makes Floors Stronger
It's important to think of your flooring system as a single unit. Only when all materials are joined together are they at their strongest. This concept is called composite action.
Once joists are in place and you've chosen your subflooring material, consider the best method available to join those two components together. The best way to help avoid squeaks is to "glue and screw." Choose a subfloor adhesive that is easy to apply in a variety of weather conditions and can create a strong bond. AdvanTech™ subfloor adhesive creates a heavy-duty polyurethane bond and is a gun-applied foam-to-gel adhesive that applies quickly with more coverage than traditional cartridge adhesive.
One 24 oz. can of AdvanTech subfloor adhesive yields approximately 400 linear feet of gel adhesive at 1/2-inch bead compared to applying a 28 oz. cartridge adhesive at 3/8-inch bead. Coverage will vary based on bead size and weather conditions.
In addition to using a quality, high-strength adhesive, it is always a good idea to choose fasteners that are meant to last. Choosing screws over nails can help ensure tighter connections to help reduce the potential for squeaks.
Quality joists and subfloor panels combined with high-strength adhesive and screws will help you mitigate costly floor squeaks before they occur.
Plus, AdvanTech subflooring comes with a Lifetime Limited Warranty, a 500-day No-Sanding Guarantee[1], and a Squeak-Free Guarantee[2] for the panel-to-joist connection when used with AdvanTech subfloor adhesive. Learn more at AdvanTechQuiet.com.
[1] Limitations and restrictions apply. See www.huberwood.com/advantech/residentialwarranty for details.
[2] Limitations and restrictions apply. See SqueakFreeGuarantee.com for details.