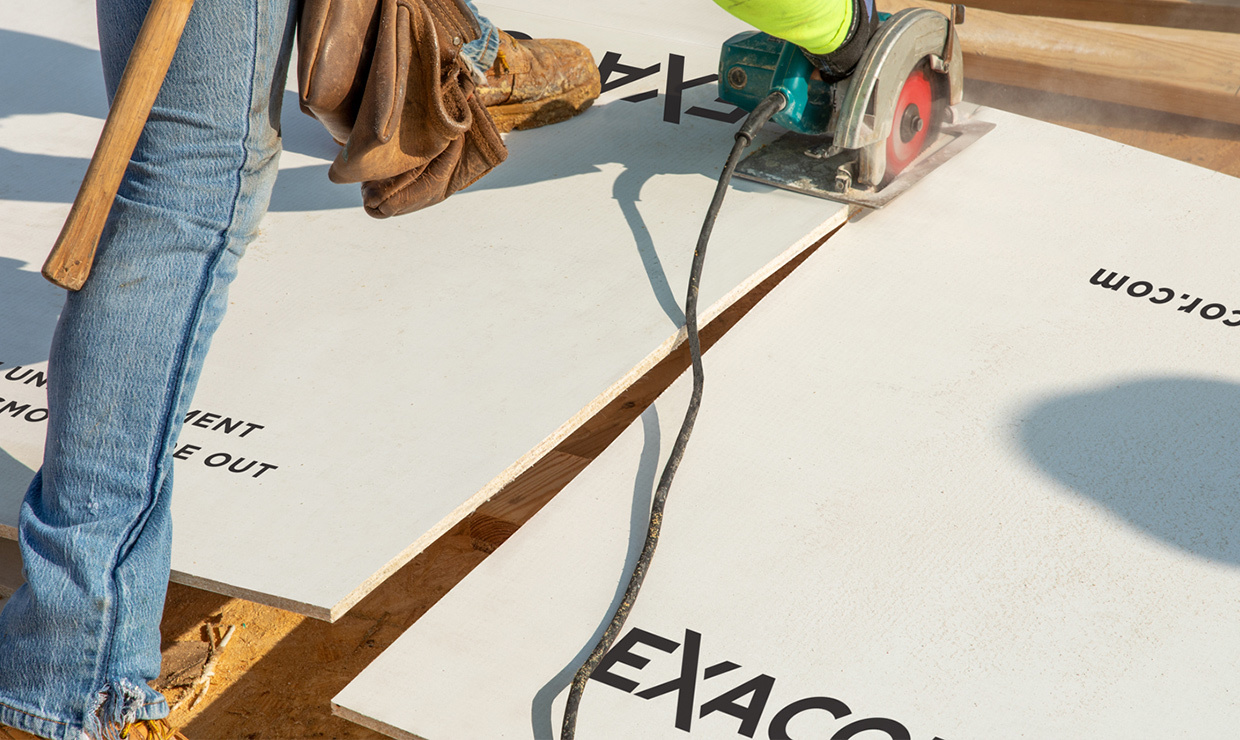 Time to Get Started: EXACOR® MgO Panels Are Available and Ready for Your Job
3 Min Read June 2, 2021
When it comes to identifying the right materials for your multifamily structure, product availability is a critical factor. EXACOR® Magnesium-Oxide (MgO) panels were specifically engineered with the multifamily builder and jobsite in mind, including an extensive distribution network that makes getting the product simple and seamless.
So, how do you find a distributor and how quickly can you get it? Don't worry. We'll cover that. In this article, you'll find information on distribution, average lead times, and how to find your local supplier to get EXACOR® products into your hands and onto your jobsite.
How is EXACOR distributed for projects like mine?
Inventory of EXACOR® panels is available across the United States thanks to a global manufacturing and distribution network. This means distributors, nationally and locally, are ready to provide you with the materials you need directly when and where you need them. EXACOR faces the same challenges as most building materials at this time [Summer 2021]. Product availability is more secure the longer the lead time provided.
Our distributor partners BlueLinx, Boise Cascade, Diamond Hill Plywood and Gillies & Prittie, Inc. supply EXACOR® subflooring and underlayment panels throughout the United States. In addition to our distributors, EXACOR products are available through our network of Huber warehouses, where they are held and shipped directly to your jobsite. Warehouse locations include Baltimore, Maryland; Savannah, Georgia; Houston, Texas; and soon, Oakland, California. We are continuously looking for ways to streamline the supply chain and expect our distribution to grow over time, adding to our expansive list of products already available.
If you're an Owner, Developer, Architect or General Contractor interested in using EXACOR on your next construction project, connect with a local Huber sales rep. Once you've secured a lumber package and requested a quote, we'll work with you and your distributor to bring the product to your jobsite.
Who is distributing this product?
What are the current lead times for EXACOR?
On average, EXACOR will ship to your jobsite within 120 days. Thanks to our extensive network of warehouses, most products are available within two weeks with the exception of EXACOR subflooring panels with a tongue-and-groove edge, whose lead times may vary.

What product support is available for EXACOR?
We remain focused on supporting our customers through each step of the build process. To obtain the information you need before placing an EXACOR order, our sales team will walk you through a product knowledge session, offering insight on EXACOR® underlayment and subfloor application and usage areas. Contact an EXACOR sales representative from Huber Engineered Woods.
Following that, our engineers and technical team will break down product specs during pre-construction meetings and continuing education sessions. During this time we will cover any and all technical questions about the products to ensure your confidence in the high-performance quality of EXACOR MgO panels.
Our product support doesn't stop there. We also want to be sure your installation of EXACOR subflooring and underlayment goes as smoothly as possible. After placing your order, our sales and technical teams will offer hands-on, post sale support.
To ensure your project is a success, our team travels directly to the jobsite to walk through product installation with crews, review mockups and provides tips and best practices.
Ready for EXACOR?
This innovative product is the ultimate subfloor assembly solution for a strong and resilient build. If you have questions about how to purchase EXACOR MgO panels for your next job, contact your local Huber sales rep and get started.