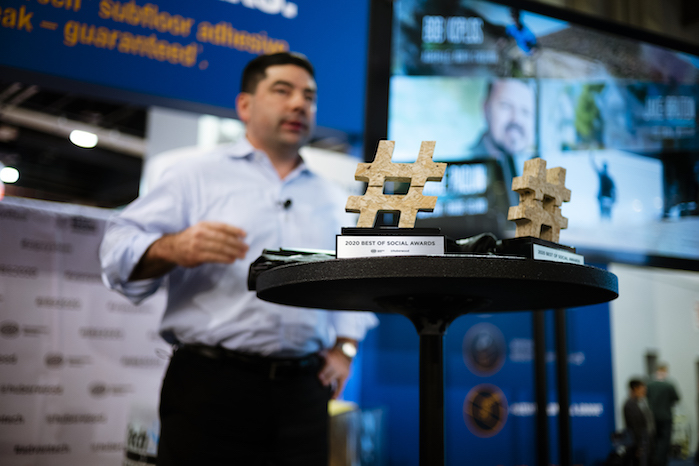 Huber Announces the Builders Who Make Up the "Best of Social"
5 Min Read March 4, 2020
Huber Engineered Woods, manufacturer of ZIP System® building enclosures and AdvanTech™ subfloor assembly, held the third annual Best of Social Awards happy hour meet up at the 2020 International Builders' Show on January 22. Builder and host of "The Build Show" Matt Risinger emceed the event, announcing winners in 13 categories from the Flashiest Flashing to Best Overall Tip.
"The Best of Social Awards is a fun way for us to show appreciation for the online building community," Kristin Michael, Brand Marketing Manager at Huber Engineered Woods, said. "Instagram has become a place to connect, learn and celebrate with an incredible range of building professionals. We're grateful to be a part of it, so we created the Best of Social Awards to show our appreciation for Instagram users supporting our brands, furthering our thinking and encouraging better building."
From drone shots to lip-sync videos, the online community consistently shows off their creative and smart methods for building. The award categories included many of Huber's "Best of Social" classics as well as a few new ones created in response to the abundance of diverse content produced for Instagram in the last year.
Read on for a description of each category and the builders who really rocked it in 2019. Make sure to follow @huberwood for tips, giveaways and more recognition of builders contributing thoughtful content on Instagram.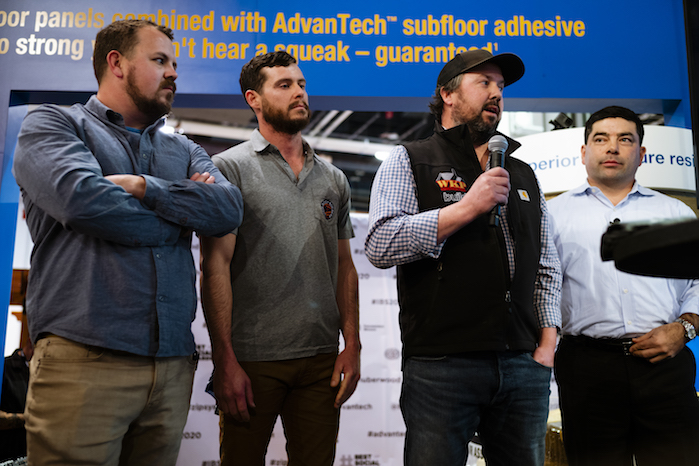 Setting Up to Succeed AKA The Secret Sauce Master
One of the most distinguishing elements of the builder community on Instagram is the willingness to share with and learn from each other. This year, Huber introduced a new award to recognize the builder who provided important industry information with the goal of helping others thrive in their business and understanding of the "why" behind the "how" for specific building practices. This year's winner is an influential voice from podcasts, to editorial contributions and has carried his expert advice in a profound way onto Instagram now too -- – Steven Baczek, known on Instagram as @stevenbaczekarchitect.
Flashiest Flashing
As builders use Huber products and become experts in using everything from ZIP System stretch tape to ZIP System liquid flash, they begin to show off their skills on Instagram. One builder stood out last year with a great liquid flash time-lapse video demonstrating smooth skills with this fluid-applied material. For the category of Flashiest Flashing Huber recognized Luke James at @lukejamesconstruction.
Blower Door Test Overachiever
Builders that embark on blower door testing tend to strive for strong, air-tight builds. With builds that include large windows to capture gorgeous Texas landscape views, the winner of this category goes the extra mile to achieve high-performance results while showing the step-by-step work to achieve tight envelopes.. The Blower Door Test Overachiever at this year's event was Austin and Bob Trimbach with @trimbach_builders.
Most Likely to Have Their Own Reality Show
One highlight of the Instagram community is seeing each builder's creativity and personality as well as their building skills. One builder takes followers on a behind-the-scenes journey with her Instagram posts and stories like no other, projecting positive energy into the online community. The Most Likely to Have Their Own Reality Show is Erin Hopke, also known as @chicintheyellowhardhat.
Most Complex Roof
Builders often get creative with jobsite photos, offering behind the scene views and close ups of the work most people don't get to see. One builder took it up a notch, offering bird's eye views of their stunning roof work in 2019. With great drone footage of his projects, the Most Complex Roof was awarded to Daniel DeVol, also known as @devolbuilders.
Most Spirited Framing
The framing stage of a house is hard work, but these builders find a way to rock out during the process. The award for Most Spirited Framing went to Liam Finney and Michael Mandale of @tiliabuilders.
Best Seal of Approval
While there is an impressive array of product reviews and builders pushing products to their limits. This builder gave an excellent rationale for why he chooses AdvanTech subflooring and subfloor adhesive over traditional alternatives . The Best Seal of Approval winner is Sean Nester and @spnester.
Most Creative Use of Panels/Products
Safety is was a popular topic amongst posts on Instagram in the builder community last year. One builder delivered a shocking demonstration of jobsite safety with a creative use of ZIP System sheathing panels. The award for Most Creative Use of Panels/Products went to Patrick Sibson with @patricksibson.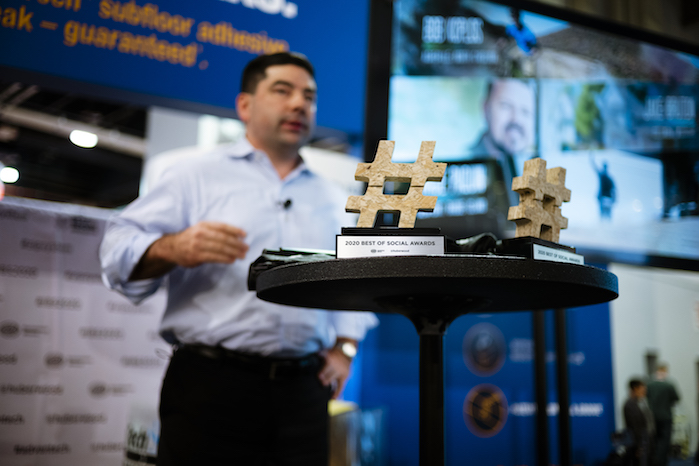 Weather Warrior
Rain, snow or shine, builders have to make the most out of every day. This builder shared how he tackled building in the elements with fortitude this year and the results were impressive. The Weather Warrior was awarded to Zachary Hardebeck at @framingninja.
Most Meticulous Jobsite
A clean, organized jobsite is no easy task to achieve, but one that is incredibly important. This builder knows that no detail can go overlooked and shows high consideration for quality assurance on the jobsite. For the category of Most Meticulous Jobsite, Huber recognized Tim Uhler, otherwise known as @awesomeframers.
Best Overall Tip
In this community, there's an amazing knowledge base sharing tips and tricks of the trade. The following builder points out one of the best resources one could have: a responsive manufacturer. From this, the Best Overall Tip winner is Aron Jones, also known as @bigdogconstruction.gm.
Quietest Floor
We can all appreciate a quiet subfloor, but one builder has shown extra care this year to stop the squeaks. This builder wowed the Huber team with a post featuring the AdvanTech subfloor assembly. For that reason, Huber awarded the Quietest Floor award to Tonianne Soster of @toniannesoster_construction.
Community Builder
Beyond the tips, the flashy photos and the strings of hashtags, it's the people and the spirit of this community that make it special. The women behind @trades_women_of_ig are inspiring trailblazers in the industry, earning them the award for Community Builder.
Want to join in on the conversation for 2020? Follow and tag @huberwood, #zipsystem and #advantech on Instagram.