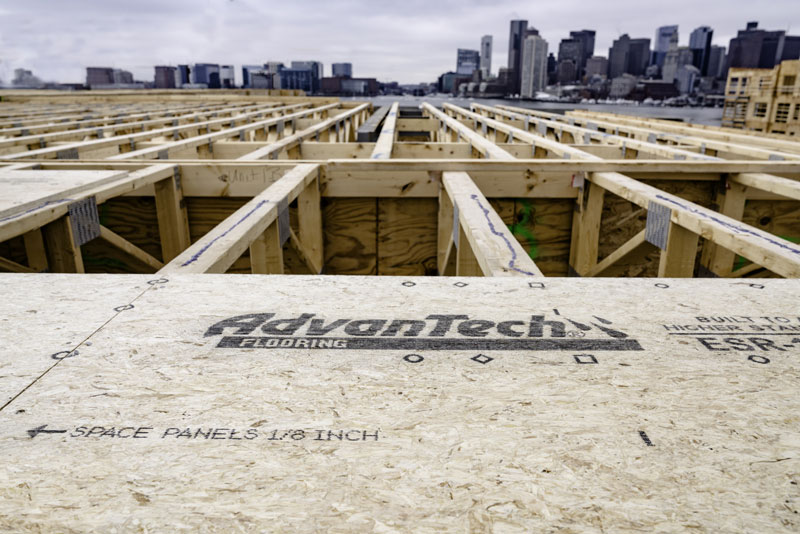 Framers Recommend AdvanTech® Products
3 Min Read October 3, 2017
It's 10 minutes before lunch break and the two-man crew from East Coast Interiors has just flown through about 20 panels of AdvanTech® subflooring on the fourth floor of the Portside at East Pier multifamily project facing Boston Harbor.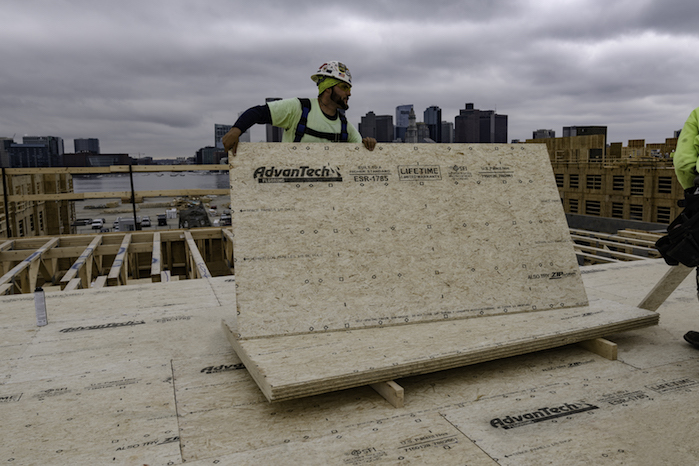 "With 2,000 square feet of floor in a shift, you need to be able to go quickly," says Jacob Flaherty, ECI foreman. "Panels have to go together easily and you can't be slowed down by adhesive."
With offices in Rhode Island and Massachusetts, and more than 350 union craftsmen, East Coast Interiors is one of the largest carpentry services providers on the East Coast. Whenever possible, the company requests AdvanTech subflooring and new AdvanTech™ subfloor adhesive on its framing jobs.
More than 9,000 panels of AdvanTech subflooring are going down on the Portside Boston project as an underlayment for gypsum concrete. Patrick Caldwell, framing division vice president of East Coast Interiors explains the benefits of an advanced engineered wood panel over plywood or commodity OSB alternatives in this application.
"When you're dealing with multifamily projects, they're looking at every penny, cost versus what you can get in rent," Caldwell says. "At the end of the day, if you have to go back in and fix the OSB, then is it really saving anything? We trust AdvanTech panels' strength on the jobsite. It is a stable, consistent product that has the longevity to withstand the weather and wear and tear that is often unavoidable."
AdvanTech subflooring is the only panel with documented design values above code requirements for strength, stiffness and fastener-holding power[1]. Because it is created with advanced resin technology and high wood content, building teams rely on the moisture resistance and strength of AdvanTech subflooring to perform under prolonged weather exposure and heavy traffic, like drywall carts, on projects like Portside.
"Gypsum concrete is self-leveling, so if you have dips in the subfloor, then it's going to find its way into those," Caldwell adds. "It's really important that you have a strong, stiff subfloor before pouring the concrete, and we know we get that with AdvanTech."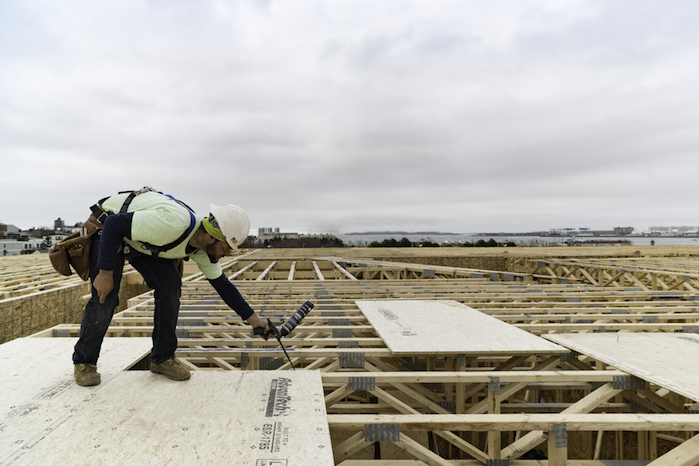 The Portside crew is also using AdvanTech subfloor adhesive on the project. Switching from traditional cartridge adhesive to the foam-to-gel spray adhesive has turned out to be one more time-saving edge for subfloor installation across the project's three buildings.
"I was really surprised how well AdvanTech subfloor adhesive worked in temperatures as low as we work in," Flaherty says. "It's definitely more efficient and definitely faster than the heavy-duty cartridge adhesive."
Caldwell wasn't as easily convinced. He expressed concerns about the aerosol can and if it could endure harsh treatment from jobsite crews.
"I really thought our team would break the cans," Caldwell says. "After our team tried it on a few jobsites, I was quickly proven wrong. Not only did the can survive our abuse, we also found that the product had better coverage, ultimately saving money. The product's ability to be applied to wet or frozen lumber also meant we could be more productive and keep projects moving."
With a gun-applied application, AdvanTech subfloor adhesive applies quickly and easily, and can provide eight times more coverage than traditional cartridge adhesive[2]. Its advanced polyurethane formula creates a panel-to-joist bond two-to-five times stronger than industry standards[3].
Find an AdvanTech® products dealer near you at huberwoods.com/locations.