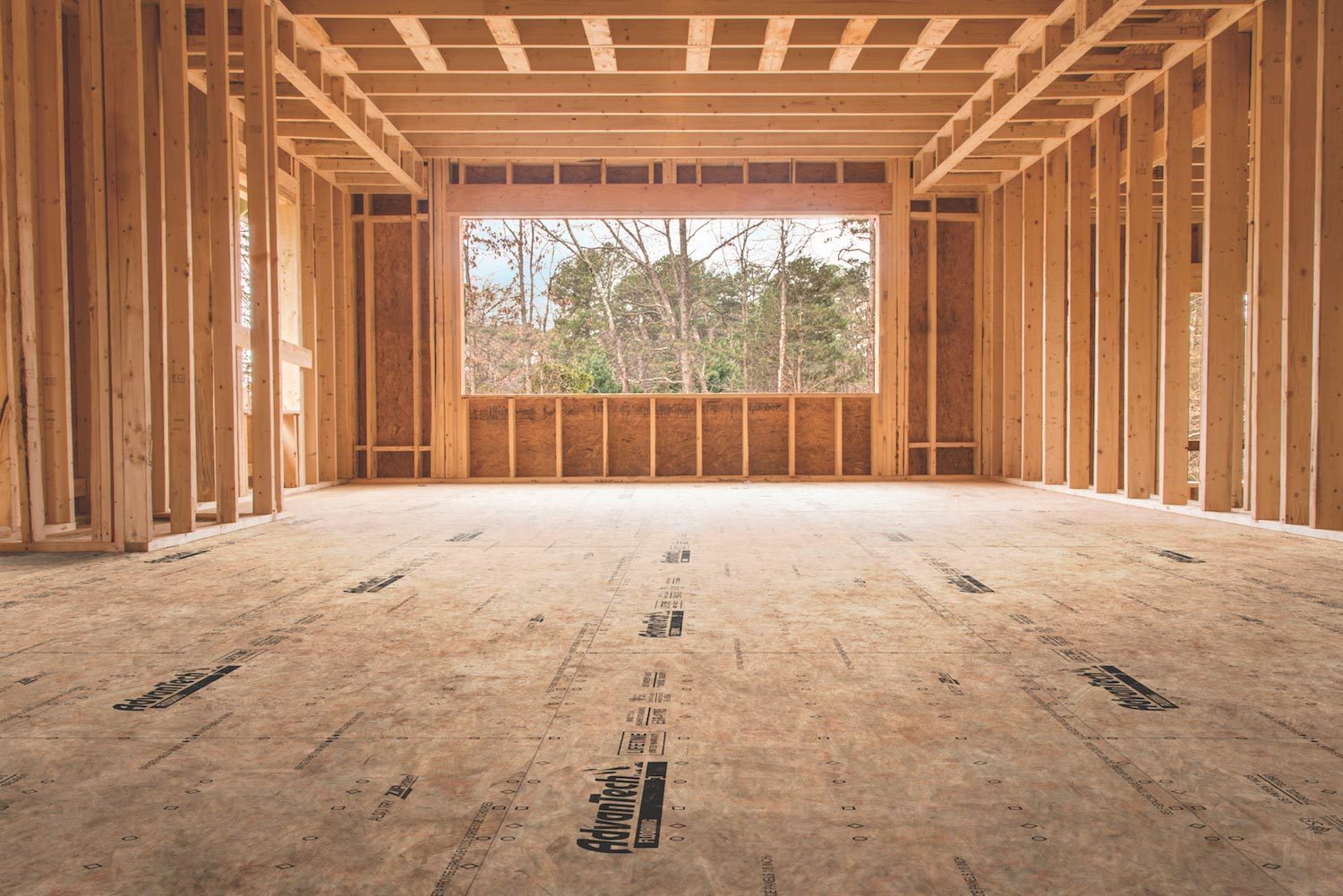 AdvanTech® Subflooring Withstands Harsh Snow and Rain in Illinois
3 Min Read June 1, 2017
In 2015, Howard Mock, a trained architect and owner of mphpm design in Chicago, began building a 5,600-square foot single family retirement home. His design was a heavy timbered hybrid super-insulated house that was passive solar and heated by high efficiency wood fireplaces. With a large build, unique materials and tough weather conditions, the project endured unexpected delays, but thanks to high-performance products like AdvanTech® subflooring, the build was able to withstand prolonged exposure and stay on track. Getting framing started took a little more time than expected for the unique timber supply needs.
AdvanTech subflooring in 3/4" panels was installed, when Mock's crew experienced unexpected delays again. This time, it was due to one of the worst winters in recent Illinois history. The polar vortex hit and Mock's trees from Georgia couldn't be delivered to the central Illinois jobsite. An entire month of below freezing temperatures left Mock's crew unable to work outside while the subflooring was covered in snow.
"I will never use anything but AdvanTech subflooring ever again," Mock said.
What was one of the worst winters in recent history turned into one of the wettest summers. As the weather warmed up, the rain came in and delayed the build once again. Mock's crew had to shovel snow off the deck then squeegee water off it over the course of the build. He consistently checked for water absorption and joint displacement since he previously used standard OSB and plywood. He was worried the new subflooring wouldn't be able to handle the harsh elements, but AdvanTech subflooring stood up to the test.
"The largest difference was an eighth of an inch on one board," Mock said. "I can't say enough good things about AdvanTech subflooring.
"This was an unintended trial ground for severe, long-term exposure to the elements of the product," Mock said. "I truly believe anything else would have failed and need to be ripped out and replaced. Both the customer and I were frankly amazed."
For exterior walls and roofs, Mock's framing contractor recommended using ZIP System® sheathing and tape. Mock typically used traditional OSB and housewrap, but made the switch, at the contractor's recommendation.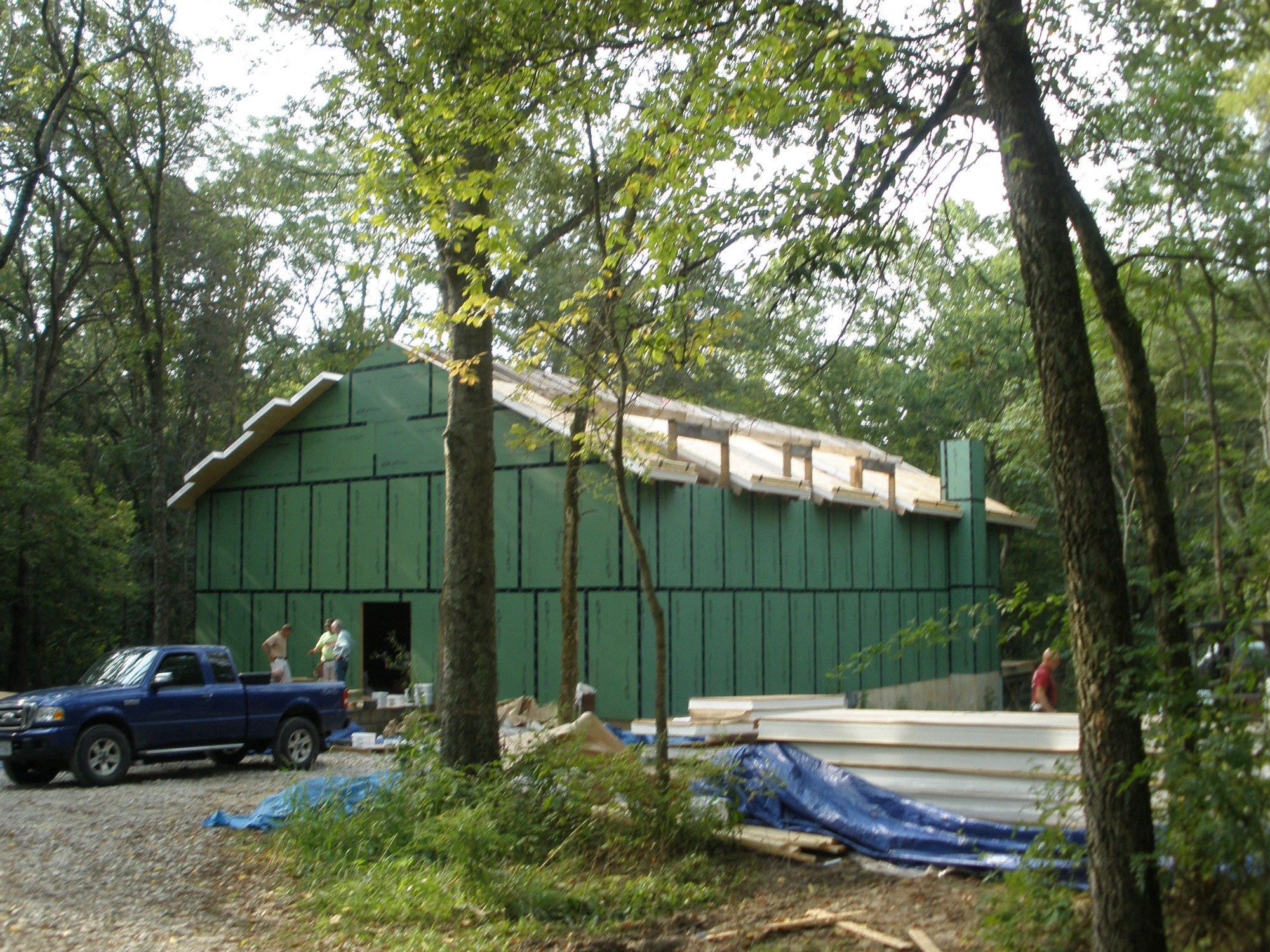 Mock is very interested in being environmentally friendly. When he was in school in 1972, he was taught to save energy for heating. He said we're in a different situation now. Builders are concerned with keeping buildings cool or preventing heat gain.
Now, Mock focuses mostly on retirement homes, equestrian and animal sanctuary barns, and historic landmark restorations. He has been a developer and urban planner as well. In his projects, he also includes active and passive solar, sustainable building practices, responsible sourcing of materials and reuse of existing materials, especially for renovations and restorations.
AdvanTech subflooring is an industry leader in strength and stiffness, and has a 500 Day No-Sanding Guarantee[1]. The high density engineered wood panels have advanced moisture–fighting resin technology that not only helps prevent swelling or delamination, but also contributes to strong fastener-holding power. The tongue and groove profile make for easy installation, so AdvanTech panels install fast and stay flat. Learn more about why AdvanTech products are the FLAT OUT BEST™ start to a quiet, stiff floor at AdvanTechQuiet.com.
To learn more on how ZIP System® sheathing and tape streamlines the weatherization process, visit ZIPRevolution.com.