Introducing Magnesium Oxide (MgO): The panel that's changing the design-build of multifamily structures.
01 EXACOR Product Applications
One Board. Zero Hassle.
02 What Is MgO
Magnesium oxide (MgO) offers simple strength and streamlined installation for a building panel with exceptional workability.
MgO panels are made primarily from MgO and added compounds and are similar to a cement panel product. When the MgO panels are formed, a controlled chemical reaction takes place that allows the boards to become solid. The result is a streamlined solution with sound, fire and strength benefits.
Speed & Ease of Installation

Installs with just a single trade and can eliminate the need for gypsum underlayment.

Sound Absorption

Can help achieve sound ratings when used as a part of a STC/IIC-tested floor/ceiling assembly.

Fire Resistance[1]

Provides fire resistance as part of fire-resistance-rated floor/ceiling assemblies.

Dimensional Stability

Withstands exposure to moisture and does not warp, expand, cup or delaminate like other (wood) panels do.

Inherent Strength

Contains a proprietary layered mesh reinforcement for added structural value.

Quality Assurance

Manufactured under a quality control program with inspections by ICC-ES and Underwriters Laboratory (UL) to ensure consistent product performance.

Optimize Material & Labor Costs

High-performing and time-saving material that can help reduce materials and trades needed to install.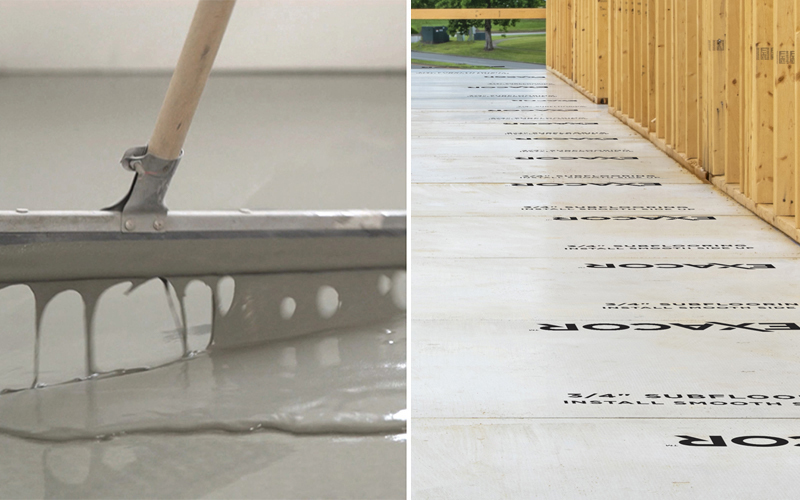 03 Abandon Gypsum
Materials matter when you're designing and building multifamily structures.
EXACOR™ MgO panels install in less time, with less steps, and with less mess — all while offering fire resistance[1] and sound dampening.
04 Documents
Resource Library
Get general and in-depth info about EXACOR, including installation manuals, data sheets and architectural specs for the applications of EXACOR™ underlayment and subflooring.
05 Education Options
Learning & Education
Interested in discovering more about magnesium oxide panels and the benefits EXACOR could bring to your multifamily jobsite? Explore learning opportunities below.
06 Warranty
Warranty Information
See our 10-Year Limited Warranty. Limitations and restrictions may apply.
View Warranty