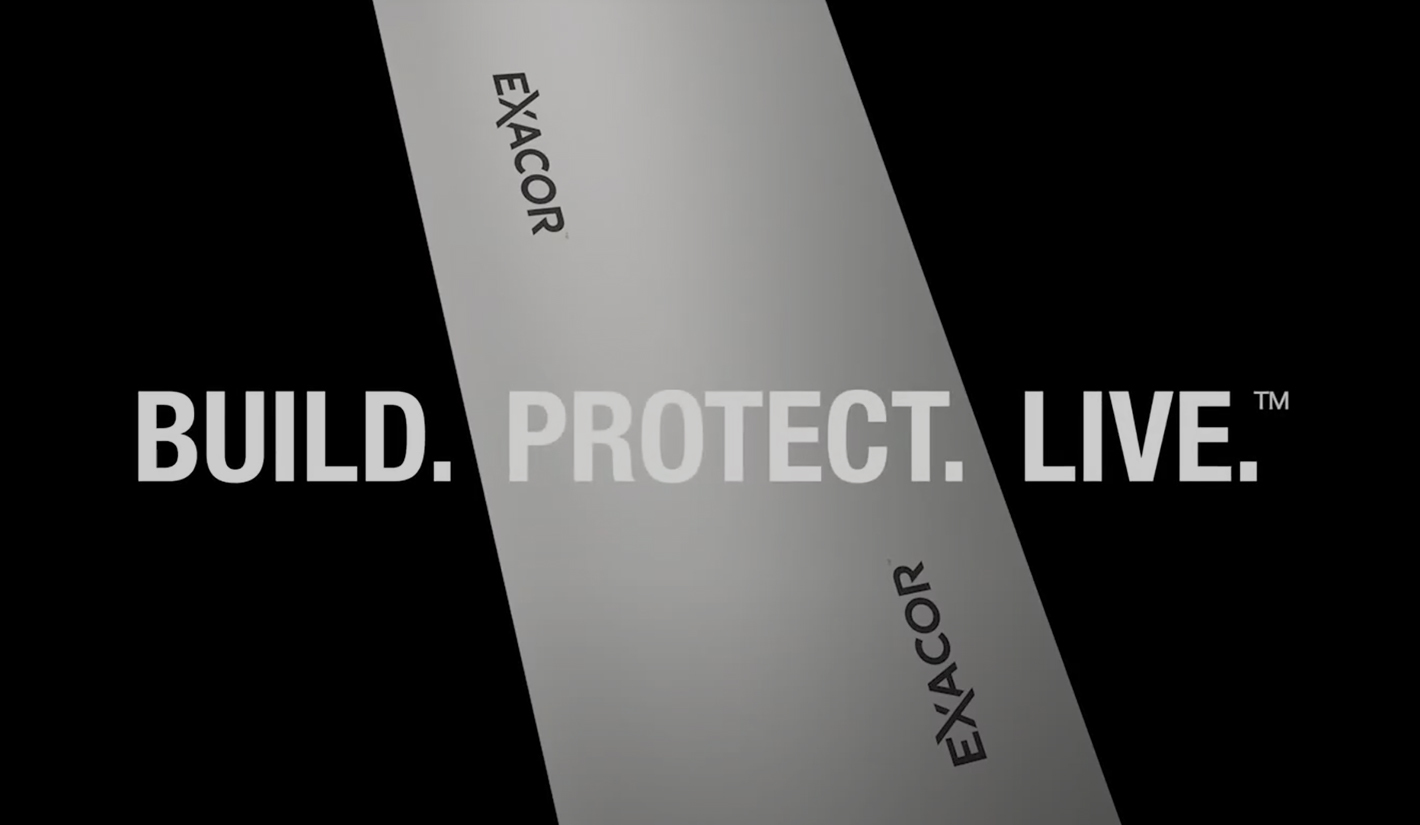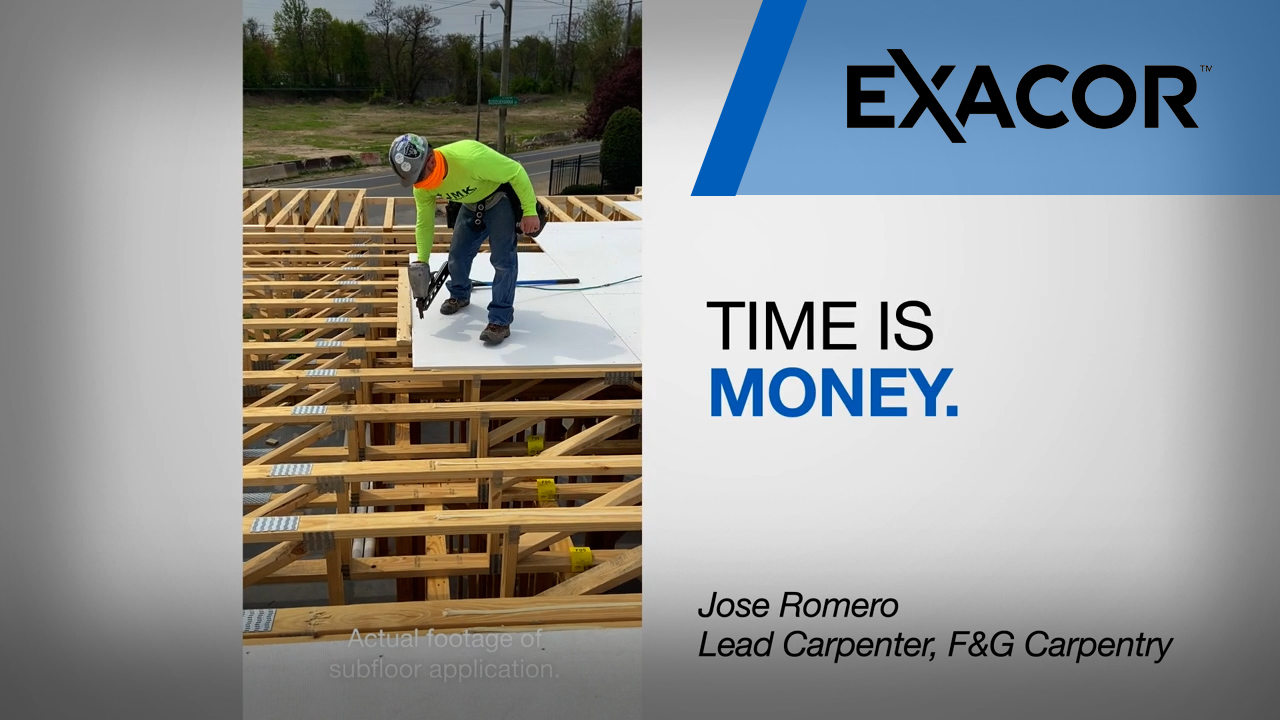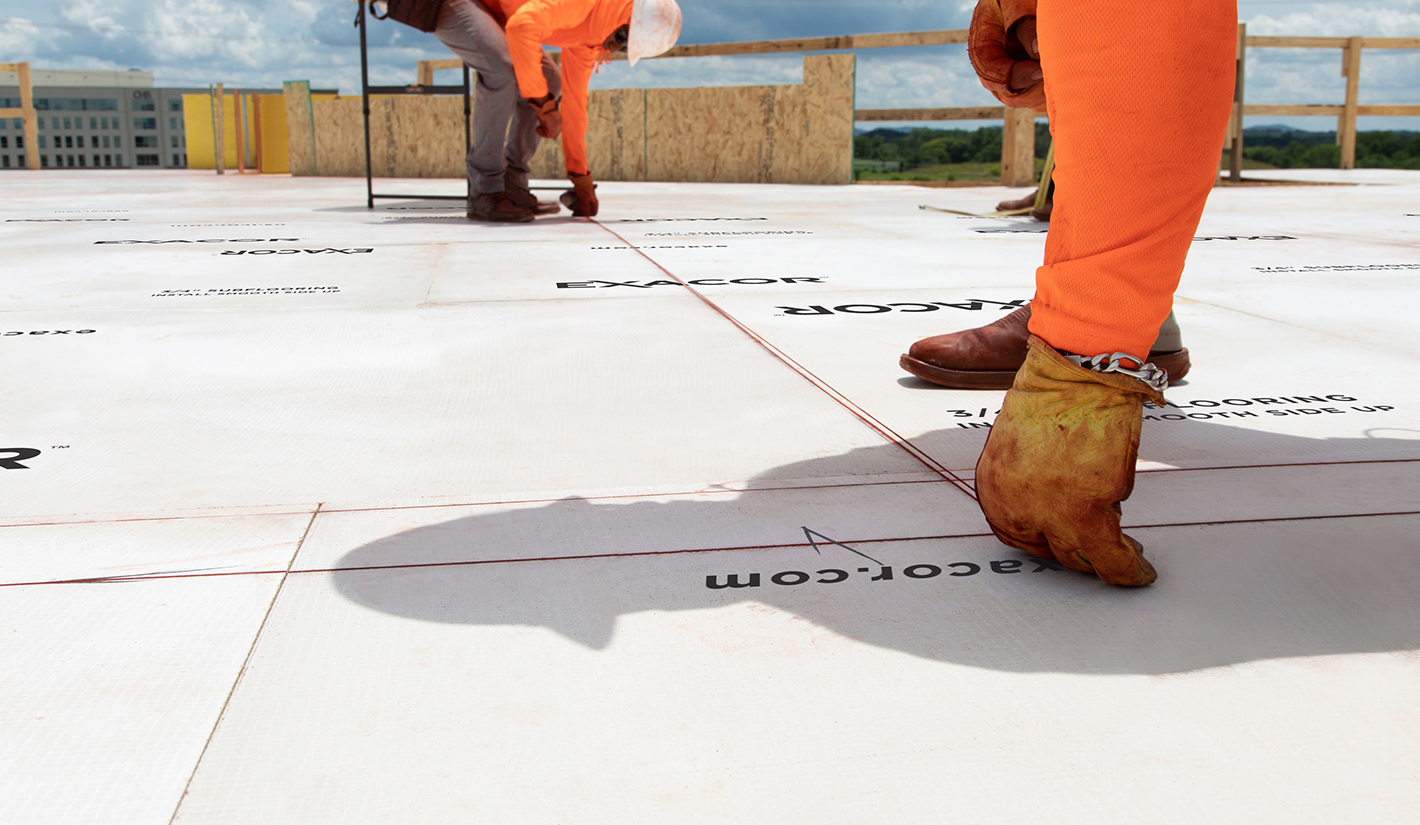 EXACOR® Subflooring
EXACOR subfloor panels are fire-resistant, high-density, structural magnesium oxide cement panels. When used as a subfloor, EXACOR® panels can replace plywood and/or OSB subflooring in certain assemblies and can remove the need for gypsum underlayment.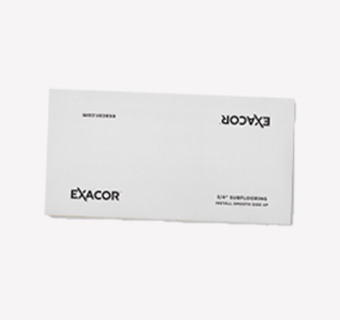 Subflooring Panel, 3/4" × 4' × 8'
Panels Per Unit
22
Fire Resistance
ASTM E119, ANSI/UL 263
Fire-Resistant Assemblies
(UL 263)
L525, L601, L602
| Performance Category | Panel Size | Edge Profile | Fire-Resistant Assemblies (UL 263) | Approx. Weight Per Panel | Panels Per Unit |
| --- | --- | --- | --- | --- | --- |
| Nominal 3/4" Thickness (20 mm) | Nominal 4' × 8' (1224 mm × 2438 mm) | Tongue and Groove | L502, L525, L601, L602, M500 | 144 lbs. | 22 |
02 What Is MgO
Magnesium oxide (MgO) offers simple strength and streamlined installation for a building panel with exceptional workability.
MgO panels are cementitious panels that are primarily made of inorganic materials reinforced with layers of glass fiber mesh. EXACOR® MgO panels are manufactured to provide a streamlined solution for strength, fire resistance and sound performance.
Speed & Ease of Installation

Installs with just a single trade and can eliminate the need for gypsum underlayment.

Sound Absorption

Can help achieve sound ratings when used as a part of a STC/IIC-tested floor/ceiling assembly.

Fire Resistance

Inherently fire resistant throughout and provides fire resistance as part of fire resistance–rated wall and floor/ceiling assemblies.


Durability

Tough enough to handle jobsite conditions, withstands exposure to moisture and does not warp, expand, cup or delaminate like other (wood) panels do.


Inherent Strength

Contains a proprietary layered mesh reinforcement for added structural value.

Quality Assurance

Manufactured under a quality control program with inspections by ICC-ES and Underwriters Laboratory (UL) to ensure consistent product performance.

Optimize Material & Labor Costs

High-performing material that may save time and help reduce materials and trades needed to install.
03 How to Install
Installs like wood with no need for gypsum underlayment.
Unlike gypsum underlayment, EXACOR subfloor panels do not require a cure time that can slow or halt construction progress. That means installation in less time, with less material and from a single trade — no extra tools or skills needed.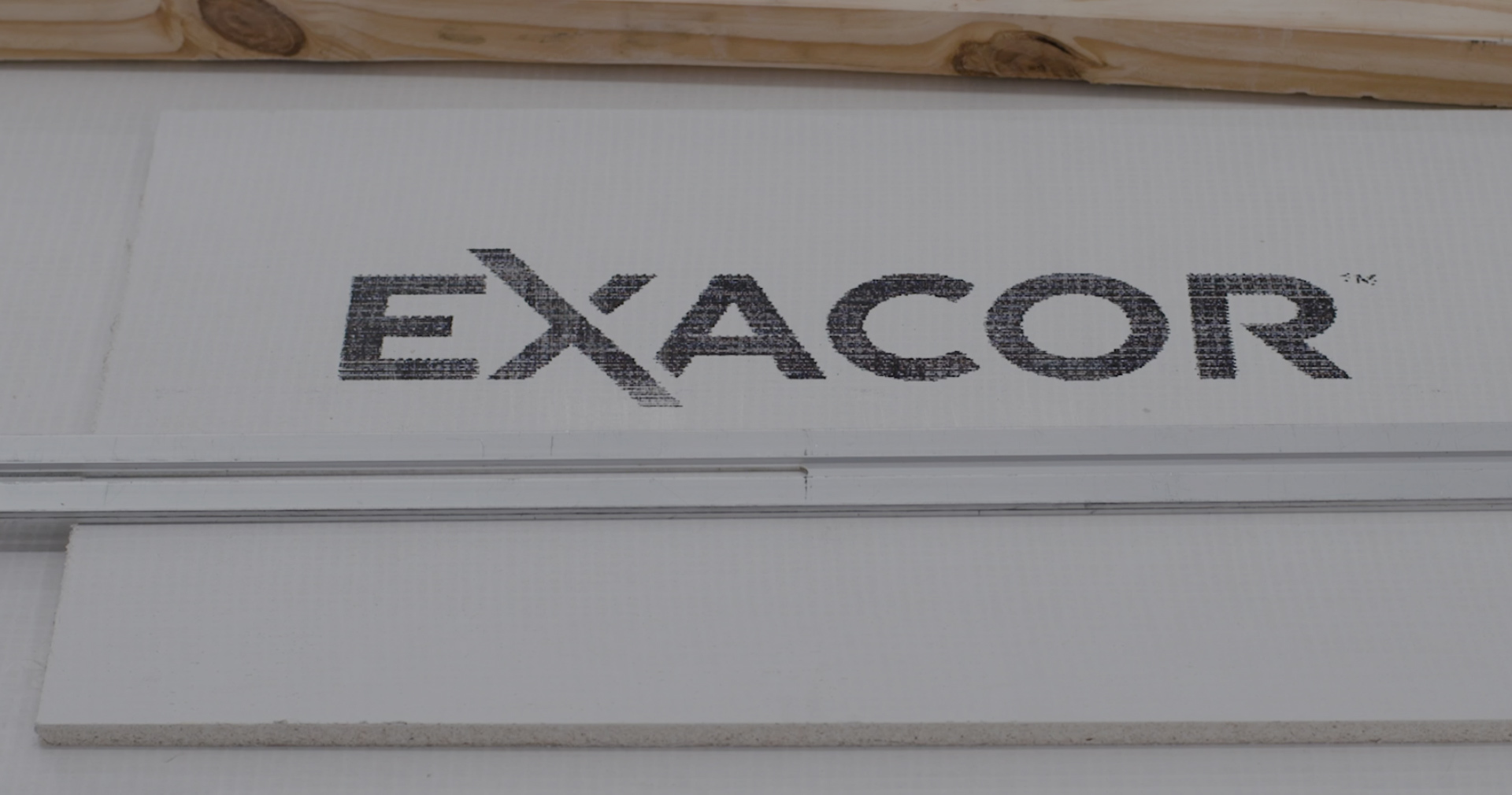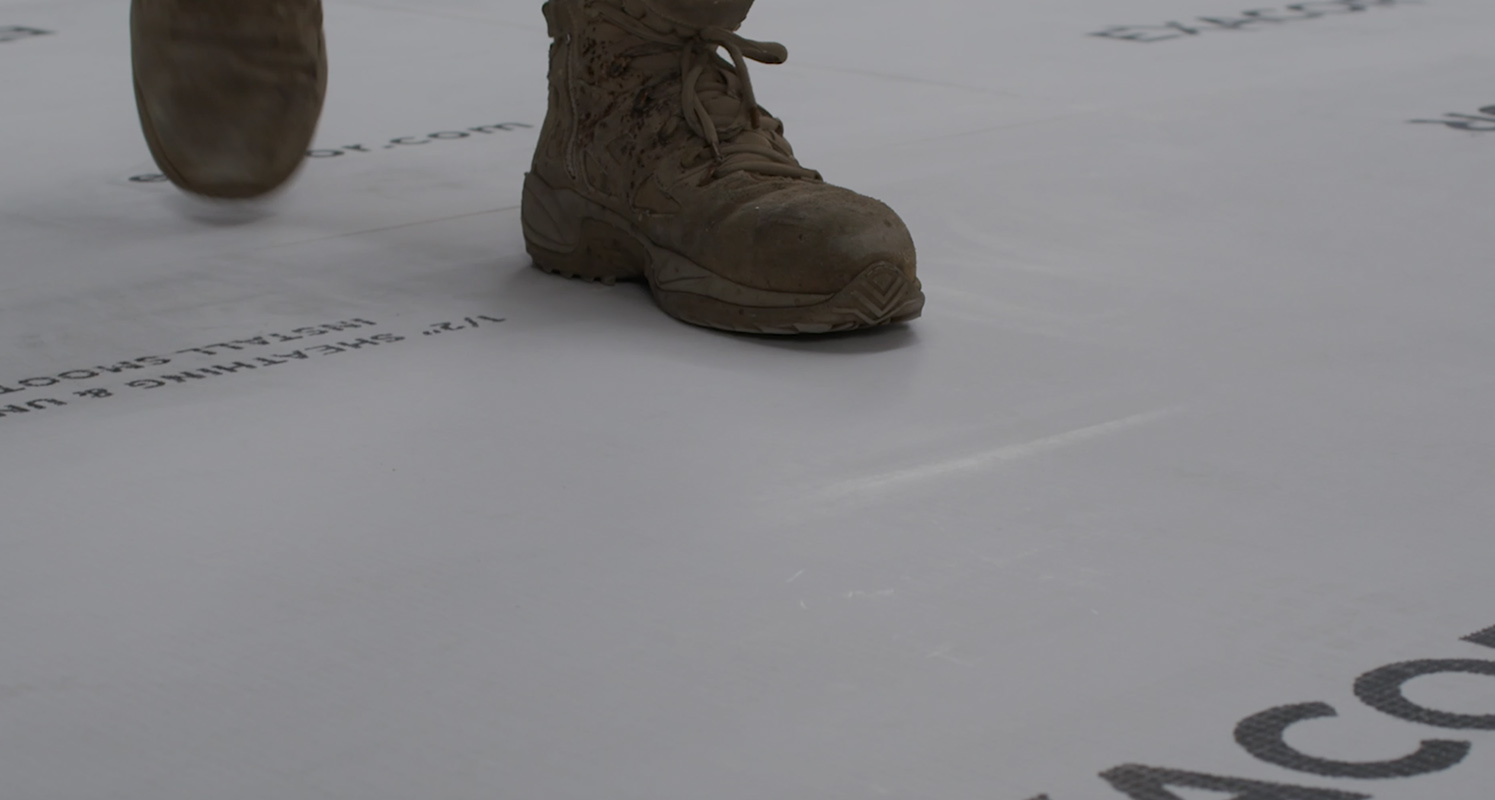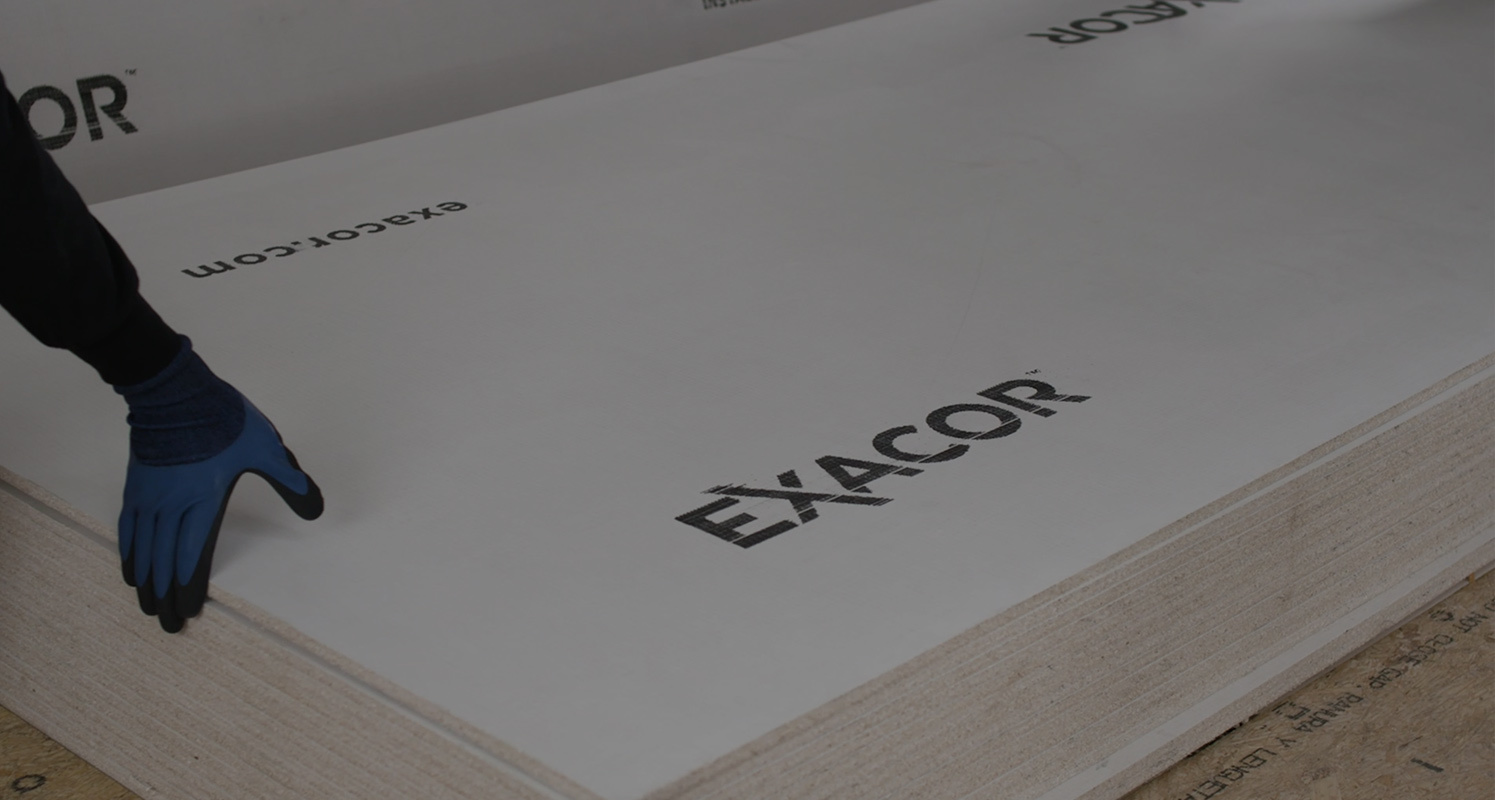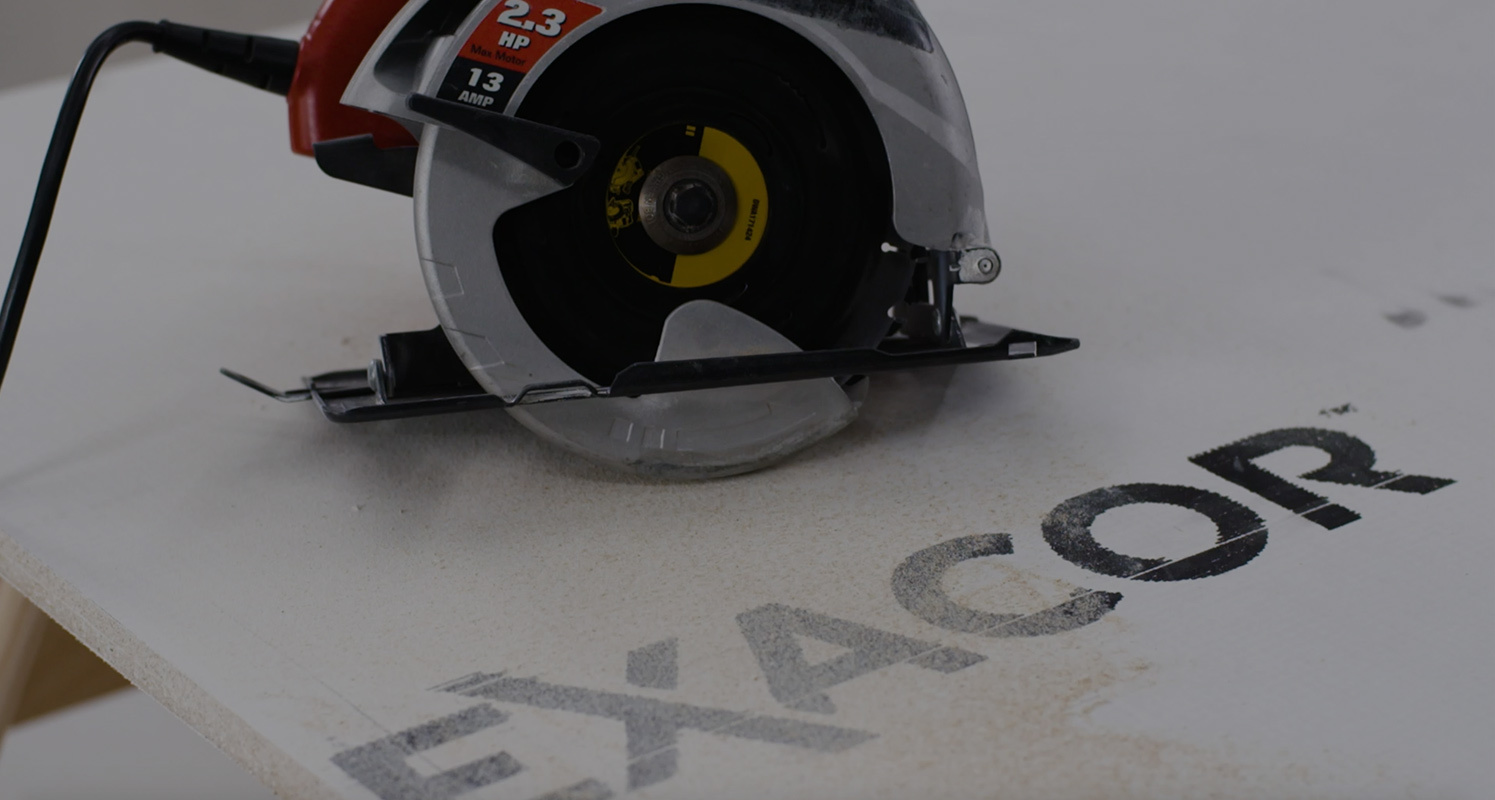 04 Documents
Resource Library
Get general and in-depth info about EXACOR, including installation manuals, data sheets and architectural specs for the applications of EXACOR subflooring.
05 Warranty
Enhanced Experience
If you're building a multifamily or light commercial project, register your project and complete a preconstruction meeting to access the full range of technical support and warranty benefits for your build, including a transferrable warranty. Review full warranty details and access project registration at the link below.
View Warranty
06 News & Articles
Behind the Build Blog