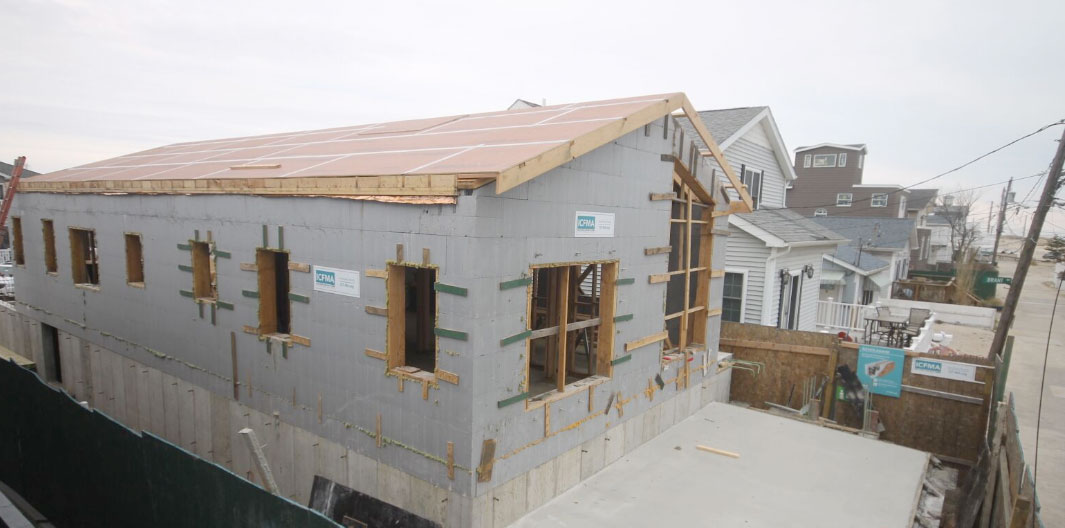 Weathering the Storm
2 Min Read March 6, 2017
In 1955, Diane Hellriegels's father took out a $500 loan to build his family home in Breezy Point, Queens. Five years later, Hurricane Donna hit with 97 mph winds and threatened to destroy what he built. As a child, Diane remembers her mother taking her and her siblings to a neighbor's house, fearful that the storm would flood their home.
The home survived the 1960 storm, but when Hurricane Sandy hit in 2013, it was destroyed by the wind, waves and flooding. Since then, she hasn't been able to return. Now, the Federal Alliance for Safe Homes (FLASH) is sponsoring a post-Sandy rebuild so that Diane will have a disaster-resilient home. It will be rebuilt with a variety of innovative building materials including ZIP System® sheathing and tape, to comply with coastal construction codes and help ensure a strong rebuild.
A water-tight roof is the first line of defense during adverse weather, that's why ZIP System sheathing and tape was asked to participate to help include a sealed roof deck for a re-built, resilient home. The taped seams and built-in weather resistive barrier help protect the home from water intrusion, even if the roof coverings blow off during storms. ZIP System sheathing and tape creates a continuous barrier that streamlines the installation process by eliminating the need for felt and helps prevent water intrusion through vulnerable panel seams.
Not only is the house being designed to be disaster-resilient, it will also be energy efficient. Upon completion, Diane's home will be certified by a qualified Home Energy Ratings System (HERS) rater. HERS is the industry standard for calculating the energy performance of a home.
Kevin D'emit with Malbro Construction is leading the building efforts. Diane's home is just one of 14 "build it back" houses that Malbro is working on in the area.
Follow along with the rebuilding process and watch the live time lapse video here.