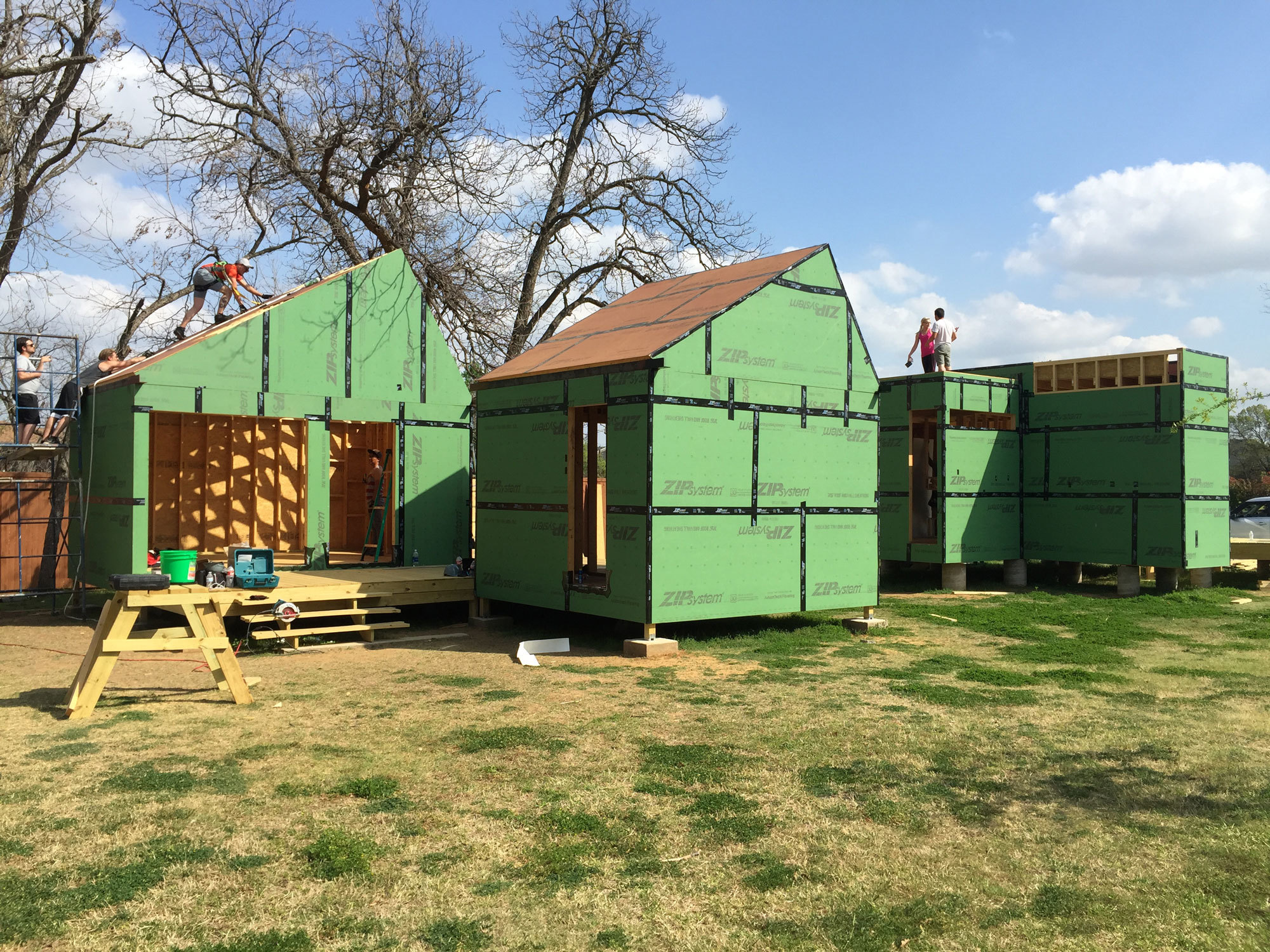 From Tiny to Micro, Design Build Program Creates Two Micro Houses
3 Min Read July 5, 2017
Brad McCorkle, professor of architecture at University of Texas at Arlington, had never used ZIP System® stretch tape, but was quickly converted.
"As soon as I saw the demo on it, I was like, 'We're going to get some of that right?'" he laughed.
McCorkle leads the university's design build program, Parallel Construction, and was researching products to use for the two student-designed, micro houses — both under 400 sq. ft. Once he was introduced to Huber Engineered Woods products, McCorkle decided to use 1 1/8" AdvanTech® subflooring, 7/16" ZIP System sheathing® for the walls and 1/2" ZIP System® sheathing for the roof deck. ZIP System™ tape and ZIP System™ stretch tape were also used on both builds.
The process:
Last August, 18 undergraduate students and two graduate students were tasked with creating micro house designs. The pool of 20 designs was narrowed down to five. Then, those five designs were presented to architects, contractors and faculty members to vote on the top two designs. The final part of the semester was spent putting together construction documents, a material list and calculating costs.
A ZIP System® sheathing and tape sales representative visited the jobsite and walked the students through taping joints and flashing window openings.
"I like this system because it's all one round of labor," McCorkle said. "You're not doing the sheathing and then the housewrap, and then watching the housewrap blow away."
Prior to the build, McCorkle said the students had very limited construction and power tools experience. In the spring, they started working on the jobsite three days a week and eventually increased to seven days a week.
"The fact that they were able to not only learn the process of construction, but overcome the pretty steep power tools learning curve was amazing," McCorkle said. "We had a contractor that said before it would take one of his crews three months to build one of these tiny houses. (These students) did it in just under four months and they built two of them."
The final results: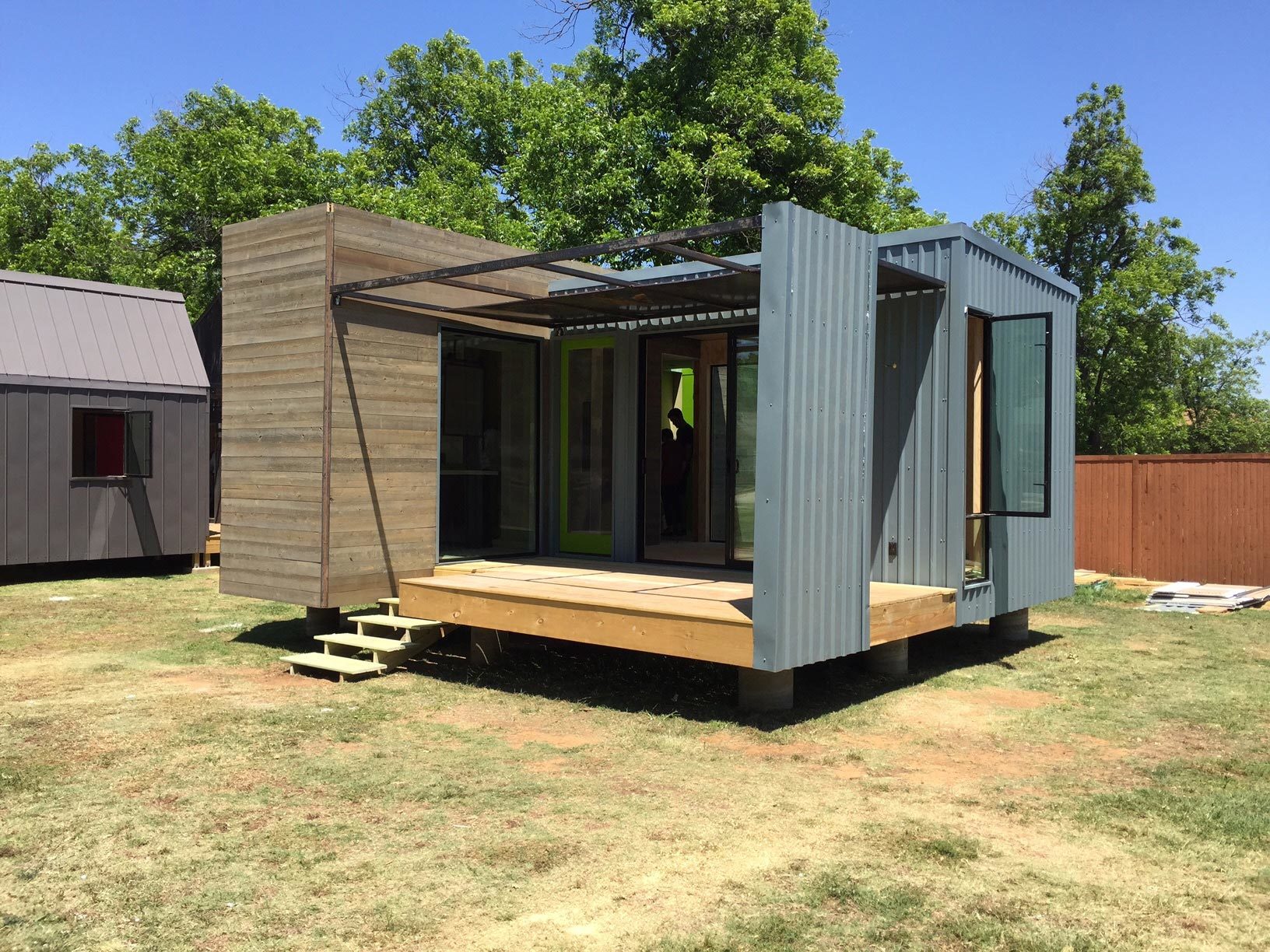 Nexus House — 390 sq. ft.
This micro house is composed of three modules that bolt together to form one interior space. To make it easier to move the micro house to its future permanent location, the students didn't put the metal on the roof for the center module. Since its completion, the center module has only had ZIP System sheathing and tape for protection and McCorkle said it hasn't seen any leakage.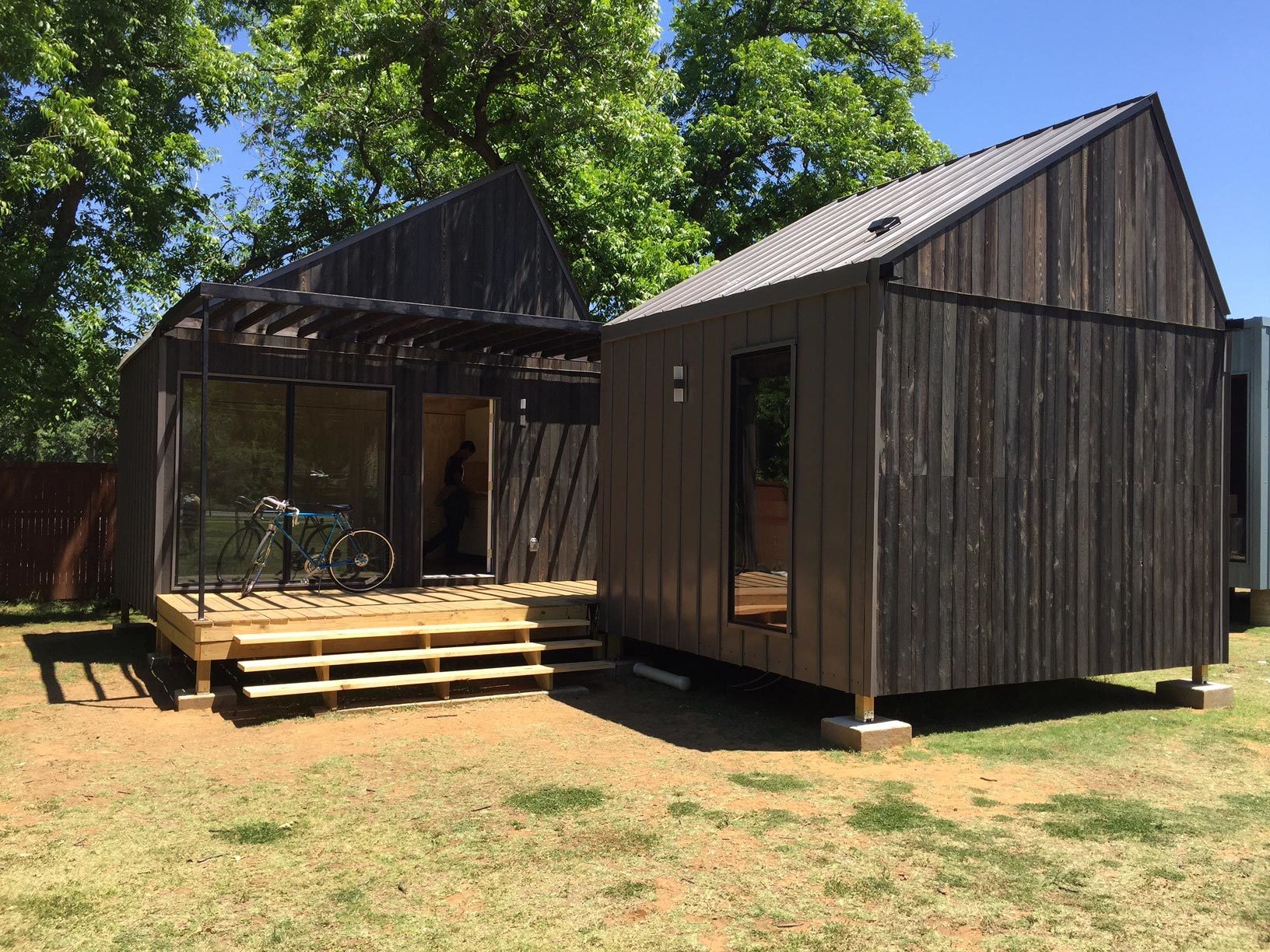 Casa Modulo — 360 sq. ft.
This one has two units — a kitchen and living room module and a 12 x 12 bedroom/bathroom module. Modules are separated by an open-air deck with a trellis above.
Both units were designed so the roof could come off as one piece. Being modular, the micro houses will be easier to disassemble and reassemble at another location.
As for what will happen to the two houses, McCorkle and the university are exploring a couple of options. They are planning a sealed bid auction where one project will go to the highest bidder and the second project will be donated to Habitat for Humanity or a veteran through the Veteran's Association.
Bigger and better
The 2018-2019 Parallel Construction program has big plans for the coming years. Students will design and build a 1,600 sq. ft. single family residence with three bedrooms and two bathrooms. Funding for the coming year is through the Housing Network who supplied the program with a build site and funding. A contractor will also provide expertise on the project, material handling and ordering, and will assist with the permitting process.