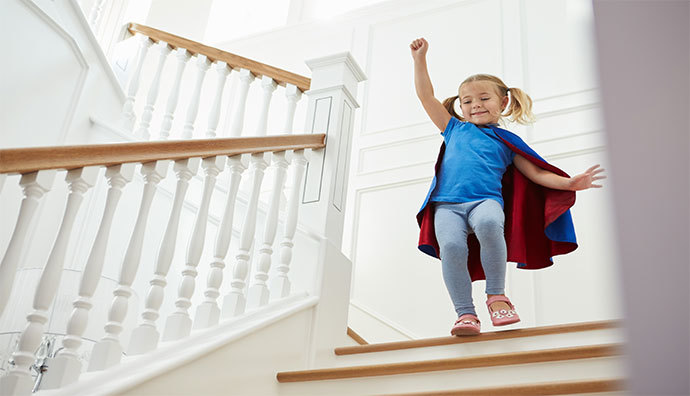 A Low-Quality Subfloor Could Mean Noisy or Warped Floors
3 Min Read December 10, 2019
We all fantasize about our dream home. From the layout to the décor, we want everything to be perfect. We love to imagine friends gathering around the dinner table and kids playing in the living room — everyone enjoying quality time spent in each other's company.
What we don't consider is how that experience will potentially be affected by a low-quality subfloor. Dishes rattling as people walk on bouncy floors, cracked grout, buckled wood floor seams, and squeaky floors don't have a place in our picture-perfect idea of a new home. It's easy to forget, but just because your subfloor is out of sight doesn't mean it should be out of mind. When talking with your builder about materials, keep these three characteristics in mind to guarantee your finished floors get the sturdy, even base they need:
High-quality subflooring means quiet, stiff floors.
Using a high-quality subfloor material makes a critical difference in the quality of your finished floor. There are four main ways a subfloor adds value to your home:
It should be stiff to help provide a flat, even base under your floor coverings
It should be strong to withstand foot traffic, heavy furniture and even the stressful conditions of a jobsite during construction
It should be moisture resistant to help ensure it keeps its strength and stiffness even after exposure to elements during construction. Some subfloor material can swell and buckle if it doesn't have good moisture-resistant properties. If exposed to heavy rain or snow during construction, your contractor may have to take time to sand it down, so finished floors won't look uneven. A high-quality, moisture-resistant subfloor not only keeps your floors flat and level after installation, it also cuts down on rework and construction delays during the building process.
Fastener holding power keeps your hardwoods and carpeting in place.
The fastener holding power of a subfloor indicates how well it will hold nails, staples, and anything else used to keep your flooring of choice secure. Poor fastener holding power can contribute to materials moving against each other which is what causes squeaks. Engineered wood subfloors made with advanced resin processes grip fasteners in place to help prevent squeaks caused by loose materials below the surface rubbing against each other. Strong fastener holding power helps ensures your floors stay sturdy and quiet.
Strength and stiffness stabilize your floor.
A high-quality subfloor is uniquely manufactured to provide strength and stiffness that can stand up to the demands of what life brings without bouncing or sagging. Some high-quality engineered wood subflooring is made with more wood and advanced resins to make it perform to higher strength and stiffness levels than traditional plywood or commodity oriented strand board (OSB). Make sure to ask about panels that perform above the minimum required standard.
Next time you're imagining your first get-together in your new home, remember that it all rests on your subfloors. High-quality engineered wood subflooring offers a range of benefits not found in traditional plywood or commodity OSB. For quiet, flat and sturdy floors made to resist bouncing, warping and unwanted floor squeaks, talk to your contractor to make sure you're using only the highest quality materials.